Euro 2012: 10 Things We Learned from the First Round of Group Matches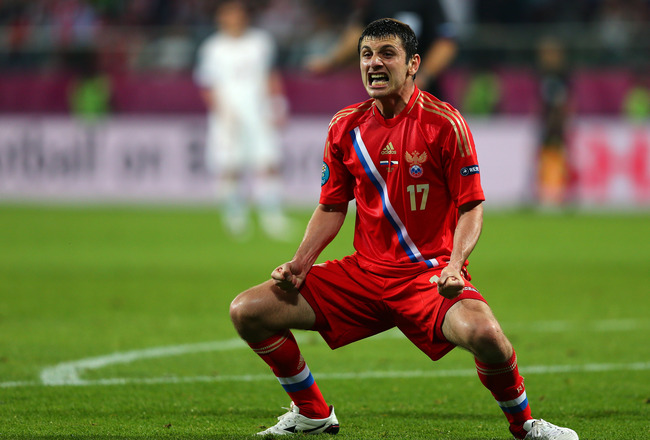 Clive Mason/Getty Images
Euro 2012 begins its second cycle of group matches today. Each of the 16 teams have now played once and the first eight matches of the tournament have thrown up plenty to talk about.
On the opening day we saw co-hosts Poland draw 1-1 with Greece and a rampant Russia despatch the Czech Republic 4-1.
Attention then moved to Group B—the infamous "Group of Death"—that began with a surprise 1-0 victory for Denmark against the Netherlands, followed by a 1-0 defeat for Cristiano Ronaldo's Portugal at the hands and feet of Germany.
On Sunday defending champions Spain played an entertaining 1-1 draw with Italy in Group C. The second game of the day saw the Republic of Ireland beaten 3-1 by Croatia.
Group D started with a 1-1 draw between England and the much-fancied French, and was followed by a rousing 2-1 victory for co-hosts Ukraine against Sweden.
Here are 10 things we learned from the opening round of matches.
Greece Will Not Be Partying Like It's 2004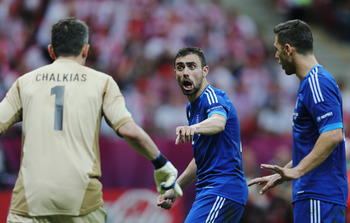 Alex Grimm/Getty Images
The opening match of Euro 2012 delivered plenty of entertainment. Both Greece and Poland had men sent off, the Greeks missed a penalty, and it all happened to a soundtrack of the passionate, mostly partisan, home crowd at the National Stadium in Warsaw.
You have to admire the plucky fight of the Greeks, who came back from a goal down with 10 men, but on the evidence of their performance, there is zero chance of a repeat of their triumph at Euro 2004.
You could argue they were the worst side of the first round of matches, but that accolade probably belongs to the Czech Republic.
Dzagoev Is a Potential Star of the Tournament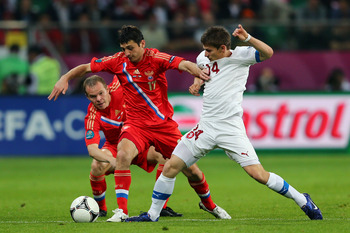 Clive Mason/Getty Images
The Czech's 4-1 humbling at the hands of Russia owed much to the exuberance and talent of young CSKA Moscow midfielder Alan Dzagoev.
An injury doubt for Euro 2012, Dzagoev proved his worth with two goals in the match. Both were emphatically taken and the 21-year-old clearly has the potential to drive his team into the knockout stages.
"One should not exaggerate my achievements," he told reporters after being named man of the match.
Portugal Need to Be Bolder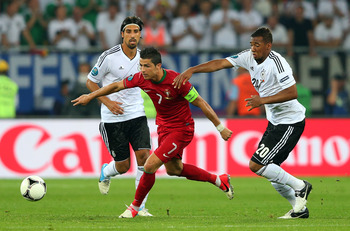 Alex Livesey/Getty Images
Portugal's opening defeat to Germany makes things very hard for them in Group B.
Paulo Bento's team now go into their clash with Denmark on Wednesday knowing defeat will mostly like send them out of the tournament.
Bento now has a difficult decision.
To win the game he must surely get his team playing with more freedom going forward and set them up to be more positive than they were against Germany. But by doing that, he may make them more vulnerable at the back.
Either way, Bento must also find a way to get more from Cristiano Ronaldo—who failed to impart the influence we would have expected against the Germans.
Club Form Is Not Always a Good Indicator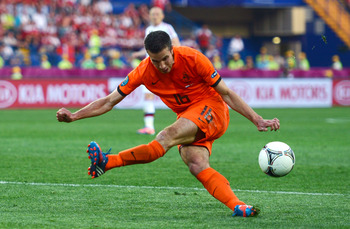 Lars Baron/Getty Images
Robin van Persie was one of several players who failed to translate spectacular domestic form to Euro 2012 in the opening round of games.
Van Persie misfired for the Netherlands against Denmark—prompting heightened calls for the inclusion of Klaas-Jan Huntelaar against Germany on Wednesday.
Others who left us wanting after red-hot seasons with their clubs included Van Persie's Dutch teammate Arjen Robben, Ronaldo, Czech captain Petr Cech of Chelsea and Arsenal goalkeeper Wojciech Szczesny—who was sent off for Poland.
Spain Need a Striker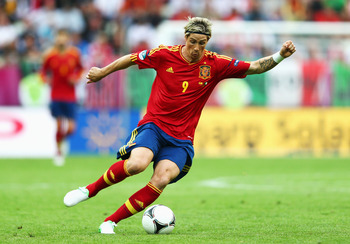 Michael Steele/Getty Images
Spain went into their opening game with a 4-6-0 formation that deemed a striker wholly redundant.
The idea was for their six midfielders to be such fluid operators Italy would be overrun and unable to cope with their movement.
It didn't work out like that. Spain struggled to find penetration and all too often midfielders found themselves without a viable forward pass.
Vicente del Bosque will surely change things for their game against the Republic of Ireland on Thursday.
Fernando Torres could be the man to get the call, though it's fair to say his cameo against Italy was somewhat short of a convincing argument.
Pirlo Is Still the Pass Master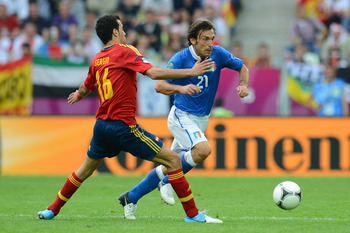 Shaun Botterill/Getty Images
Italy could yet pull off a surprise triumph at Euro 2012, based on the evidence of their performance against Spain.
Cesare Prandelli's team are supremely organised, defensively locked tight and possess one the best midfield passers in the tournament in Andrea Pirlo.
Pirlo's ball to Antonio Di Natale was the perfect example. The Juventus playmaker has such sublime weight to his passing that he invites the recipient to do exactly what you'd want him to.
If the Republic of Ireland give him an inch on Thursday he'll craft their downfall in his sleep.
Irish Fans Have Two More Games to Party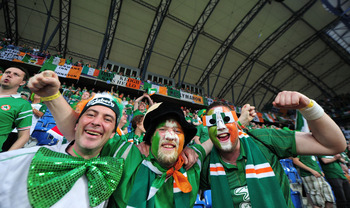 Jamie McDonald/Getty Images
Most neutrals would love to see the Republic of Ireland reach the knockout stages, but it's surely not going to happen.
The Irish gave up soft goals against Croatia and now find themselves bottom of Group C with two games to play.
Those two games are against world champions Spain and an Italy team who will likely need a result to qualify themselves in the final round of matches.
It's going to take more than the luck of the Irish to see them make the last eight now.
France Are Not Quite the Devastating Force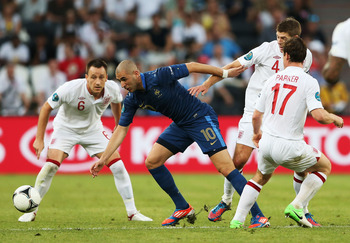 Scott Heavey/Getty Images
France came into their Group D clash with England unbeaten in 21 games and tipped by many as potential winners of Euro 2012.
Though they dominated possession, Laurent Blanc's team failed to provide a convincing argument they're ready to go head to head with the likes of Spain, Germany, Netherlands and Italy.
England mostly snubbed out their attacking threat, and Blanc will be looking for more penetration when they take on co-hosts Ukraine next.
England Will Be Hard to Beat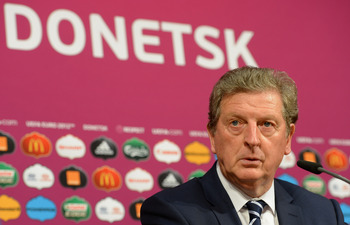 Handout/Getty Images
England manager Roy Hodgson was right to be pleased with his team's 1-1 draw against France.
Though England aren't the most fluent or entertaining of sides at Euro 2012, their impressive defensive display suggests they'll be hard to beat at the tournament.
Hodgson has done well to get England so well organised in his brief time in charge and will be looking to Wayne Rooney to add some much-needed attacking inspiration when he returns for England's last group game against the Ukraine.
Shevchenko Is Primed for His Swansong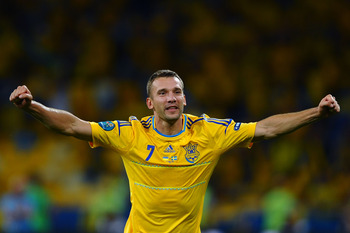 Laurence Griffiths/Getty Images
Arguably the story of the first round of matches was Andriy Shevchenko's superb double against Sweden last night.
The 35-year-old is practically a god in Ukraine, and the script was crying out for a swansong at Euro 2012.
His two headers delivered emphatically and proved the former AC Milan and Chelsea striker can still be a threat on the biggest stage.
"I feel great," Shevchenko told reporters. "I feel 20 years old, not 35. it was an historic game for us, and it's a victory."
Keep Reading