France vs. England: As It Happened
Euro 2012—Group D, Donbass Arena, Donetsk, Ukraine
France 1-1 England (full time)

Goals: Lescott (ENG) 30', Nasri (FRA) 39'

Lineups
France: Hugo Lloris, Mathieu Debuchy, Patrice Evra, Adil Rami, Philippe Mexes, Yohan Cabaye, Franck Ribery, Samir Nasri, Florent Malouda, Alou Diarra, Karim Benzema
England: Joe Hart, Glen Johnson, John Terry, Joleon Lescott, Ashley Cole, James Milner, Scott Parker, Steven Gerrard (C), Alex Oxlade-Chamberlain, Ashley Young, Danny Welbeck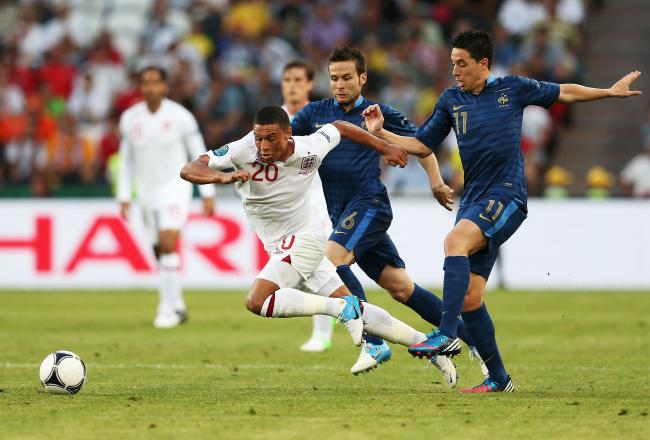 FULL TIME: FRANCE 1, ENGLAND 1
That's it for me today. Be sure to check out Mikhail Turner's live blog for Ukraine vs. Sweden.
FULL TIME: FRANCE 1, ENGLAND 1
Back in the studio, Alexi Lalas literally applauds England.
Michael Ballack is not so impressed. He criticizes England for sitting back.
Ballack looks ready to punch Alexi.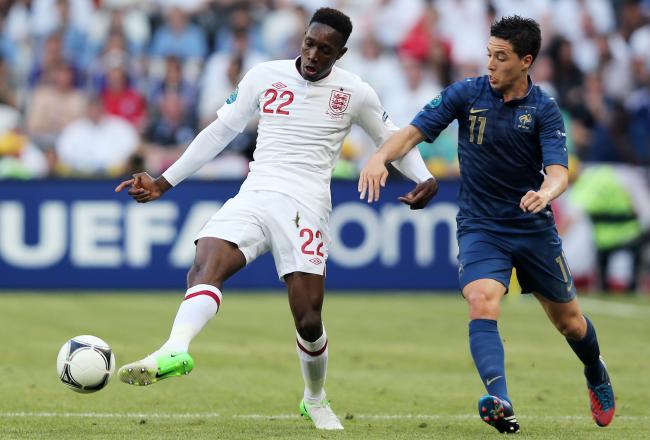 FULL TIME: FRANCE 1, ENGLAND 1
There's the final whistle. The big guns in Group D settle for a draw and one point each.
Both teams have to be satisfied, especially England. France looked more dangerous overall, but they rarely looked like scoring a winner in the second half.
93'—FRANCE 1, ENGLAND 1
All France in stoppage time. Short passes, then, suddenly, a dangerous shot from Karim Benzema.
Hart saves, but that was wicked.
Three minutes of stoppage time…
90'—ENGLAND SUB
Theo Walcott enters the match. Danny Welbeck departs.
90'—FRANCE 1, ENGLAND 1
Nothing doing on the corner.
How about a tweet?
The judges from the Pacquiao-Bradley fight have already given this match to England.

— Matt King (@TheRealMattKing) June 11, 2012
89'—ENGLAND ATTACK!
Jermain Defoe leads an England attack, passing to Milner on the right side.
Milner's low cross is good, and it's deflected out for a corner.
87'—FRANCE 1, ENGLAND 1
It's all France now. England doing nothing but defending now.
France having trouble creating chances.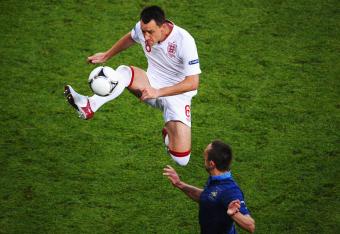 85'—OOOH! FRANCE CHANCE!
England fail to deal properly with another corner.
The ball falls to Karim Benzema on the left side of the England box. He curls a shot toward the far post, and John Terry heads the ball away.
Good thing, too. That looked to be going in.
84'—FRANCE SUBS
Yohan Cabaye and Florent Malouda leave the match.
Hatem Ben Arfa and Marvin Martin come on.
Bold moves by France manager Laurent Blanc.
83'—FRANCE 1, ENGLAND 1
Debuchy races onto a long, long pass and pushes over Ashley Young in the England box to win the ball.
His attempted cross is cleared.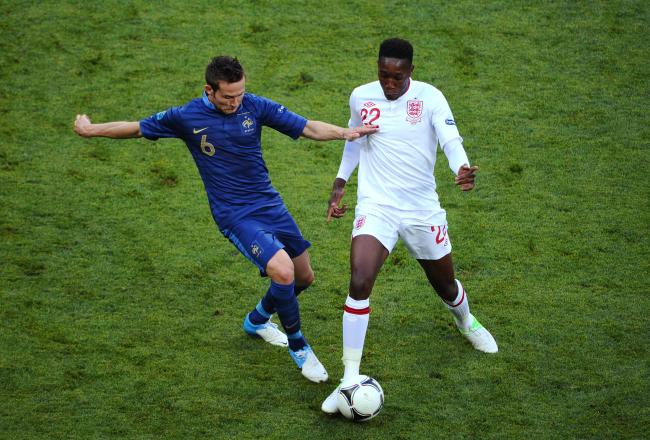 80'—FRANCE CHANCE!
England fail to deal with a corner. Yohan Cabaye hits a rasping volley from outside the box.
It might have been going in, but it's deflected out for a corner by Danny Welbeck.
England deal with the corner easily.
79'—FLOP!
Franck Ribery falls to the floor theatrically, rolling and writhing in pain.
He wants the ref to think it's an elbow by Johnson. It wasn't.
78'—SUBS
Two subs for England.
Midfielders Alex Oxlade-Chamberlain and Scott Parker leave the game
Forward Jermain Defoe and midfielder Jordan Henderson enter.
76'—FRANCE 1, ENGLAND 1
James Milner takes possession of an excellently angled long pass, then promptly receives a bumb from behind, courtesy of France's Patrice Evra.
Milner stays down on the pitch and receives medical attention.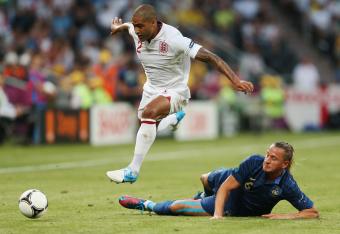 74'—FRANCE 1, ENGLAND 1
Glen Johnson makes a well-timed interception in the England box with France's Karim Benzema lurking.
Jermain Defoe is about to come on for England.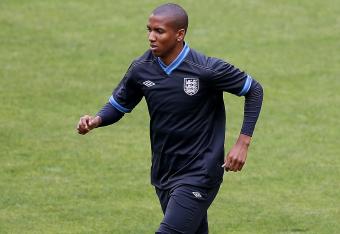 71'—BOOKING
Yellow card for England's Ashley Young. Poorly timed sliding tackle on Karim Benzema.
Good decision. No argument from Young.
70'—FRANCE 1, ENGLAND 1
Ribery lays off for Malouda, whose first-time shot is blocked by Scott Parker.
That was a noisy collision.
Subs coming soon?
Tweet, Tweet
In-game analysis from B/R's Sam Tighe:
Second half, England's lines are clear and concise. Good organisation even the French can't break down.

— Samuel Tighe(@stighefootball) June 11, 2012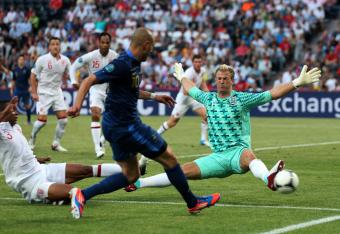 65'—BENZEMA SHOT!
Great buildup play from France, with lots of short passing. The move ends with a dangerous-looking snap shot by Karim Benzema from outside the box.
It's right at Cobra Kai Joe Hart, who saves easily.
Tweet, Tweet
Yes, yes, yes, yes, yes.
France mad because England didn't stop the game for Ribery's flop. This is why this sport needs more lightsabers.

— Collin McCollough (@cmccollo) June 11, 2012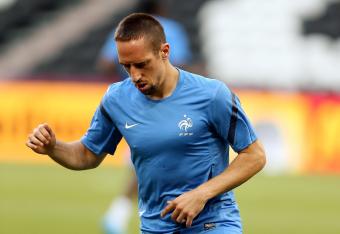 61'—FRANCE 1, ENGLAND 1
Franck Ribery tumbles under a challenge and then stays down as England try to attack.
The French fans whistle at England for not putting the ball out.
Oh, and wouldn't you know? Ribery is quite fine.
Tweet, Tweet
More on the strange atmosphere…
Deathly silence pierced only by the roar of the Mexican wave circuiting the stadium. It's just like playing at Wembley. #euro2012

— Graham Ruthven (@grahamruthven) June 11, 2012
58'—NO FOUL?
No Glen Johnson is toppled by Franck Ribery after burning Philippe Mexes. Again no call.
What's this ref got against England? Two clear fouls missed.
This article is
What is the duplicate article?
Why is this article offensive?
Where is this article plagiarized from?
Why is this article poorly edited?