Duke, UCLA and the Biggest Disappointments in 2012-2013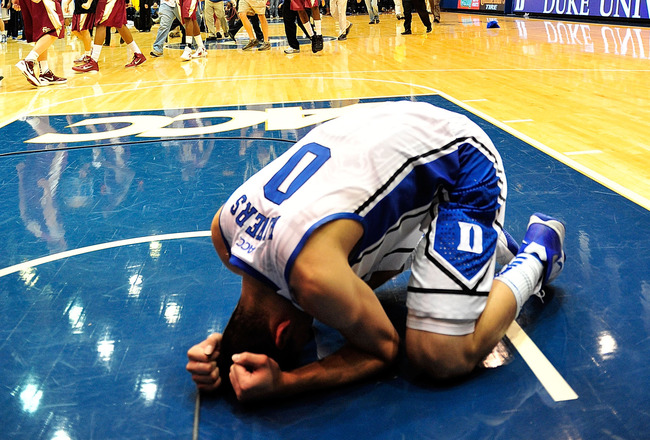 Grant Halverson/Getty Images
Every college basketball season, there are teams who simply fail to live up to their preseason expectations. In the 2012-2013 season, that ill-fated group will include the likes of Duke, UCLA and Baylor, among others.
Whether these teams' failures are due to former players taking their talents to the NBA, an abundance of youth or flat-out lack of talent, all of these squads are headed for similarly unfavorable endings in 2013.
Here are the Top 25 teams destined to fall short in 2012-2013.
Duke Blue Devils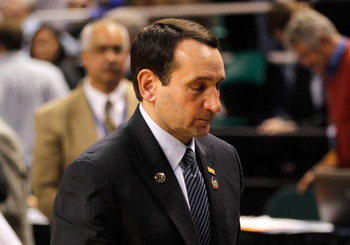 Mike Ehrmann/Getty Images
After Duke's disappointing loss to Lehigh University, a No. 15 seed in the tourney, the Blue Devils and their fans began looking toward the upcoming season as quickly as possible.
Despite losing Austin Rivers, their best player, to the NBA as well as senior big man Miles Plumlee, the Dukies are still expected to compete for an ACC title and are expected to be a Top 25 team, according to ESPN's Andy Katz.
Duke should consider itself fortunate to be in that position. Their likely starting lineup will feature Quinn Cook, Seth Curry, true freshman Rasheed Sulaimon, Ryan Kelly and Mason Plumlee.
Lets start with point guard.
After experimenting last year with true scorers—Seth Curry and Rivers—at point, the Blue Devils learned the hard way that they need a true point guard. While Cook fits the bill stylistically, his game isn't one that will elevate the team to elite status. In games which Cook saw 10 or more minutes last season, the sophomore-to-be averaged 6.8 points and just three assists.
Another issue with Duke is their overabundance of guards. Sure, it sounds like a good problem to have, but the Blue Devils are left without a productive wing player to play the three position. Forcing Mike Krzyzewski to play an undersized guard at that position, as he did last year.
And judging by last year's finish, that sort of lineup does not work.
With the likely redshirt of sharpshooter Andre Dawkins, Coach K will be hard pressed to find consistent scoring off his bench (via CBS Sports). Tyler Thornton and Josh Hairston are primarily defensive players, Marshall Plumlee (Yes, another Plumlee) won't help tremendously in the scoring department and redshirt freshman Alex Murphy and true freshman Amile Jefferson won't see significant playing time.
Perhaps the Blue Devils' biggest shortcoming is their lack of a foreseeable go-to player. Cook isn't one who can create his own shot, Curry is a spot-up shooter—as is Kelly. Plumlee has yet to show he can consistently score on the block—not to mention his horrific free-throw shooting.
That leaves one starting player: true freshman Rasheed Sulaimon.
Sulaimon, the No. 12 recruit in 2012 according to ESPN 100, has a very similar build and game to the NBA-bound Rivers. Both players were the No. 1 shooting guard in their class, and both were known for scoring the basketball coming out of high school. With that in mind, it's hard to envision Sulaimon producing significantly more than Rivers did his first and only year at Duke.
Coach K and the Blue Devils will likely compete for an ACC title largely due to the lack of competition in that conference. However, don't be surprised if Duke is seeded highly going into the tournament and is the victim of yet another early-round upset.
Baylor Bears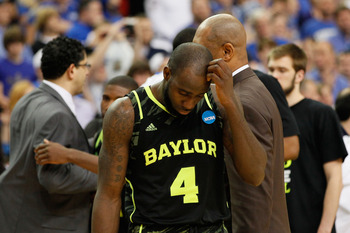 Kevin C. Cox/Getty Images
The Baylor Bears were planning on going through a significant amount of change this offseason—they expected to lose Perry Jones III and Quincy Acy to the NBA.
One key player they thought they had retained was freshman Quincy Miller.
But two weeks after declaring he would return to school, Miller had a change of heart and opted to declare for the the NBA draft (via ESPN). So instead of having one of the best duos in college basketball in Miller and point guard Pierre Jackson, head coach Scott Drew is now left with only one of his previous top four scorers.
Despite the high amount of turnover, Andy Katz still has the Bears ranked at No. 11 in the country at this point. However, Baylor has simply lost too much productivity to duplicate last season's success.
With Jones III, Acy and Miller all headed to the NBA, the Bears' frontcourt will consist of Deuce Bello, Cory Jefferson and true freshman Isaiah Austin—all of whom have yet to start at the college level.
Bello saw some playing time last season, but failed to impress—he only scored 10 or more points in two games. Scott Drew seemingly lost faith in Jefferson, who averaged just over three points per game, as a viable bench player. His minutes continuously dropped as the season wore on and he didn't see the court in three of the Bears' four tournament games.
The possible saving grace for the Bears is Austin—the No. 3 recruit by ESPN. The 7'0" Texan will start right away for Baylor and will be expected to make a major impact on both sides of the court.
Defensively, this kid is a beast.
He shows great timing and his massive wingspan allows him to effect any shot taken inside the three-point line. Offensively, Austin has an extremely high skill level that will only get better as the season goes on.
While the jury is still out on Bears' frontcourt, Pierre Jackson and Brady Heslip will combine to form one of the best back courts in the nation. Jackson, a JUCO transfer, led Baylor in scoring last season with nearly 14 points per game. He also ran the show for coach Drew, evidenced by his six dimes per game. Heslip is the best three-point shooter on the team and proved it last season—shooting 45 percent from deep. The then-sophomore proved time and time again he was also one of the most clutch players on the Bears, including a 27-point (9-for-12 on three-pointers) performance against Colorado in the Sweet 16.
Even with that highly skilled backcourt, the Bears' losses and lack of experience and depth up front will hinder them from having a great season in 2012-2013.
UCLA Bruins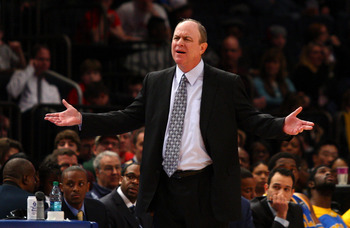 Chris Chambers/Getty Images
It's a boom or bust season in Westwood.
With the No. 1 ranked recruiting class that includes two of the top five ESPN 100 players—Shabazz Muhammad and Kyle Anderson—and two more from the top 50, UCLA is seemingly poised to be this year's version of the Kentucky Wildcats.
Andy Katz has given the Bruins a preseason ranking of No. 7; the majority of that hype is due to the vast array of incoming talent. With that sort of hype surrounding a team that has never played a game together, you have to question whether they will be able to handle the pressure.
Already people are deeming Muhammad as the leader of this Bruin ball club. He was the No. 2 recruit according to the ESPN Top 100 and already has an NBA-ready body—6'6'' and 215 pounds.
Muhammad will have all the eyes of the college basketball world watching his every move this season. We will have to wait and see how he handles the pressure.
Speaking of pressure, how would you like to be thrown into the point guard position and put in charge of distributing the ball among this ultra-talented squad? That is the job of true freshman Kyle Anderson this upcoming season. Anderson—the No. 5 ranked recruit by ESPN— possesses a very unique skill set at his size. He stands 6'7'', but he is expected to play the point for Ben Howland. The kid has tremendous skills, but being a successful point guard is also about having a leadership quality and ability, especially on a team with as many talented players as this one.
Another highly touted recruit set to join the Bruins is big man Tony Parker (via ESPN).
ESPN ranked Parker as the 26th best recruit, as he proved to be an inside force in high school. At 6'9'' and a solid 270 pounds, Parker is expected to dominate in the paint at UCLA.
Larry Drew II is another new addition to the squad. The former UNC Tar Heel is expected to play a large role with the team as he is likely to split time with Anderson at point guard. Drew II saw a significant drop in his production in his last year at Chapel Hill. His points per game were nearly cut in half compared to the season prior, and his assists per game dropped by two.
UCLA and their fans will be hoping to see '09-2010 Larry Drew as opposed to the 2010-2011 version.
With all these new players coming to Westwood, it's easy to forget about the players who are returning for UCLA. Leading that group are the Wear twins—Travis and David—who averaged 11.5 and 10.2 points per game while grabbing 5.9 and 6.3 rebounds respectively. They will be key low-post threat for the Bruins this season.
Another important returning player is Josh Smith, who saw a slight drop in his numbers last season. Smith, 6'10'' and 305 pounds, has constantly battled his weight since his time at UCLA. In order to be the most effective player possible, he'll need to shed a significant amount of that excess weight.
On the perimeter, Tyler Lamb and Norman Powell—who scored 9.0 and 4.6 points per game respectively last season—will also play significant roles.
When you consider all of these new, highly talented and heavily recruited players coming to UCLA, it's apparent there will have to be some sacrifice in terms of shots and minutes played.
How the team deals with those issues will be one of the many responsibilities of Ben Howland.
Howland, who reportedly lost control of his players in recent years, will have to do everything in his power not to screw this season up (via CNN). If the Bruins fail to fulfill these immensely high expectations, you can be sure Howland will be gone from UCLA.
While the Bruins' extremely high level of talent may push them to overall success, it's hard to envision so many superstar players meshing well together. It takes special types of players and a special type of coach—evidenced by John Calipari's recent championship at Kentucky.
Furthermore, the fact that so many new players are going to be playing major roles on this team suggests they won't have great chemistry. Basketball is the ultimate team game and without chemistry among the players, wins are very tough to come by.
If this Bruins squad fails to match expectations surrounding them—which is very possible considering the height of expectations—it will be a tremendous disappointment in Westwood.
Keep Reading

UCLA Basketball: Like this team?