New York Knicks: 6 Reasons Steve Nash Would Be Great for Amar'e Stoudemire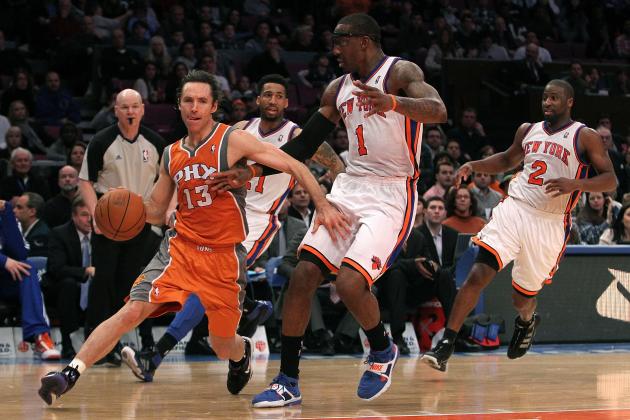 Nick Laham/Getty Images

Steve Nash is now seeing teams line up to try to lure him to their rosters. One team that's in the running for the 38-year-old point guard is the New York Knicks. According to ESPN, the Knicks will be one of the teams that will entice Nash less with money than with the potential to win. The Knicks have $62 million committed to nine players.
The Knicks have one more thing to offer Nash. Nash's former teammate, Amar'e Stoudemire, is the Knicks' No. 2 scorer, and he could help attract Nash to New York.
Stoudemire made his interest known to the New York Daily News, saying, "Everyone knows that Steve loves New York and New York loves Steve. I love Steve. It would be great to have him here next year."
Stoudemire knew where his interests lie when he said he wants to see Nash sign with the Knicks. Having Nash as the Knicks' floor general would significantly benefit Stoudemire.
Following is a breakdown of why the arrival of Nash would be good for Stoudemire.
Begin Slideshow

»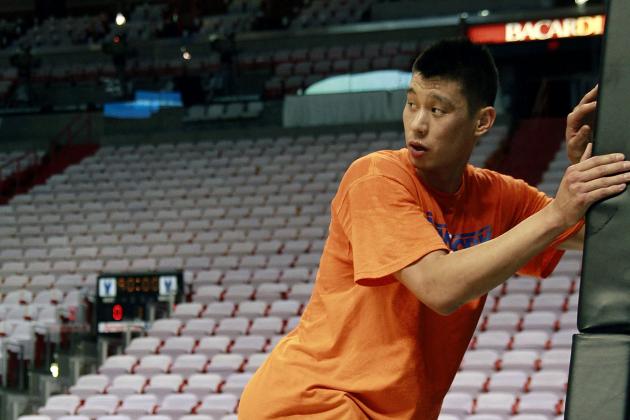 Marc Serota/Getty Images

That Steve Nash is far better than Jeremy Lin is easy to recognize. Even when either one is at his best, Lin can't scrape the level on which Nash stands.
Nash is a better athlete and he's healthier. Nash still runs the floor well and does it with great fluidity. Lin doesn't blow the court up, and he's mechanical in his actions.
Lin is coming off an injury. Lin may recover from his meniscus tear to be a relevant player, but he'll never dazzle again like he did during the height of Linsanity.
Both Lin and Nash turn the ball over often, but Nash does it because of the speed and intensity of the offense he runs, whereas, Lin turns it over frequently because of his unrefined ball-handling.
Lin doesn't make enough plays to quell the impact of his mistakes. He had a dismal 1.71 assist-to-turnover ratio, compared to Nash's ratio of 2.9.
Stoudemire would love to have Nash's remarkable playmaking ability again, which is far more reliable than that which Lin has displayed.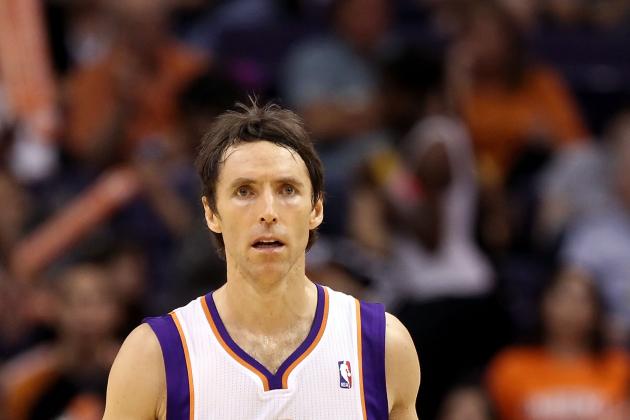 Christian Petersen/Getty Images

Not only is Nash far better than Jeremy Lin, but he's also an established point guard who will likely become a Hall of Famer.
Nash is the most decorated point guard in the game. He's won two MVP awards, been named to the All-NBA First Team three times and made the All-Star Game eight times.
He's also a highly accomplished player. He's led the league in assists per game five times and free-throw percentage twice.
Lin and Iman Shumpert haven't even played a full season.
Lin is far, far away from sniffing the accolades that Nash has gathered.
Stoudemire recognizes how far Nash has gone in his career. He knows what type of career Nash has built for himself. Besides, he played with him for six of those 16 seasons.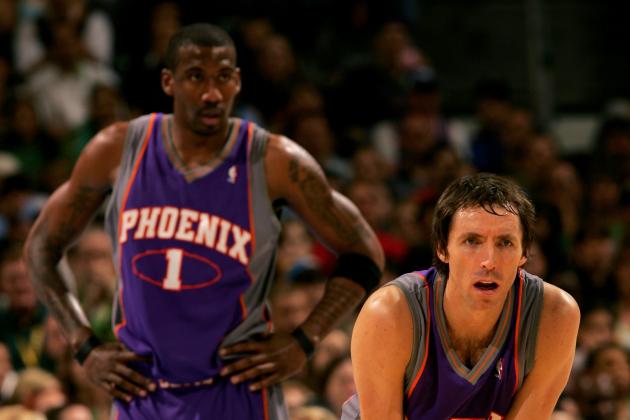 Doug Pensinger/Getty Images

With better overall skill and much more experience, Steve Nash would give the Knicks a far, far better chance of making a deep run in the playoffs than Jeremy Lin would. To start, Nash would be able to work his scorers, Amar'e Stoudemire and Carmelo Anthony, onward to a solid record that would earn the team at least a No. 4 or No. 5 spot in the East.
Nash has plenty of playoff experience to demonstrate his ability to win the games that count the most. He's played 118 playoff games. In seven of the 11 years he's made the playoffs, he's led his team past the first round of the playoffs. He's played in four Western Conference finals series.
Nash averaged double figures in assists in four of the five playoff trips he made with the Suns. Also, he helped push the Suns to the Western Conference final by averaging more than 20 points per game in the 2005 and 2006 playoffs.
He was the playoff leader in assists per game four straight years from 2004 to 2007.
While Nash hasn't won a championship, he's as reliable a playoff performer as Stoudemire could want. Besides, Nash has been there with Stoudemire.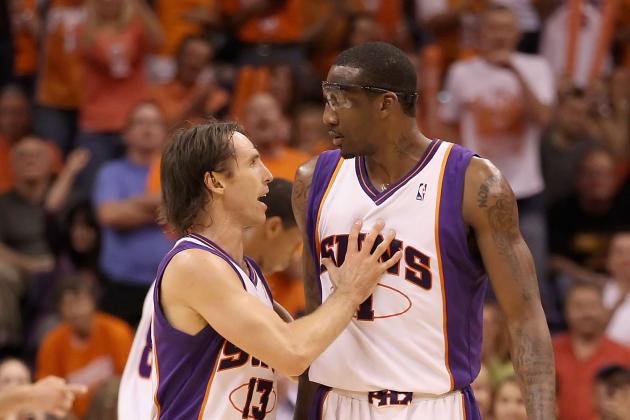 Christian Petersen/Getty Images

If Steve Nash and Amar'e Stoudemire were to reunite, they would re-establish the happy tandem that had brought the exciting playoff runs that the Phoenix Suns attained.
Nash and Stoudemire have a significant history together. They played 360 games together in six seasons. Also, they played 46 playoff games together.
That sort of long-running working relationship seeps to a man's core.
Stoudemire surely keeps strong memories of playing with Nash, who helped him re-establish himself after the knee injury that forced him to miss almost all of the 2005-06 season.
Considering the history that he has playing with Nash, one can hardly wonder why Stoudemire wants him in New York.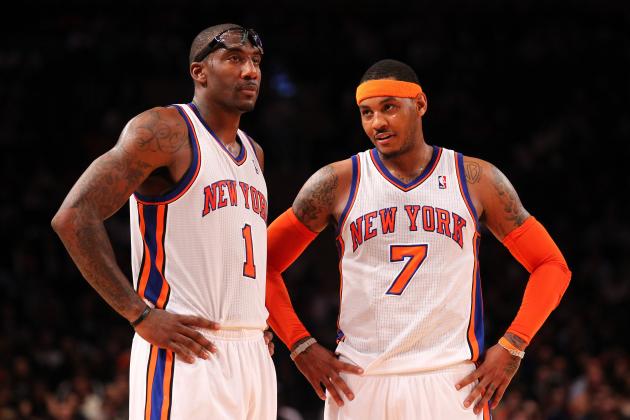 Al Bello/Getty Images

Amar'e Stoudemire is surely miffed at the drop in the number of shots he took this year. He took 13.9 shots per game this season, compared to 19 per game last season.
Part of this is due to the instability at point guard. Baron Davis, Jeremy Lin and Iman Shumpert took turns starting at point guard for the Knicks this season, with Lin and Shumpert's periods in the lineup both halted by injury.
While Stoudemire did watch his point guard, Raymond Felton, get traded for Chauncey Billups last season, Felton, as did Billups after him, stayed generally healthy during his time with the Knicks that year.
Also, with the instability at point guard came the struggle of watching each starter go through his own struggles. Davis struggled with the effects that age had on his game. Lin and Shumpert were just figuring out how to be NBA point guards.
If Nash were to sign with the Knicks, Stoudemire wouldn't have to worry about losing shooting opportunities because the point guard is new and figuring out whether to shoot more. Nash is sure of his role as a point guard and doesn't need others to adjust to accommodate his shortcomings.
With Nash as his point guard, Stoudemire could get back to taking the 15 to 17 shots per game he usually took when he was with the Suns.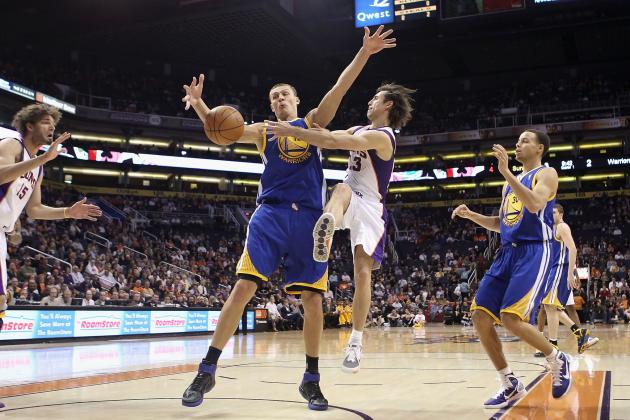 Christian Petersen/Getty Images

One more reason Amar'e Stoudemire would enjoy playing with Steve Nash once again is that Nash is generally a pass-first point guard. Nash generally resists the urge to shoot, allowing others to drop it in the bucket.
While Nash is a capable scorer, shooting 49.1 percent from the field for his career, he isn't often a major option in the offense. He's been fourth or fifth in field-goal attempts per game almost every season since joining the Suns. The only exception is 2005-06, when Stoudemire missed almost the whole season with a knee injury.
Meanwhile, Jeremy Lin shoots quite a bit for a point guard. In February, he matched Carmelo Anthony for the team lead with 15.4 field goal attempts per game. In March, Lin was third with 11.5 field goal attempts per game, just 0.7 behind Stoudemire.
One thing Stoudemire surely doesn't enjoy is a point guard competing with him for shot opportunities. He already has to compete with Carmelo Anthony for shots.
If Nash were to join the Knicks, then Stoudemire wouldn't have to worry about that. Nash would submit to Stoudemire and Anthony the bulk of the shot opportunities. More shots could lead to more scoring for Stoudemire, which would do nothing but put a smile on his face.