NBA Finals 2012: Preview of Key Matchup Between LeBron James & Kevin Durant
June 12, 2012

Jamie Squire/Getty Images
For the NBA season that-almost-wasn't coming to a close, David Stern could not have scripted a better matchup than the two best players in the league meeting for only the third time this season; putting it all on the line for the coveted Larry O'Brien Trophy.
None of the writers from any of the multiple Real Housewives series could have strategically set up a better finale: three-time MVP LeBron Raymone James taking on three-time scoring champ Kevin Wayne Durant.
The Heat are the two-time defending Eastern Conference champions back for revenge and bloody eyebrows after having to start this NBA season on Christmas Day watching the Dallas Mavericks banner raising ceremony in that other American Airlines branded facility. If that does not hurt worse than a Chris Bosh ab injury, I don't know what does.
But which team has the edge here?
Oklahoma City is clearly the younger and faster team (their primary starting lineup with Durant, Westbrook, Perkins, Ibaka and Sefolosa has an average age of 25.1). You did see how hard of a time the slightly older Heat had with the ridiculously older Celtics, yes?
It is going to be interesting to see how they fare against OKC's lineup. All this talk about Miami's high-salaried Big Three, but Kevin Durant and Russell Westbrook are the first leading scorer duo—both 23 years old—to make the NBA Finals since Shaquille O'Neal and Penny Hardaway in 1995 (via Elias Sports Bureau).
The Westbrook/Durant dynamic is just that—dynamic. Both guys can shoot from the perimeter, drive in the paint, pass on a dime and can both hold their own on defense causing turnovers: all things Miami needs to be weary of. Turnovers are going to be a big part of this series—no player averages more turnovers per game in their NBA Finals career than LeBron with 4.7. This can and will be a huge factor.
OKC is on a roll. The Thunder have demolished three teams who have claimed 10 of the last 13 NBA titles. In other words, this is the first time in the last 14 years that a team NOT named the Lakers, Spurs or Mavericks won the Western Conference.
But after five days off, will the Thunder be able to maintain that momentum they had against the Spurs who prior to losing four straight to Durant and company, had not lost a game in 50 days? While impressive, can they make it last with pressure mounting?
That Miami threesome of Bosh, Wade and James is still one to lookout for. In the fourth quarter of Game 7 against Boston, the three combined for 28 points. It may have taken some time, but it looks like the single-digit jersey guys are starting to learn to play ball together as a team. 
Tonight's game will be key. Winner of Game 1 of the NBA Finals goes on to win the series more than 70 percent of the time. Both benches will need to make an impact—this game will take much more than the superstar heroic acts of LeBron and Durant and well beyond the strategic coaching guises of Erik Spoelstra and Scott Brooks. Every single man on that roster needs to show up.
Chris Bosh has missed nine playoff games due to his ab injury—that was a brutal blow to not only the offensive game the Heat dominated, but their defensive and leadership cornerstones as well. With Bosh claiming to be 99.2 percent healthy, Heat fans cannot help wonder about D-Wade and which No. 3 will show up come game time. His persistent knee problem and lack of accountable 'clutchness' will play a huge role in this matchup.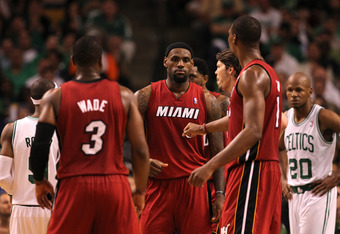 Jim Rogash/Getty Images
Kendrick Perkins and Serge Ibaka are two inside guys guaranteed to make driving into the paint difficult for Miami and are going to play an integral role in controlling the tempo of these games. While the Thunder have youth on their side, that also means they have a lot of rookies playing on such a big stage for the first time.
Well, pretty much everyone except for Derek Fisher, who somehow someway managed to wiggle into an OKC uniform at the end of the regular season. The same Derek Fisher who knows a thing or two about NBA Championships, sporting a championship ring on each of his five fingers.
Miami needs to be on the lookout for his clutch threes. Fisher is only one of two guys on the Thunder lineup to have won a previous championship, along with Kendrick Perkins back in 2008 with Boston. Miami is really going to need to rely on the smart play from Shane Battier—both behind the three-point line and aggressive on defense.
Athleticism and talent aside, there is another determining factor in this series. For a multitude of reasons, the Heat have more critics than any other team or reality-televison villain combined. To make things worse for Miami, the Thunder have more "impromptu bandwagoners" that care more about the Heat losing than they do about an actual OKC victory. That will play a role in this series.
This series is sure to be epic and even if you are not a basketball fan, odds are you will tune into this championship series. Aside from dictating a potentially new NBA dynasty (sorry Lakers), it is a battle of freakishly amazing athletes up and down the court.
For the Miami Heat, the Big Three, Erik Spoelstra, the entire front office and all their loud-mouthed fans (yes, myself included), it is do or die, now or never.
This series is the Heat vs. the Anti-Heat. Epic is the only suitable word that continues to come to mind. Take my advice—DVR Glee, Criminal Minds, Swamp People, Basketball Wives, or whatever it is you watch on a regular basis and tune in to these seven games. You can thank me later.
LeBron James promised infinite championships to the city of South Beach (er, Miami) during that infamous 60-minute segment on ESPN. The Heat is on and no one knows that better than No. 6 himself.
At the end of the day, or the end of Game 7 as most analysts will agree, the King will get his ring.