Assessing How Dolphins Front 7 Fits into Kevin Coyle's 4-3 Scheme
Photo via TheBigLead.com
The arrival of defensive coordinator Kevin Coyle spells the dawn of a new era for the Miami Dolphins defense.
For the last three years, Mike Nolan piloted Miami's defense with his hybrid 3-4 defense. But Nolan bolted for greener pastures following the 2011 season, and the Dolphins pinned longtime Cincinnati Bengals secondary coach Kevin Coyle as his replacement.
Now, Coyle is installing a 4-3 based defense (Miami will still use a 3-4 occasionally), and the Dolphins' starting front seven will take on new roles.
Exactly how do Cam Wake and Co. fit in?
Here's a look.
Defensive End: Jared Odrick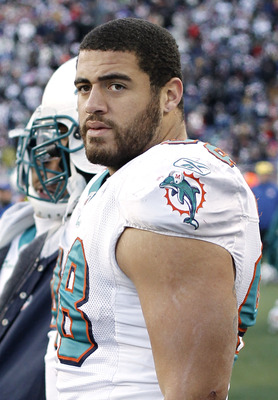 Winslow Townson/Getty Images
Jared Odrick is one of two starters entering uncharted territory in Kevin Coyle's 4-3 based defense.
The former first-round pick specialized as a 3-4 defensive end and 4-3 defensive tackle last season. This year, however, Odrick will slide outside and start as a 4-3 defensive end, a position he's never played before.
Odrick gives the Dolphins an oversized bookend who, combined with the rest of the starting defensive line, could make it very difficult for opposing teams to establish the run.
On passing downs, Odrick will likely slide inside to defensive tackle while Olivier Vernon steps in at defensive end. Odrick racked up six sacks in a backup role last season, so he could approach the double-digit mark this season.
Defensive Tackle: Paul Soliai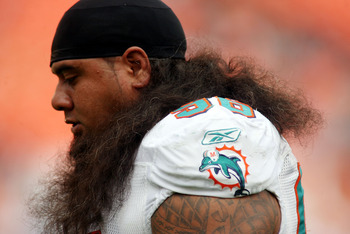 Marc Serota/Getty Images
The odds of Paul Soliai re-signing with the Dolphins were slim back in January. Soliai would've been hotly pursued on the open market and could've landed a monstrous deal with a contender. But, the tide might've turned when Miami hired Kevin Coyle.
Coyle spent 11 years under Bengals defensive coordinator Mike Zimmer, who is regarded as one of the best defensive coordinators in the NFL. Zimmer uses massive defensive tackles—like Domata Peko (6'3", 320) and Pat Sims (6'2", 330)—to anchor his front seven.
Soliai will be used in a similar role. He'll line up at defensive tackle in the 4-3, and shift to his old stomping grounds at nose tackle in the 3-4. In both alignments, Soliai will serve primarily as a space-eater, essentially clogging holes and consuming one or two offensive linemen.
It's starting to look like Coyle is replicating Zimmer's blueprint, and its emphasis on the nose tackle position might've swayed Soliai to re-sign with the Dolphins.
Defensive Tackle: Randy Starks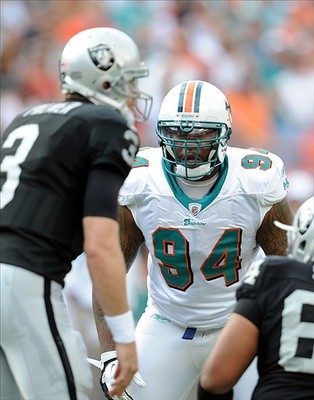 Photo via PhinPhanatic.com
Randy Starks will line up alongside Paul Soliai in the base 4-3 alignment.
Because Soliai is so massive and often demands double teams, Starks will have the opportunity to create chaos against the run and the pass. Starks is as a proficient run-stuffer and pass-rusher, and he can utilize both mindsets in this 4-3 alignment.
Opposing teams are bound to focus on Soliai and Cameron Wake, and Starks might sneak below the radar, much like he has for eight NFL seasons.
Defensive End: Cameron Wake
The 4-3 defense might force some players to enter foreign territory, but not Cameron Wake.
Miami's most ferocious and productive pass-rusher will slide down from outside linebacker to defensive end, the same position he played in the CFL. In two seasons as a BC Lions defensive end, Wake registered 39 sacks.
Rather than stand up like he did in Mike Nolan's 3-4 alignment, Wake will line up on the line of scrimmage with his hand in the ground.
Wake can lineup in the 5-technique (on the outside shoulder of the offensive tackle), 7-technique (inside shoulder of the tight end) or the 9-technique (outside shoulder of the tight end).
Kevin Burnett: Sam (Strongside) Linebacker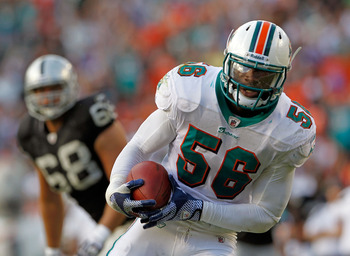 Mike Ehrmann/Getty Images
In the 4-3 defense, each linebacker is often referred to by a name rather than "outside linebacker" and "inside linebacker."
Kevin Burnett will be Miami's "Sam," or strong side linebacker (you might also see this position referred to as SLB). As the Sam linebacker, Burnett will line up across from the tight end or whichever side of the field has more personnel. Burnett must be able to locate the ball carrier and shed blocks from tight ends and fullbacks.
Another one of Burnett's primary responsibilities is covering tight ends, which could get problematic. Tight ends have consistently shredded Miami's defense apart because of poor safety play and sluggish linebackers.
Burnett was supposed to help fix that problem last season, but he was burnt aplenty. It's vital that Burnett elevate his game, or opposing tight ends will continue to slice up the Dolphins.
Karlos Dansby: Mike (Middle) Linebacker
Photo via PalmBeachPost.com
Karlos Dansby will serve as the Dolphins' "Mike," or middle linebacker (or MLB).
He'll be the defense's field general, relaying play calls from the sidelines and making on-the-fly adjustments. Dansby's main responsibility is to track down the ball carrier, spy on the quarterback and drop back into coverage on passing downs (unless he's blitzing).
Dansby has extensive experience in the 4-3 stemming from his days with the Arizona Cardinals—and the Dolphins' occasional use of it—so he shouldn't have any problems making the transition.
Koa Misi: Will (Weakside) Linebacker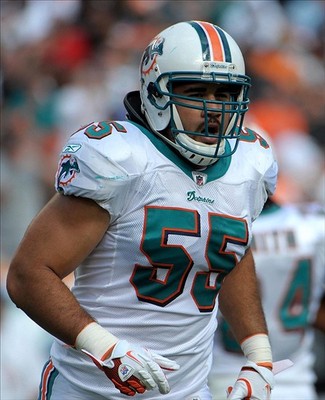 Photo via PhinPhanatic.com
Koa Misi is slated to start as the "Will," or weak side linebacker (or WLB). He, like Jared Odrick, is playing an entirely new position.
As the Will linebacker, Misi must be able to stuff the run and frequently drop back into coverage.
On running plays, Misi will seal the edge, forcing the ball carrier inside where he'll meet Paul Soliai and a wall of Dolphins defenders. If the ball carrier runs to the strong side, then Misi will pursue him form the backside, but must beware of a reverse.
Meanwhile, on passing plays, Misi may line up with an inside receiver or stay put and cover a zone.
Misi isn't the world's most athletic linebacker, so he's a bit of a wildcard in the 4-3. But, Misi is a better fit for the 4-3 than he was for the 3-4. Hopefully, this transition will help revive his career.
Backups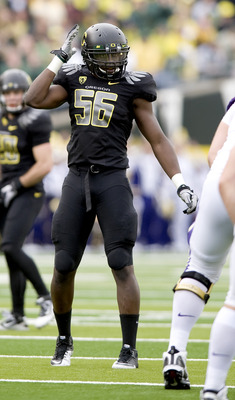 Steve Dykes/Getty Images
As for the backups, here's how each will figure in:
Gary Guyton, an ex-New England Patriot who the Dolphins signed in April, should get on the field fairly often. He's a speedy, athletic linebacker who can play in the Sam and Mike linebacker spots. If Kevin Burnett, Karlos Dansby or Koa Misi are sidelined, then Guyton will get the call.
Olivier Vernon will spend most of his rookie season in passing down packages. He can generate a pass-rush as a 4-3 defensive end or as a 3-4 rush outside linebacker. If Vernon makes the leap to the NFL swiftly, then he could work his way on to the field in other scenarios as well.
Josh Kaddu attended his first OTA session yesterday, so it's hard to tell what kind of role he'll play. But expect Kaddu to see limited reps at the Sam linebacker spot in the 4-3 and as a rush outside linebacker in the 3-4.
Keep Reading

Miami Dolphins: Like this team?