Toronto Maple Leafs 2012/13: A Changing of the Guard
June 12, 2012

Justin K. Aller/Getty Images
After what appeared to be one of the most epic collapses to a season ever seen in the NHL (well, aside from the performance put on by the Minnesota Wild this year), Brian Burke identified a number of changes that need to be made in the offseason.
A number one centerman and a starting goaltender were singled out by Burke as being integral to the future success of his franchise.
My take?  Easier said than done, Burkie-boy.
There is another area the Burke touched upon, however briefly, that will be key to the future success of his club and far easier to address than bringing in two star players: bringing in more veteran leadership.
It brought to my mind an interesting question.  I thought to myself, "why do Colby Armstrong and Mike Komisarek continue to sport an 'A' on their jerseys?"
Here's a scenario: picture yourself as a young player who has worked hard at the AHL level to develop your professional game.  You have listened to your coaches, management, and have put every ounce of effort possible into improving the areas that they have identified that need work.
It's game day and you're feeling nervous because you had a bit of a rough time trying to understand Ron Wilson's concept of "defensive zone coverage" earlier in the week, but your veteran leaders have taken it upon themselves to make you feel comfortable and confident.  Starting lineups are set, you feel the nerves kicking in again, and you take a quick look for the reassuring presence of those leaders again.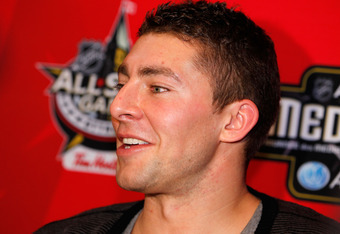 Gregory Shamus/Getty Images
Suddenly you realize your assistant captains, Mike Komisarek and Colby Armstrong, are healthy scratches for the 20th time that year.
What kind of message does that send to a young player?  I've never understood it.  No matter what anyone says, it is completely, entirely and wholly incomprehensible.
Randy Carlyle needs to put his stamp on this team by appointing new Assistant Captains out of training camp.  Carlyle will need to identify who HIS leaders are, not Ron Wilson's.
As of now, I am happy with Mikhail Grabovski holding one of the titles as Assistant Captain, and I'm sure Randy Carlyle will honour that appointment.
Trades and signings aside, I feel as though there are candidates on the roster right now that can easily step into the role purely on the basis that their play has earned them these titles.
My choices?  Two will make the cut, but I'll give three options just to create a bit of controversy.
Joffrey Lupul, Phil Kessel, and David Steckel.
Of the three, I think Joffrey Lupul deserves it the most.  He has been a sparkplug since joining the Leafs midway through last season, and has been a leader in so many different ways in this city.
He has lead by example by demonstrating how committed he is to his team and his sport in overcoming a potentially career-ending medical condition.  He has lead by example in adapting his game to what the first line needed so desperately to succeed: a gritty, power-forward willing and able to get in hard on the forecheck to recover the puck for his sniper of a linemate, Phil Kessel.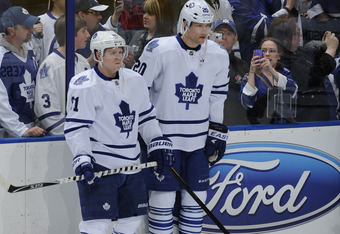 Dale MacMillan/Getty Images
In fact, his performance on the ice lead to him being named to this season's All Star Game.  AS AN ASSISTANT CAPTAIN.  Good enough for the entire Eastern Conference, but not the Toronto Maple Leafs?
Speaking of the All Star Game, Lupul did a wonderful job representing his Leafs in the lion's den known as Ottawa, off the ice.  He approached the myriad of boos with humour at the draft and even took a few shots back at the crowd.  He did it all with a smile on his face, which was great to see.
This is an extension of how he represented his team all season off the ice.  He was always willing to address the media and speak on behalf of his teammates.  Through wins and losses, he was not shy when it came to speaking publicly.  The important thing to note was that he did not speak like a robot reading a script, (cough, Phaneuf, cough).  He spoke intelligently and tactfully.  Not once did he blame his teammates or his coaches.  He took as much responsibility for the losses as the next guy.
Perfect candidate, if you ask me.  I think he is a lock.
Now, readers may disagree with my choices of Steckel and Kessel for a variety of reasons.  I can't say I would blame any of you.  Phil Kessel has a lot of questions surrounding his consistency and willingness to do what it takes to win.  And I think when it comes to Steckel, most would just write him off, saying he's a fourth line plug.
However, I think it would be important to Kessel's development to be officially named a leader of his team.  His point production is very good, and it has been steadily increasing over the last three years.  I think that more important than his ability to put points up is that for all the criticism he's taken, he's shown a very steady improvement in the defensive aspect of his game as well.
People may argue adamantly against that point, and in a way they may be right.  I think we can all agree that his defensive play still leaves much to be desired.  However, for a guy that is such a pure offensive talent, and under the most scrutiny of arguably any player on any team in the NHL, he has persevered in his improvement.  And he has not let his offense suffer for it.
I think it is time to put the torches and pitchforks away for a minute and reward the young Leafs star.  It will show him that his hard work is not going unnoticed.  Hopefully, the timing of the reward will give him the confidence and encouragement to improve even more under a tough, defensive minded coach in Randy Carlyle.
I think the timing is right, so Phil Kessel is a definite possibility in my mind.
However, Carlyle may want a more physical, more vocal leader to be provided with the opportunity to lead the team with an 'A' on his jersey.  For that player, I would point to Dave Steckel as the perfect candidate.
As of now, this Leafs squad doesn't have much size up front.  They don't have much grit up front.  Steckel may not throw hit-of-the-year candidates, but he ALWAYS finishes his checks.  The only other player who does so as consistently as Steckel is Mike Brown.  He is a huge body at 6'6", 215 pounds so the sheer volume of hits he lays definitely wears on the opposition.
Additionally, Steckel was relied upon very heavily by Carlyle once he replaced Ron Wilson as head coach.  He was used on the third line to shut down the opposition's best offensive weapons.  Due almost to his faceoff prowess alone, he was quite effective in his new role with the increase in responsibility.
I think Steckel brings the consistent, gritty performance that Carlyle wants in his forwards, and in that way, he has clearly established himself as a leader of this team.  In addition to this, in the same vein as Joffrey Lupul, Steckel was always available to the media when they asked for him.  Win or lose, he was the voice of his team, and he was refreshingly honest in his assessment of his team's performance.
His honesty may have been misconstrued as negative criticism or venting of frustration in some cases, however, I think that Steckel simply has the courage to call it like it is.  Sugarcoating a situation and providing media with cookie-cutter answers can be tiresome and ineffective.  Steckel did not shy away from speaking his mind and I believe that kind of honesty is completely necessary in a dressing room.
A team will not improve unless it can look in the mirror and recognize areas that must be improved upon.
So there you have it folks, my three candidates to be named the next Assistant Captains of the Toronto Maple Leafs.
Whether new players are brought it or not, I think it will be important to the growth of the group to appoint leaders who are already a part of taking this team in a positive direction.  Three of those players, clearly in my mind at least, are Joffrey Lupul, Phil Kessel, and David Steckel.

Thanks for reading!