Predicting Two-Deep Cincinnati Bengals Depth Chart, Pre-Training Camp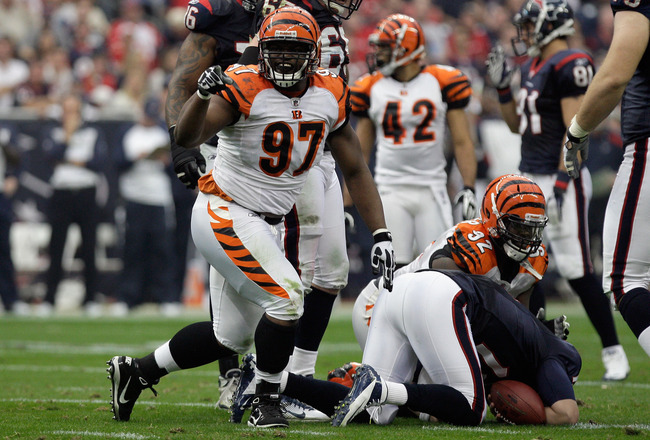 Thomas B. Shea/Getty Images
The Cincinnati Bengals are entering training camp in 2012 with one of the younger and more talented depth charts in all the NFL.
The impressive depth has been built through a combination of smart free-agency acquisitions and even better drafting. Furthermore, the roster is even stronger with last year's playoff appearance. As a result, the Bengals are poised to have a breakout season in 2012.
Cincinnati has one of the more difficult depth charts to predict in the NFL thanks to said talent and depth. It is easy to see which starters from last year will resume their roles, but it is difficult to predict which players are penciled in as starters heading into camp.
Here is a pre-training camp prediction for the Bengals' depth chart at every position.
Quarterback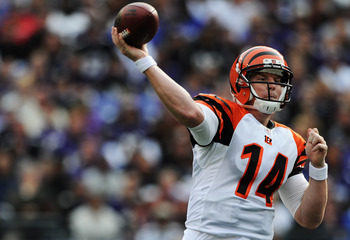 Patrick Smith/Getty Images
1. Andy Dalton
2. Bruce Gradkowski
No surprise here. Andy Dalton had a shockingly good rookie campaign that was second only to the Carolina Panthers' Cam Newton. He returns as the starter next season as a second-year quarterback with playoff experience and an expanded playbook.
Bruce Gradkowski is not really facing any competition this offseason for the No. 2 spot on the depth chart. He is a reliable veteran that has the ability to come in and effectively run the offense should Dalton suffer an injury.
Running Back/Fullback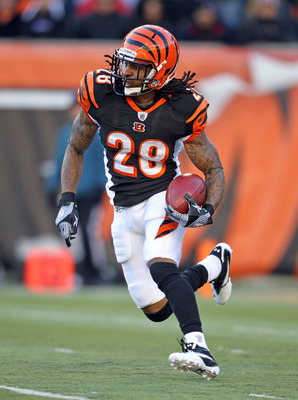 Andy Lyons/Getty Images
Running Back
1. BenJarvus Green-Ellis
2. Bernard Scott
BenJarvus Green-Ellis was brought in by the Cincinnati Bengals to replace last year's starter Cedric Benson. He is a reliable short-yardage back that fits well in the West Coast offense. The Bengals are utilizing a running-back-by-committee system this year, but Green-Ellis will receive the majority of the workload.
Bernard Scott has shown flashes of ability during his tenure in Cincinnati, but has not received enough carries over the course of a season to truly demonstrate he can be a starting back. Scott is an explosive runner that is a threat to score on any play, and he will receive more carries than both Brian Leonard and Cedric Peerman.
Fullback
1. Chris Pressley
There are a few young names on the Bengals' roster right now that will compete for Chris Pressley's starting gig, but he won't lose it. Pressley was effective last year and will be the only fullback on the roster next season.
Wide Receiver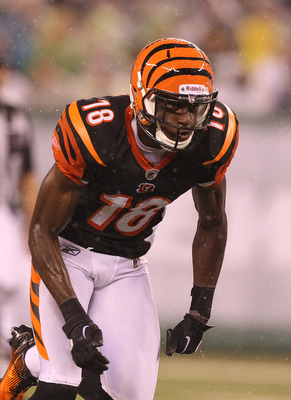 Al Bello/Getty Images
1. A.J. Green
2. Mohamed Sanu
A.J. Green burst onto the scene last year and had a borderline top-10 season with a rookie quarterback. Green's status on the team isn't changing. He will continue to be the No. 1 option on the team and be successful despite all of the attention opposing defenses will give him.
Mohamed Sanu, who fell to Cincinnati in the third round of this year's draft, has the perfect build and playing style to be the receiver opposite Green. He makes the majority of his catches over the middle and is sure-handed enough to be a solid possession receiver for the Bengals' offense.
Tight End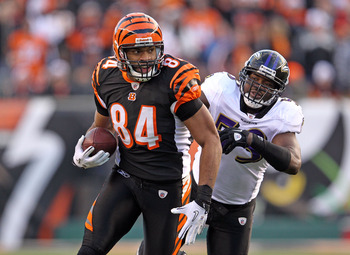 Andy Lyons/Getty Images
1. Jermaine Gresham
2. Orson Charles
The Bengals selected Jermaine Gresham in the first round of the 2010 NFL draft for a reason. He is an outstanding athlete that is a legitimate red-zone threat and is physical enough to be effective in run blocking. Gresham creates mismatches all over the field and is yet another dynamic element to the Bengals' offense.
Orson Charles plummeted to the Bengals in the fourth round of this year's draft thanks to a DUI charge. He is an eerily similar player to Gresham and will work his way up to the second spot on the depth chart very quickly.
Left Tackle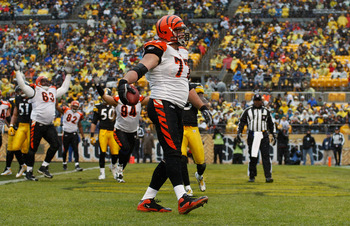 Jared Wickerham/Getty Images
1. Andrew Whitworth
2. Anthony Collins
Andrew Whitworth's spot on Cincinnati's depth chart isn't changing for an extremely long time. As one of the most criminally underrated left tackles in the NFL, there is no reason to believe his effective play will drop off any time soon.
Anthony Collins enters camp as Whitworth's backup. This isn't likely to change, as Collins played very well last season when he had to fill in for injured players.
Left Guard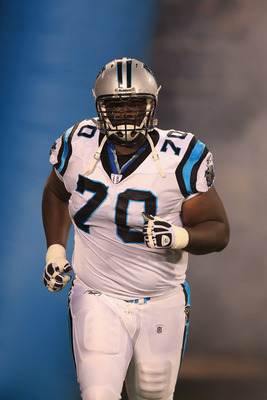 Streeter Lecka/Getty Images
1. Travelle Wharton
2. Otis Hudson
The Bengals brought in former Carolina Panthers guard Travelle Wharton this offseason in free agency to be a starter. Nate Livings, last year's starter, was mediocre at best, so the Bengals are hoping Wharton can be an upgrade. Wharton enters camp penciled in as the starter next to Andrew Whitworth.
Otis Hudson has worked his way up through the ranks of the Bengals' organization after it selected him in the fifth round of the 2010 NFL draft. Hudson is now a primary backup with a chance to start a few years from now.
Center
Jamie Sabau/Getty Images
1. Kyle Cook
2. Reggie Stephens
Kyle Cook has been Cincinnati's starting center for a few years now. He was good enough last season that the team felt like an upgrade was not necessary, but one could be in the near future. For now he is the starter.
Reggie Stephens is a former seventh-round selection by the Bengals in 2010. He has bounced around the league since then, but is a solid backup and should be the primary backup to Cook heading into camp.
Right Guard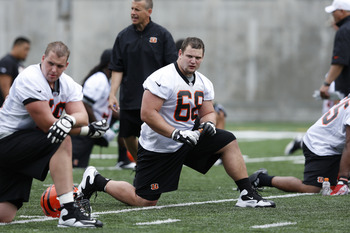 Joe Robbins/Getty Images
1. Kevin Zeitler
2. Clint Boling
This year, the Bengals made Kevin Zeitler the No. 27 overall selection in the draft to replace veteran Bobbie Williams. Zeitler is currently penciled in as the starting right guard and will have to do a lot to lose the spot.
Zeitler is backed up by Clint Boling, a guard who was selected in the fourth round last season. Boling was thrown to the wolves early last season thanks to a suspension in front of him on the depth chart, and was subsequently benched. He is the primary backup to the rookie Zeitler.
Right Tackle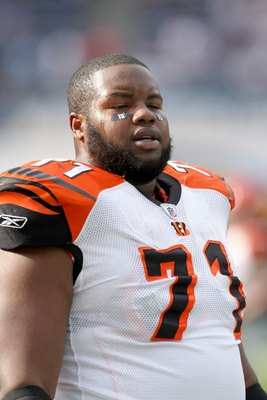 Stephen Dunn/Getty Images
1. Andre Smith
2. Dennis Roland
Andre Smith had somewhat of a breakout season for Cincinnati last season as he continued to be a mauler in the running game and improved his pass protection. The organization is hoping he continues to improve and is able to hold down his starting role.
Dennis Roland is a former starter for the Bengals that was exposed as a weak link on the line. With that being said, Roland is a solid backup that can play the majority of the positions on the offensive line. He will settle in nicely behind Smith on the depth chart.
Left Defensive End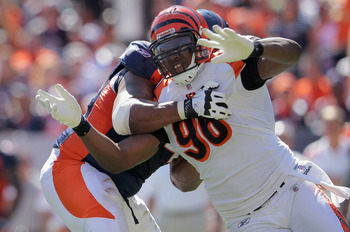 Doug Pensinger/Getty Images
1. Carlos Dunlap
2. Robert Geathers
This spot is a bit of a toss-up on the Bengals' depth chart. When Carlos Dunlap has been healthy he has been dominant, but those appearances seem to be few and far between. Meanwhile, Robert Geathers is a solid all-around end that excels in stuffing the run.
With the way the Bengals use a deep rotation at every position on the line, it will not be surprising to see Geathers and Dunlap see the same amount of snaps by season's end.
Right Defensive End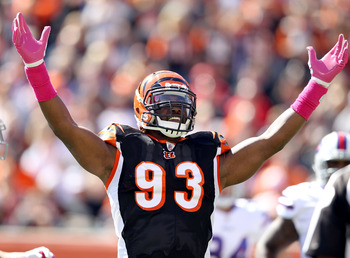 Andy Lyons/Getty Images
1. Michael Johnson
2. Jamaal Anderson
Michael Johnson has shown flashes of ability at this point at the defensive end position, but he has struggled to stop the run. As of now, Johnson is the starter, but he needs to add more bulk to better defend against the run. He is an excellent pass-rusher, but there is room for improvement.
The Cincinnati Bengals elected to sign former No. 8 overall pick Jamaal Anderson to make up for the loss of ends Frostee Rucker and Jonathan Fanene. Anderson has been labeled a bust to this point, but he could excel in a system such as the Bengals' that utilizes a deep rotation and keeps all defenders fresh.
Defensive Tackle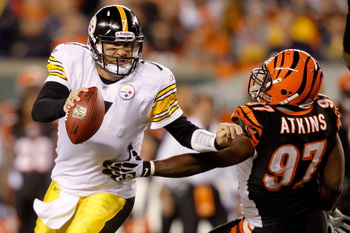 Matthew Stockman/Getty Images
1. Geno Atkins
2. Domata Peko
At defensive tackle, the Bengals have managed to find the best pass-rusher in the league at the position in Geno Atkins. The former Georgia Bulldog has now worked his way up to the No. 1 spot on the depth chart thanks to his outstanding all-around game.
Domata Peko has been an effective run-stuffer in the middle of the defensive line for Cincinnati since he was selected in 2006. His status won't change on the depth chart heading into camp because his skill set is the perfect complement to Atkins' pass-rushing ability.
Strong-Side Linebacker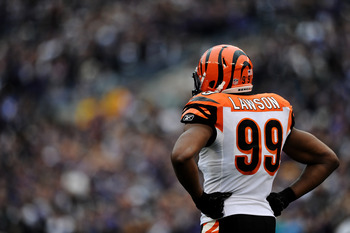 Patrick Smith/Getty Images
1. Manny Lawson
2. Dontay Moch
Cincinnati made a smart decision this offseason in bringing back Manny Lawson. Last season, he was primarily used in coverage and against the run, but Cincinnati plans to use him more this season as a pass-rusher. Lawson is a lock as the strong-side linebacker.
Behind Lawson is Dontay Moch, an exciting prospect that has been battling injuries and migraines since entering the league a year ago. He is behind Lawson entering camp, and that is his ceiling for this year, at least on the depth chart.
Weak-Side Linebacker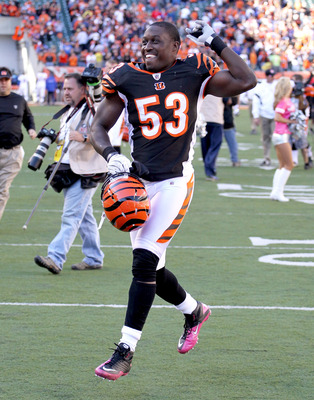 Andy Lyons/Getty Images
1. Thomas Howard
2. Dan Skuta
Thomas Howard was one of the Bengals' better free-agent signings in recent memory. Last season, he led the team in tackles and was a noticeable leader on and off the field. Howard isn't going anywhere and is a lock to start this season.
The Bengals have a bit of a problem with the linebacker position in that there are a good amount of quality players that could make the team. Dan Skuta is one of those players. He is excellent on special teams and played well last season at middle linebacker in Rey Maualuga's absence.
Skuta has the ability to play multiple positions on defense, so he likely slides to the weak-side linebacker spot to make up for the loss of Brandon Johnson.
Middle Linebacker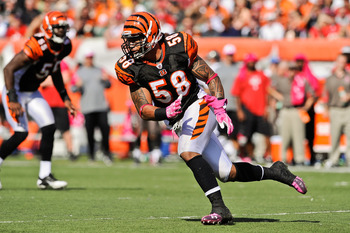 Jamie Sabau/Getty Images
1. Rey Maualuga
2. Roddrick Muckelroy
Despite yet another run-in with the law, Rey Maualuga at this time is still the starting middle linebacker for the Cincinnati Bengals. Maualuga had appeared to turn a corner in his development last season until he suffered an ankle injury. He rushed back and was not the same for the rest of the season.
Roddrick Muckelroy is yet another talented young linebacker lost in the shuffle of quality at the position on the roster. Muckelroy missed all of last season due to injury, but the year before that he showed flashes of ability. With Dan Skuta moving to the outside, Muckelroy is the only viable option to back up Maualuga.
Cornerback
Larry French/Getty Images
1. Nate Clements
2. Jason Allen
Nate Clements was solid last season both in coverage and against the run. He is a valuable veteran presence that potentially has a few quality seasons left. He will enter camp as the No. 1 corner.
The Bengals learned from their paper-thin cornerback depth of last season and signed former Houston Texans cornerback Nate Allen this offseason. He will be the starting cornerback opposite Clements to open camp.
The question mark heading into camp is where No. 17 overall selection Dre Kirkpatrick fits into the cornerback equation. As of now, Kirkpatrick is not above the third spot on the depth chart. In camp, he could work his way into a starting role, but for now he is not near the top of the depth chart.
* Leon Hall, although reportedly significantly ahead of schedule for training camp, is still recovering from a torn Achilles. It is hard to imagine the Bengals will rush him back, especially just for training camp. For now, it appears as though Hall could be ready for the start of the season, but the safe bet is that he will start the season on the PUP list.
Free Safety
Larry French/Getty Images
1. Reggie Nelson
2. George Iloka
If Thomas Howard was one of the best-free agent acquisitions in recent Bengals history, Reggie Nelson was one of the best trade acquisitions. Nelson has held down the starting free safety gig effectively enough to the point that the Bengals made it a point to re-sign him this offseason. His job is not in danger heading into camp.
George Iloka is presumably the backup to Nelson at this point in time after being selected in the fifth round this year. At 6'4", 225 lbs, Iloka is a physical freak that could push for a starting role in a few years.
Strong Safety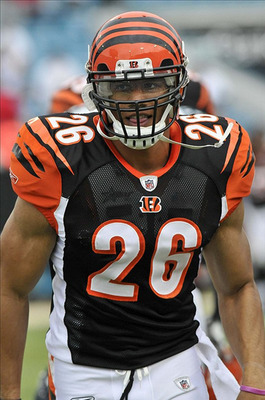 cincinnati.com
1. Taylor Mays
2. Jeromy Miles
With Chris Crocker out of the picture, all signs point to Taylor Mays being the starting strong safety heading into camp. Mays hasn't panned out in the NFL just yet, hence his being traded to the Cincinnati Bengals for a seventh-round pick. He has all the physical intangibles to be the starter, and for now he inhabits the spot.
Jeromy Miles is a nice story that is finally playing his way into a legitimate role on an NFL roster. Miles went undrafted in 2010 and since then has worked his way into the backup spot at strong safety for the Bengals. He could potentially jump Mays for the starting spot during the competition in camp.
Specialists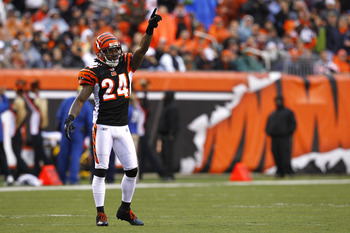 Tyler Barrick/Getty Images
Kicker: Mike Nugent
Punter: Kevin Huber
Mike Nugent and Kevin Huber were solid in their roles last season. There is not a lot of competition heading into camp for their starting positions, and there won't be unless injuries occur.
Punt Return
1. Adam Jones
2. Jordan Shipley
Now that the Cincinnati Bengals have some solid depth at the cornerback position, Adam Jones can return to his main role as a punt returner. Jones is one of the most explosive returners in the league, as evidenced by his return in Week 8 last season against the Seattle Seahawks. Jordan Shipley will move back to second on the depth chart.
Kick Return
1. Bernard Scott
2. Andrew Hawkins
Bernard Scott and Andrew Hawkins are two players that don't find themselves very high on the depth chart at their respective positions, but their ability to fill multiple needs makes them valuable assets to the team. Both will likely see a large quantity of kick return opportunities during training camp.
Keep Reading

Cincinnati Bengals: Like this team?