France vs. England: 10 Things We Learned from Euro 2012 Group D Opener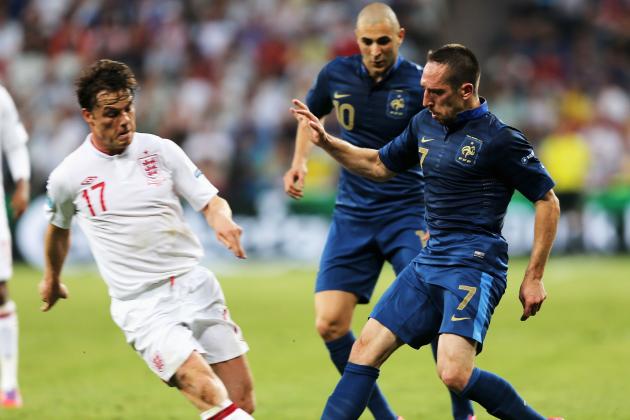 Ian Walton/Getty Images

Following Sunday night's entertaining 1-1 draw between Spain and Italy, the latest Euro 2012 group stage clash between two European powerhouses France and England ended in the same result.
As expected, pre-match favorites France took the game to England, while a Chelsea-like defence-first approach for Roy Hodgson's side succeeded in nullifying the considerable French attacking threats.
Encouraging displays for either side should see both France and England build on their opening draw and qualify from Group D into the knockout stages.
Here are 10 things we learned from the entertaining 1-1 draw.
Begin Slideshow

»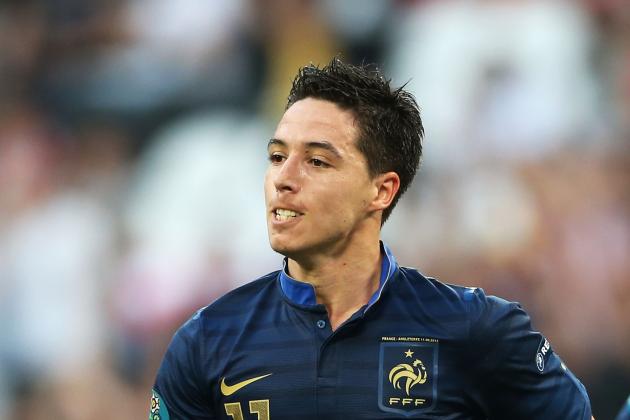 Scott Heavey/Getty Images

Right off the bat: Samir Nasri is France's most important player.
It helps that the Manchester City man got France's equalizer after Joleon Lescott headed in England's opener, but it was Nasri's overall attacking play that earns him this accolade.
Against a well-organized England defence, Nasri dovetailed with Bayern Munich's Franck Ribery and provided the cutting edge needed to break through Roy Hodgson's disciplined backline.
Nasri's close dribbling and pace meant that he was a threat whenever he came close to the England box with the ball, and he fully deserved his goal in an accomplished performance.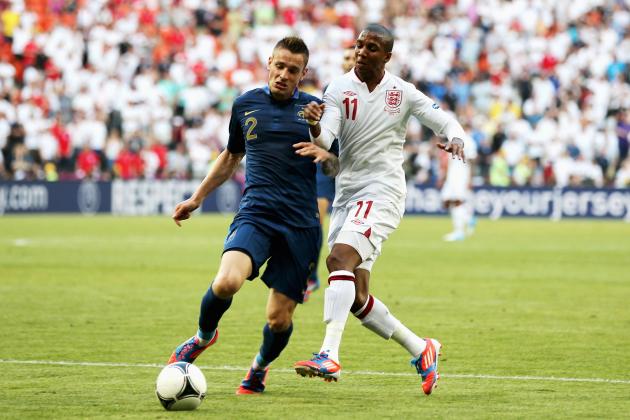 Ian Walton/Getty Images

Whoever ends up signing Lille's Mathieu Debuchy will be getting themselves a great right-back.
Debuchy's star has steadily risen in Europe over recent seasons, but perhaps he needed a break to really show what he can do on an international stage.
A break like Bacary Sagna's unfortunate injury.
Debuchy dominated France's right flank with a commanding display, featuring defensive awareness, fearless dribbling and explosive pace.
It's not often a player can beat Ashley Cole for pace. Debuchy might be doing it more often next season on English shores.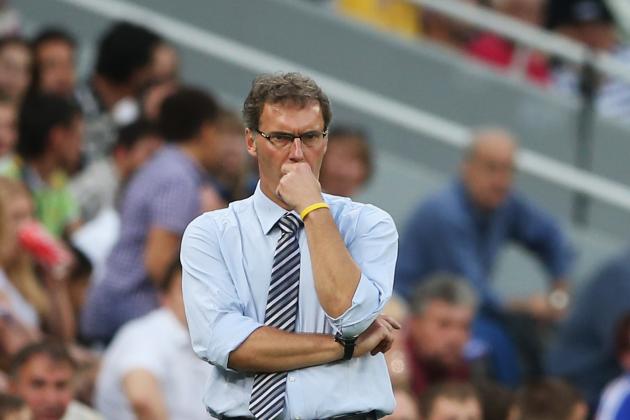 Scott Heavey/Getty Images

Same pool of players, vastly different results.
France, so infuriatingly disappointing under Raymond Domenech in their previous two tournaments, has been given a complete makeover by current coach Laurent Blanc.
This was a France that played with verve, style and purpose. A France that was confident and assertive.
No wonder Blanc is rated so highly by club sides around Europe: He's only gone ahead and awoken a sleeping giant.
Ian Walton/Getty Images

France's display against England showed enough inventiveness, desire and attacking threat to make it a foregone conclusion that they will finish as winners of Group D.
While England's well-drilled defensive unit succeeded in keeping the French attack at bay, the Swedish and Ukrainian teams may not find themselves as accomplished or lucky.
Blanc still has considerable attacking depth to choose from: Jeremy Menez, Mathieu Valbuena and Olivier Giroud all failed to even make the field of play against England, while Hatem Ben Arfa and Marvin Martin were only reduced to substitute appearances.
This is a talented France team that will find Group D a breeze.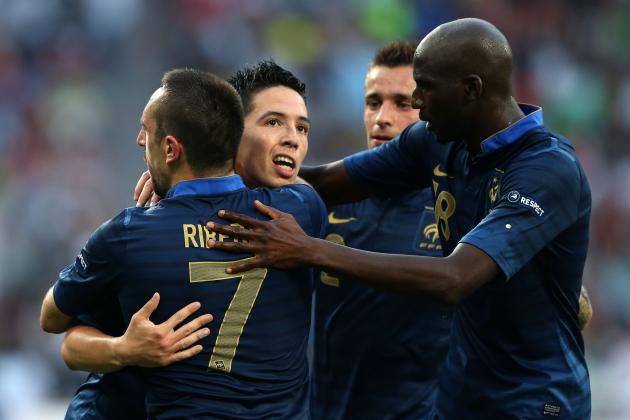 Scott Heavey/Getty Images

What after the group stages, though?
While an at-times ponderous defence showed that France might not have the all-roundedness needed in a European Championship-winning team, they certainly displayed enough to suggest that they have the potential to go far.
They will not bear the favorites tag as Germany and Spain are currently wearing, but don't bet against a successful run for the French this summer.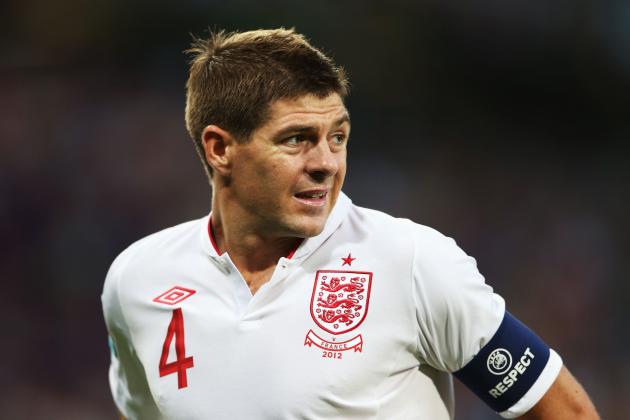 Scott Heavey/Getty Images

Onto England, then—and there is no discussion of England that doesn't involve Steven Gerrard.
Joleon Lescott deserves credit for taking up an excellent position to head in his goal, but Gerrard was the provider of England's opener with a freekick of such pace, power and accuracy that it was reminiscent of a certain David Beckham.
In attack, Gerrard supported Danny Welbeck and Ashley Young with purpose and timed his driving runs from deep to perfection.
In midfield, Gerrard stuck to his deeper-than-normal role and led by example as his tracking back and commitment to the England cause shone through in an exemplary display of positional discipline.
And in defence, Gerrard returned to help out in a crowded England penalty area, diverting many a cross or shot out of play to nullify a temporary threat.
Simply put, Steven Gerrard is Captain Fantastic.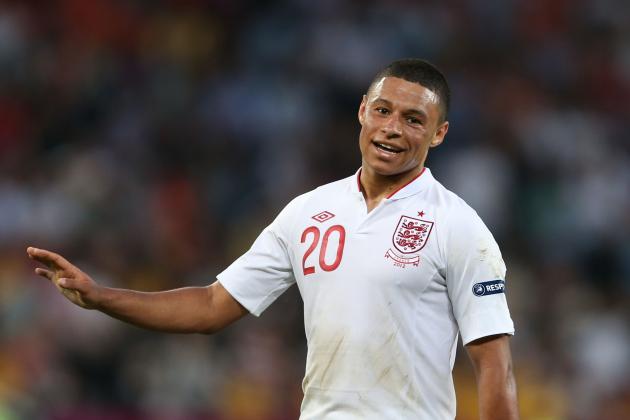 Julian Finney/Getty Images

First, the debate was about whether Alex Oxlade-Chamberlain should make it to the Euros.
Then it was about his involvement this summer.
Now it will be how much Hodgson has to protect him from overexposure.
The Ox, in only his third appearance for England, showed both the fearlessness and the big-stage calmness that have come to be associated with the Arsenal prodigy.
He relished taking on France's midfielders and defenders (and was indeed one of the only players who had the individual ability to do so), and he will have forced himself into Hodgson's thinking for the rest of the tournament.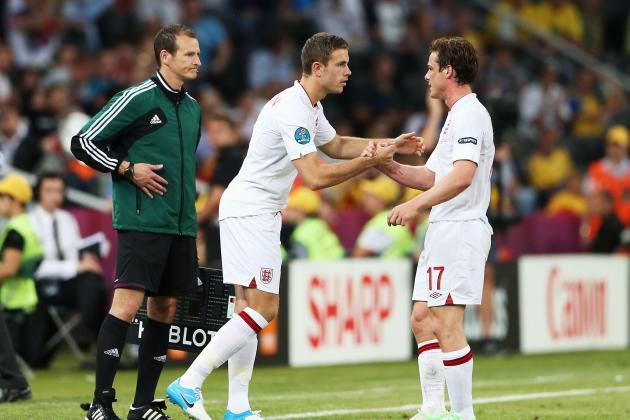 Scott Heavey/Getty Images

Amidst the accomplished personal performances of England's captain and youth prodigy is the worrying realization that England's squad is actually beyond thin.
Jordan Henderson's 78th-minute substitution for Scott Parker was a reflection of both Parker's fitness and the depth (or lack thereof) that Roy Hodgson has at his disposal.
With Frank Lampard and Gareth Barry's injuries, Henderson is the only specialist central midfielder in the squad behind Gerrard and Parker, and the Liverpool youngster is currently miles away from delivering the kind of whole-hearted and tactically disciplined performances that the starters put in against France.
Hodgson will be hoping that Lampard and Barry's injury nightmares don't end up leading to his own worst nightmare.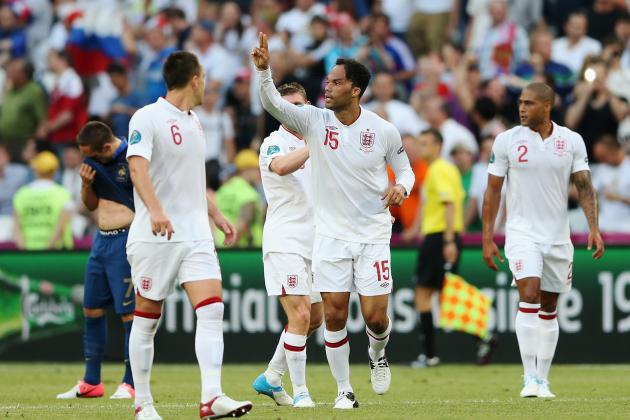 Scott Heavey/Getty Images

Imagine how frustrating it must have been to be a French player on the field on Monday night.
Every French attack was met with not one wall of white shirts, but two neatly-packed rows of four England players each.
Each player knew his role and position in the Great English Defence devised by Roy Hodgson, knew when to attack the ball and knew when to sit back and invite pressure.
Hodgson's appointment was never going to lead to pipe dreams about a swashbuckling England—and their current playing squad doesn't possess the players capable of blowing away their opponents—but sitting back and playing on the counterattack looks to be a decent solution for the time being.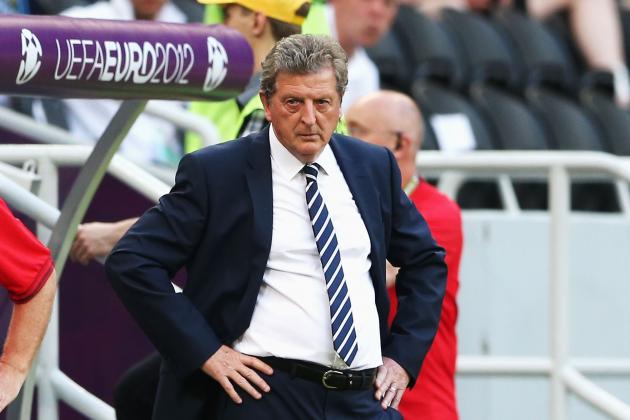 Scott Heavey/Getty Images

Whisper it quietly, but was Roy Hodgson the right choice for England after all?
A conclusion that is absolutely and 100 percent premature, but after an unbeaten first three games in charge working with a limited squad due to injuries, Hodgson seems to be able to come up with the right tactical approaches that work for England right now.
Would Harry Redknapp, who has created a free-flowing Tottenham Hotspur side and whose tactical acumen has long been suspected by many pundits, be able to play to England's strengths (or deficiencies) so effectively?
We have two more games to find out whether Hodgson should have been brought in for the summer only.
What did you learn about France and England after their 1-1 draw on Monday night? Do you agree with my observations? Let us know in the comments below.
If you liked this article, you might also be interested in How to Counter Spain's 4-6-0 Formation. Stay tuned for extensive Euro 2012 coverage on my Bleacher Report writer's profile, and please check out my blog, The Red Armchair, for Liverpool opinions and match reactions.