LeBron vs. Durant: Comparing 1st 5 Seasons of Stars' Ringless Careers
June 11, 2012

Mike Ehrmann/Getty Images
There's no mistaking that Miami's LeBron James and Oklahoma City's Kevin Durant are the two best players in the NBA today.
As both superstars are in search of their first career championship, it's a good time to look at where Durant stacks up to LBJ throughout the first five seasons of each player's career.
First, here's a look at how their numbers stack up:
Durant
26.3 points
6.6 rebounds
2.8 assists
.468 field-goal percentage
.364 three-point percentage
.878 free-throw percentage
1.0 blocks
1.2 steals
3.1 turnovers
James
27.4 points
6.9 rebounds
6.6 assists
.466 field-goal percentage
.322 three-point percentage
.730 free-throw percentage
0.8 blocks
1.8 steals
3.3 turnovers
Comparison
Looking at the numbers, you can see that they are eerily similar. LeBron is about a point per game better scorer and a much better facilitator, but that's the nature of his game.
Durant is the much better shooter from both the perimeter and the charity stripe, but we expected that as well. All the numbers show is that these two stars are very similar players and as good as the NBA has.
Next, we look at team success, and they have similar results there as well. Through the first five seasons of their respective careers, neither player reached the playoffs their first two campaigns, but made it the next three.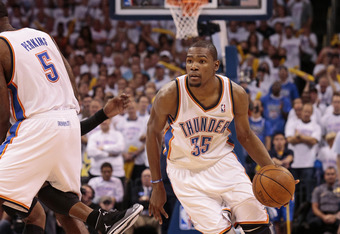 Brett Deering/Getty Images
In that span, James played in 46 playoff games, winning five of eight career playoff series, even taking the Cleveland Cavaliers to the NBA Finals in 2007, where the Cavs would be swept by the San Antonio Spurs.
Durant has appeared in 38 playoff games and counting, so by the time the finals are over, that number will be comparable with LeBron as well. He's won five of seven career playoff series and has the chance to make it six of eight if the Thunder win the title this season.
As far as postseason scoring, Durant has averaged 27.7 points per playoff game, while LBJ has averaged 28.0.
With these two, the similarities never end, which is why they are the best two players in the league today.
However, Durant has the chance to get the one thing on his resume in first first five years that James was unable to achieve. It would separate him from James even though LeBron has four extra years on him.
Quite simply, that's a championship.