WWE: How John Cena Always Being in Main Event Can Lead to Huge Summer Angle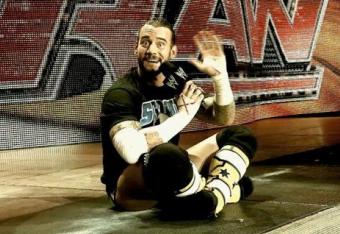 Photo: WWE

At Money in the Bank 2011, CM Punk captured the WWE Championship for the first time in his career when he defeated John Cena in the main-event match.
Since Money in the Bank, there have been 10 PPV events:
- SummerSlam
- Night of Champions
- Hell in a Cell
- Survivor Series
- TLC
- Royal Rumble
- Elimination Chamber
- WrestleMania
- Extreme Rules
- Over the Limit
At the start of seven of those 10 PPV events, CM Punk was WWE Champion. However, he only main-evented four events: SummerSlam, Night of Champions, Hell in a Cell and TLC. At two of those events (SummerSlam and Hell in a Cell), John Cena appeared in Punk's matches. At TLC, John Cena wasn't even at the event.
On the other hand, John Cena was WWE Champion at the start of only two of those 10 PPV events, yet he main-evented seven of those events. Cena missed TLC, and the main event at Royal Rumble was the Rumble match itself.
Last Monday Night on Raw, CM Punk faced Kane while John Cena faced announcer Michael Cole (where Cena basically toyed with and poured BBQ sauce over Cole). Guess which match was the main event? If you guessed Cena vs. Cole, you win!
Would you like to see such an angle?
What does this say about WWE?
Perhaps it says that regardless of whether or not John Cena has the WWE Championship, he should be in every main event. Perhaps it says that John Cena is bigger than the WWE Championship—something that's supposed to be the most coveted prize in the business.
After last week's Raw, CM Punk wrote the following on Twitter:
@CMPunk: You a wrestling fan or a ratings fan? I'll take cross over seg telling a good story over covering a non-wrestler with condiments any day.
Many fans share CM Punk's frustration and would agree with what he had to say.
At No Way Out, CM Punk will defend his title in a triple-threat match against Kane and Daniel Bryan, while John Cena will face Big Show in a cage match. John Cena will likely be in the main event again (even though he isn't the champion), and fans will likely become even more frustrated.
However, this frustration could be turned into the big summer angle that WWE creative is coming up with.
Like I wrote in a previous article, this frustration would be a good reason for CM Punk to join Paul Heyman, Brock Lesnar and various disgruntled/under-appreciated stars in a coup d'état of the WWE.
As I also wrote, the newly formed faction could dominate the WWE "until John Cena, Triple H, The Rock, The Undertaker and Stone Cold Steve Austin step in and face the faction at Survivor Series."
The faction would eventually disband, but new, highly anticipated feuds would be formed, such as The Undertaker vs. Brock Lesnar and CM Punk vs. Steve Austin.
Thanks for reading! Share your thoughts!
This article is
What is the duplicate article?
Why is this article offensive?
Where is this article plagiarized from?
Why is this article poorly edited?