Hodgson's Resolute England a Match for French Flair in Euro 2012 Group D Opener
June 11, 2012

It was not quite a roar of intent from Roy Hodgson's England, but after the travails of their disastrous lead-up to Euro 2012, a well-fought 1-1 draw with France can be viewed something of a triumph.
The result was certainly better than many expected. France were unbeaten in 21 matches and came armed with a drool-inducing array of dynamic, creative attacking players to call on.
Franck Ribery, Samir Nasri and Karim Benzema would be the focus—with Newcastle's Yohan Cabaye a willing participant in their attacking adventures.
Mouthwatering stuff.
Meanwhile, England went somewhat bold with 18-year-old flier Alex Oxlade-Chamberlain, but their sole contemporary to the French in the flair stakes was sat in the stands.
Down below the suspended Wayne Rooney formed Hodgson's resolute banks of four—one in defense and one in midfield. It was ever thus.
The footballing pseuds were no doubt baying for blood. A France victory would be a victory for the beautiful, expressive game—an England defeat proof that guile and artistry always wins out.
But the truth is, it doesn't. Nor should it.
Because football is far more nuanced than that. And for want of a different expression, there is more than one way to skin a cat.
What England lacked in flair, they made up for in function. Hodgson's team were well drilled, focused and worked feverishly in and out of possession.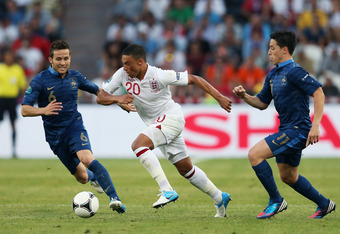 Julian Finney/Getty Images
Considering Hodgson has had just 40 days to mold them, it was an impressively organized and disciplined performance that suggests England, if nothing else, will be hard to beat at Euro 2012.
For the opening 30 minutes they were the more convincing team at the Donbass Arena in Donetsk, Ukraine. France enjoyed greater possession, but they flattered to deceive going forward, and England were not unduly troubled.
At the other end James Milner missed a glorious chance to put England ahead—shooting wide with the goal at his mercy after rounding Hugo Lloris 15 minutes in.
In that moment, England signaled their intent. You could almost sense the French apprehension at the possibility of defeat.
On the half-hour mark Hodgson's team went ahead. Joleon Lescott rode in on the shoulder of Alou Diarra and headed home Steven Gerrard's free kick.
It was a straightforward goal that identified perfectly with this England team and what they stand for. But in its simplicity could also been found French weaknesses in defense.
France weren't behind for long, however, and after Diarra drew a fine save from Joe Hart with a powerful header, they too would fashion a goal you could identify with their outlook.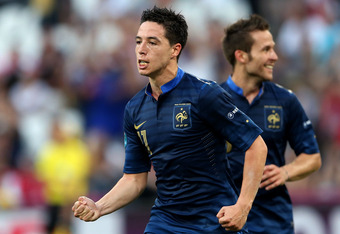 Scott Heavey/Getty Images
Ribery's cushioned pass found Nasri, and the midfielder's disguised near-post shot was too subtle for his Manchester City teammate Hart.
From there, England lost some of their drive going forward, and the second half played out as a cagey, tactically landlocked affair that culminated in both sides accepting a point.
France dominated possession (61 percent) and had 15 attempts on target to England's one, but in truth their clear-cut chances were few and far between.
Aside from Diarra's header, Benzema had a couple of long-range efforts, but otherwise Laurent Blanc's men were unable to break down the white walls in front of them.
Glen Johnson and Ashley Cole both excelled on the flanks, while Lescott and John Terry looked a comfortable and assured partnership in central defense.
The result leaves France and England still favorites to progress from Group D—with both expected to have the better of games against Sweden and Ukraine.
What we do know for sure, is that England will still be alive for their final match of the group stage—and thus Rooney will have his chance to influence their campaign.
From a French perspective, you suspect there is more to come as they build into the tournament. Defensively they're potentially vulnerable, however, and Blanc will be looking closely at how to tighten up ahead of their game against Ukraine.
For England, a sense of cautious optimism can perhaps replace that of impending doom. Hodgson's men are playing like a cohesive unit, and though they remain limited going forward will be looking to the return of Rooney to spark genuine belief in their chances.
They might have taken a statistical battering against France, but since when have statistics counted for tournament progress?
England 1-1 France. And both teams will be very satisfied with that.