Stats That Matter: What the Philadelphia Eagles Must Maintain or Improve in 2012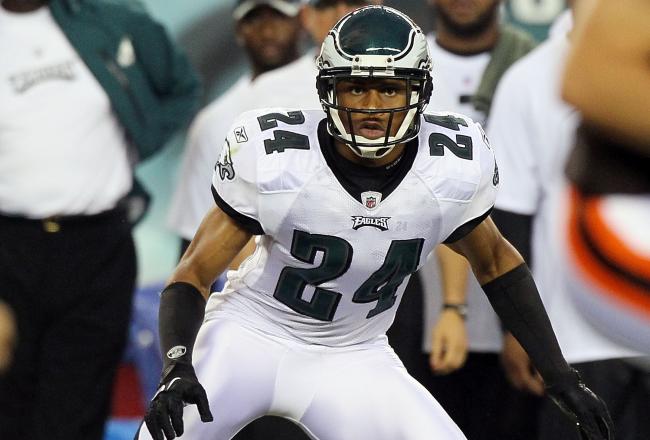 Jim McIsaac/Getty Images
Philadelphia Eagles fans don't really care what happens in 2012 so long as the team improves on one statistic: wins. As owner Jeff Lurie stated following the season, 8-8 was an unacceptable record for a team with this much talent.
To increase that win total, the Eagles have to improve in a lot of tangible and intangible areas. Many of the steps they take will be visible to the human eye, but there are also some specific statistics that might be linked deeply to Philly's fate.
Here's a look at what, from a statistical standpoint, they must maintain or improve in order to be successful in 2012:
Improve: Turnover differential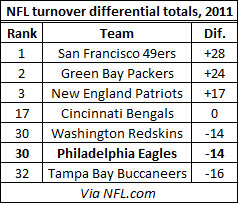 What's crazy is that the Eagles finished 8-8 despite having the NFL's eighth-ranked offense and eighth-ranked defense. By many statistical measures, they were a great team last season. Two things killed them: poor tackling (which I'll get to in a moment) and turnovers.
Interestingly, only the Buccaneers were worse than Philly in both of those categories.
The Eagles finished 2011 with a minus-14 turnover differential. Considering that only three of the 12 playoff teams were in the red from a turnover perspective, and that seven of the top eight teams in the category made the postseason, it's easy to see why minus-14 would be crippling.
The good news is that the Eagles were minus-10 in those dreadful first five games of the season and only minus-four the rest of the way. That's an indication that they've already made dramatic improvements in this field.
Still, even if you prorate that minus-four to minus-five over 16 games, only two of the 12 playoff teams had worse differentials than that in 2011.
Although it didn't do a bad job creating takeaways on defense, it was offensive sloppiness that cost Philly most dearly last season. The offense gave it away 38 times (second most in football) and had only one turnover-free game.
Even on their season-ending, four-game winning streak, when the D was beginning to make big plays and get the offense the ball, they basically maintained that pace with nine turnovers.
It would be too easy to say that this starts and ends with Michael Vick, who lost four fumbles and threw 14 interceptions, amassing 18 turnovers in just 13 games, but a lot of it has to do with the support the team is giving Vick.
With Vick out of the lineup, Vince Young and Mike Kafka threw 11 interceptions on just 130 total pass attempts. Sure, Vick has to make better decisions, but the Eagles have to do their best to ensure that their franchise quarterback has room to breathe in order to a) avoid mistakes and b) stay in games so that they don't have to use guys like Kafka too often.
Improve: Missed tackle percentage
This one is probably even less surprising than the first point, but there's little doubt that Philly has to improve on tackling in order to succeed in 2012.
I wrote extensively about this a couple of weeks ago, so I won't repeat myself too much, but the goal for the Eagles should be to decrease that missed-tackle percentage from 8.1 percent (provided by Football Outsiders) to about six percent.
I know that doesn't seem earth-shattering, but it's just about regaining respectability in this field. While it's true that the league's best teams usually fare well in this area (the Super Bowl champion Giants led the NFL at 3.8 percent), teams like the Saints (6.3 percent), Lions (6.2 percent) and Falcons (6.0 percent) proved last year that you can win despite being ranked in the bottom chunk of the league in this category.
But anything beyond 7.0 is simply horrendous and almost impossible to overcome. The 2011 Bucs (9.0) and Eagles (8.1) were two of the worst tackling teams I've ever seen.
The other 30 NFL teams had between 41 and 70 missed tackles last season. Tampa Bay and Philadelphia had 106 and 97, respectively.
That's the definition of inexcusable.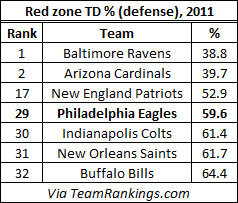 Improve: Red-zone scoring percentage on defense
Only nine defenses gave up fewer points than the Eagles in 2011, but that ranking could have been a lot higher had Philly not allowed touchdowns on 59.6 percent of red-zone possessions (according to Team Rankings).
Only three other teams fared worse than the Eagles did defensively in the red zone, and only eight teams surrendered more passing touchdowns than they did.
Zero of the 10 worst red-zone defenses in the NFL were able to win a playoff game last year. And so in order to accomplish their goals, the Eagles have to drop that number from 60 percent to about 50 percent in 2012.
Maintain: Defensive sack percentage
In which area do the Eagles need to improve the most?
By almost all measures, the Eagles had the best pass rush in the league during the 2011 regular season. They were tied for the NFL lead with 50 sacks, led all teams with a 111.3 pass-rushing grade from Pro Football Focus and easily led the league with 8.8 sacks per 100 pass attempts (per Pro Football Reference).
As a result, Advanced NFL Stats gave the Philly defense the league's third-best success rate against the pass, despite glaring weaknesses in the secondary. The Eagles had the only defense ranked in the top seven by Pro Football Focus that had a negative score in pass coverage.
With that secondary expected to perform better in 2012, the pass rush merely has to keep doing its thing.
This article is
What is the duplicate article?
Why is this article offensive?
Where is this article plagiarized from?
Why is this article poorly edited?