San Antonio Spurs: 10 Reasons Why We Haven't Seen the Last of Tim Duncan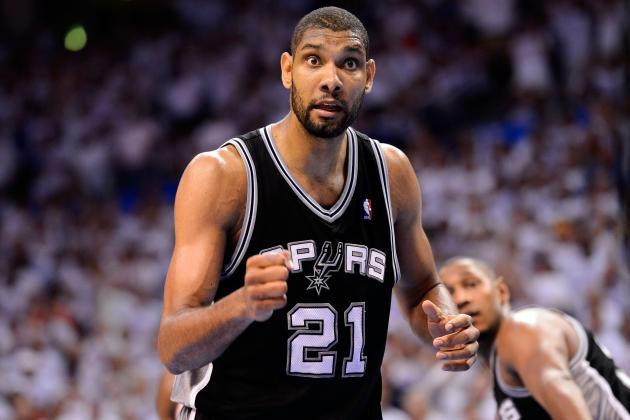 Ronald Martinez/Getty Images

With the Spurs' season now officially over, their offseason is comprised of one major decision: Will Tim Duncan retire or not?
After spending his entire career in San Antonio, the legendary power forward may look to hang up his sneakers for a final time.
At age 36, a retirement seems natural, especially for a player who has seen his abilities diminish so greatly over the past few seasons.
However, no matter what common speculation may be, the number 21 will once again find its way onto the court for the start of the 2012-2013 season.
Here are a few reasons why Duncan's career will live to see another year.
Begin Slideshow

»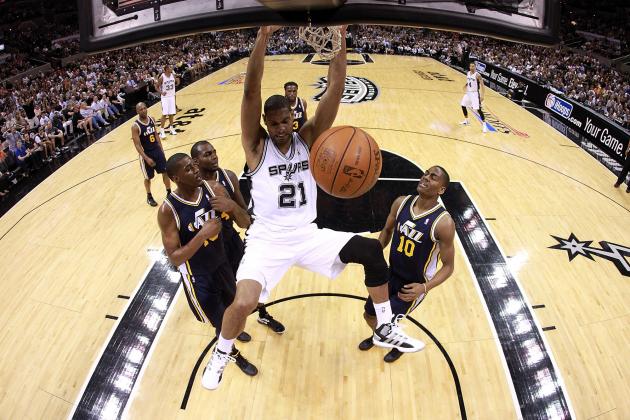 Ronald Martinez/Getty Images

Since the start of his career, Duncan never failed to post illustrious stats each season. As a consistent 20-and-10 player, he constantly found himself in the top ranks of scorers and rebounders around the league.
However, as he grew older, those stats began to fade, as Duncan seemed to be just a shell of what he used to be. His 2010-2011 campaign marked a career low in both the scoring and rebounding categories, as the All-Star power forward managed only a mere 13.4 points per game and 8.9 rebounds per game.
He appeared to be out of gas, until he showed what he really has left in the tank the following season.
In 2011-2012, Duncan saw an increase in both categories, while also performing at a high level on the defensive end of the court.
He proved to the world that he still possessed the talents of a superstar, especially in the postseason, when he averaged 17.4 points per game along with 9.4 rebounds.
If the question is about his ability to perform, Duncan is still one of the better big men in the league, as demonstrated with his revival on the court.
Pool/Getty Images

To coincide with his recent resurgence in the stat column, Duncan's new-found youth also propelled him through the season without an injury.
While the 36-year-old veteran's minutes were carefully monitored, he still was a strong contributor in the 58 games that he played.
The other four, in which he was forced to sit out, were done for the sole purpose of rest, or to prevent pre-playoff injury.
He may have battled injury in his previous season, both in the regular season and in the playoffs, but he remained healthy throughout his 2012 campaign, proving that his health will not be the cause of his retirement.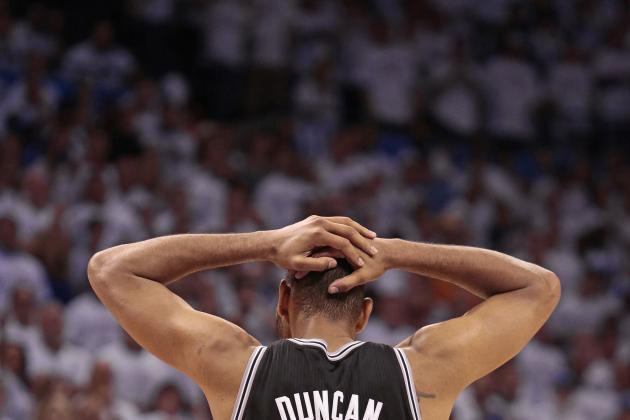 Brett Deering/Getty Images

Going into the conference finals, the Spurs seemed like the easy favorites to win the title. After sweeping their two previous opponents, they were the clear-cut best team in the league.
After two early wins over the Thunder, any doubts seemed to be quashed, as it seemed nobody could stop them. Then, the Thunder picked up their game, and four games later, the Spurs were sent packing for the summer.
Duncan admitted that the loss was very disappointing. He, along with common speculation, believed it was their time to win the title.
If the team had won, then Duncan's choice would have been easy, but after such a solemn end to the season, it would seem inappropriate to leave his career having that final game being his last.
While they may have gotten their best chance at a title, losing four consecutive games is a terrible way to end a career, especially considering Duncan's status in NBA history.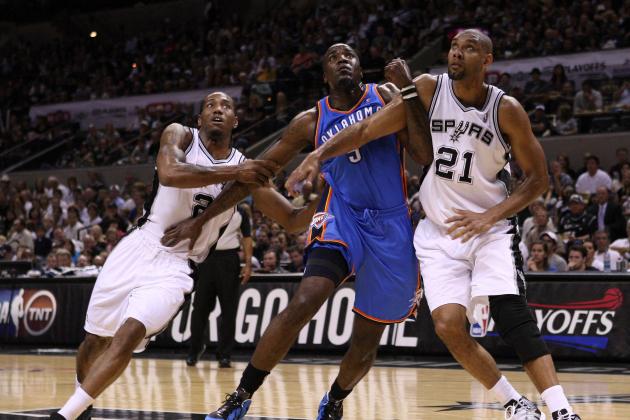 Maxx Wolfson/Getty Images

Outside of Duncan, Ginobili and Parker, the Spurs' roster is fairly youthful, consisting of mostly first-, second- and third-year players.
With players like Kawhi Leonard, DeJuan Blair and Tiago Splitter on the rise, a leader in the frontcourt is vital to their development as players.
Duncan's leadership and knowledge of the game helped to bring out the best in players, as they could always look towards their captain for some advice.
With even more raw talent emerging from overseas, Duncan's leadership, if nothing else, is crucial for the Spurs' future development as a franchise.
Tiago Splitter, primarily, has the raw talent to be a great player, but his inconsistency in the playoffs showed his major weaknesses, giving fans a different view of the Brazilian center, who impressed everyone with his growth in the regular season.
If he wants to continue his play in the regular season and channel his talents away from the horror show witnessed against Oklahoma City, a mentor like Duncan is needed to keep Splitter focused.
The same can be said about Blair and especially Leonard, who is on the verge of becoming a future All-Star. Leaving the organization and abandoning his young teammates would not only effect their immediate future, but their development in the long run as well.
Ronald Martinez/Getty Images

Duncan already has accomplished achievements that most players can only dream of obtaining. With multiple All-Star appearances, a pair of MVP awards, as well as four championships under his belt, Duncan has already secured himself a spot in the Hall of Fame.
However, despite his numerous achievements, many will argue when talking about the best power forwards in history, and his name is never discussed as one of the league's best ever.
After another season or two, Duncan may finally convince people of his spot in history, as both the greatest power forward of all time, as well as one of the best players in league history.
Another ring will ensure that he is recognized where he belongs, but even just another season of strong stats and a decent record will help prove his spot in history.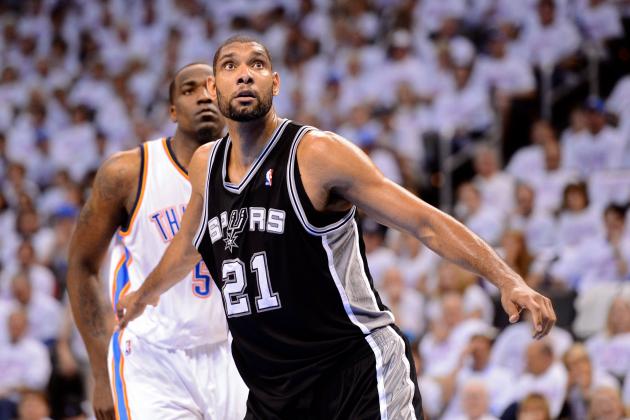 Ronald Martinez/Getty Images

Earlier in the 2010-2011 season, Duncan was asked about his future plans as a player.
His response was classic, as he stated that he would remain a competitor "until the wheels fall off." An answer could not have been more perfect, as it demonstrated Duncan's mindset and summed up his feelings towards retirement: He would play until he could not anymore.
Well, after such a successful season, in both his statistics as well as withstanding injury, the wheels appear to be firmly locked in place.
Shaquille O'Neal played until he was 40, so a big man at Duncan's level is expected to play for as long as humanly possible.
When he has truly reached the end of his career, it will be apparent to both himself and the entire sports world, but as of now, he seems to have enough left in the tank for a few more seasons.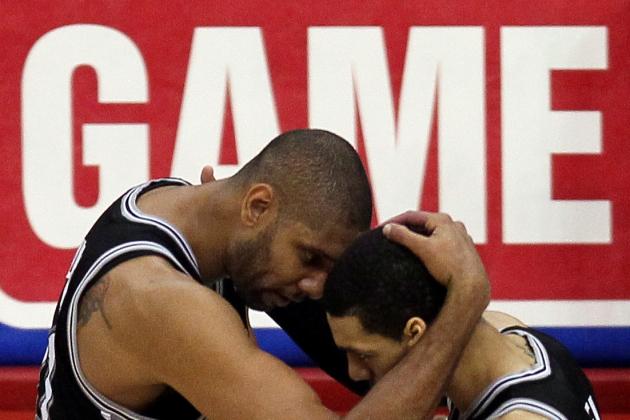 Jeff Gross/Getty Images

If the Spurs had failed to make the playoffs or even faced early elimination, then this would be an entirely different story with an entirely different outcome.
However, their lengthy postseason run proved to the world that the aging Spurs are still among the league's most elite squads.
While Oklahoma City may have taken over as the best team in the West, it would be downright wrong to leave the Spurs off of a list of potential contenders for next season.
Every year, their name is omitted due to age, and while it may very well happen again next year, there is no reason to believe that after 15 seasons of absolute dominance they will drop off the face of the earth.
As long as they are playing like a championship contender, Duncan should remain on the roster on his quest to a fifth ring.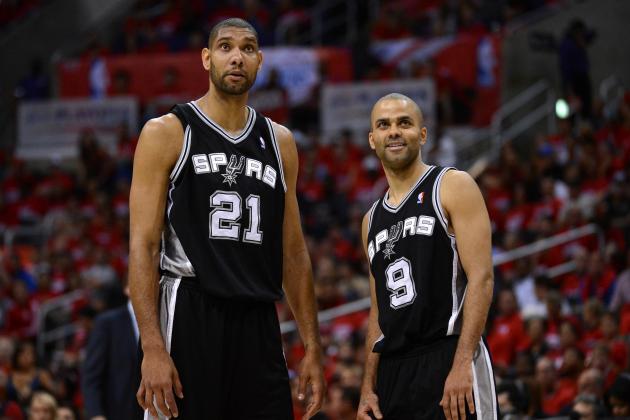 Harry How/Getty Images

If a lot was assumed of Duncan every season, then he would have every reason to retire, as a 36-year-old's body is just not built to play the majority of the game and be the primary focus of the offense.
Luckily for Duncan, he no longer is the star of San Antonio, as Tony Parker has rightfully claimed that title.
Duncan's minutes were monitored carefully, as he averaged just 28.2 minutes in last year's regular season. This should in no way take a hard toll on his body, as he also received full games of rest to the point where it seemed that he did not play enough.
He will just be a supporting player from now on, but has the ability to break out in those limited minutes. As long as he's receiving ample rest, Duncan should be able to last a few more seasons before reaching the point where he is just too old and tired to remain in the league.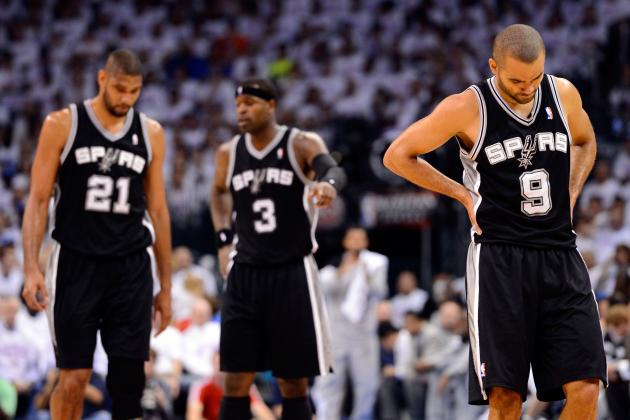 Ronald Martinez/Getty Images

When dreaming of his final game in the NBA, Duncan's vision likely consisted of applause, streamers and, most importantly, a win.
However, if forced out of the league this year, his final moments on the hardwood could not have been lived more differently.
In front of a crowd of fans that was rooting against him, the cheers and ribbons marked the defeat of the Spurs. The final few moments, though exciting elsewhere in the stadium, could not have been more somber for Tim Duncan and co.
The loss marked their fourth straight, and with a bigger picture in mind, no fan even acknowledged the possibility that Duncan may have played his final game.
When ending your career, you would like it to be in a city that you love, with people that you love with a cheerful aura surrounding the room.
If, in fact, Duncan wishes a more fairy-tale ending, then he will have to sign on again with San Antonio, for at least one more season.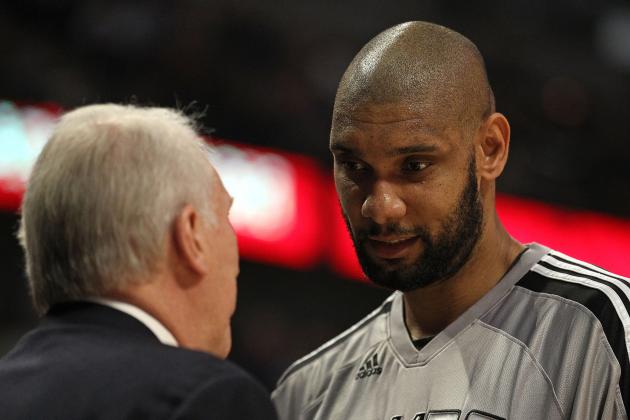 Jonathan Daniel/Getty Images

In a recent interview (via ESPN) in which his offseason plans were discussed, Duncan let it be known that he had no intention of playing anywhere else but San Antonio, and even retirement could not take him away from the city and fans that he loves so much.
"No … I'm not going anywhere," he said. "You can print that wherever you want to. I'm here and I'm a Spur for life."
He went on to say that while three or four more seasons may be a reach, re-signing for another year or two is very likely.
While nothing is set in stone yet, Tim Duncan has made it clear that he intends to spend another season in San Antonio, whether it be as a star or a role player, because he has a few seasons left before he is forced to hang his uniform up for a final time.