UFC 147 Preview: Hacran Dias Meets Yuri Alcantara in Great Featherweight Scrap
June 12, 2012

Although Yuri Alcantara vs. Hacran Dias hasn't been gaining a lot of press, it probably should be. Both fighters are high-grade featherweight prospects, and either man could make some serious waves in the division sometime down the road.
Let's have a look.  
The Fighters
Despite a great record, Brazilian featherweight Yuri Alcantara (28-3-1) was relatively unknown to North American fans until he dominated highly-touted Japanese sensation Michihiro Omigawa at UFC 142 back in January. Alcantara rocked his opponent and nearly finished him via submission en route to an impressive unanimous decision victory.
As he demonstrated in his breakout battle with Omigawa in only his second featherweight bout, Alcantara works a very technical stand-up game, with nice counter-strikes, knees and flashy spinning elbows. In his WEC debut back in 2010, he knocked out a very game Ricardo Lamas in the first round with a sickening left hook.
On top of his stand-up skills, Alcantara also owns a very solid ground game, which makes him a tough test for any fighter in the UFC's burgeoning featherweight division. 
A proven finisher, only four of Alcantara's 28 career wins have come by decision, and he has amassed an equal amount of knockout and submission victories in career.
The man is one heck of a well-rounded fighter, and he'll be dangerous wherever this fight goes. As for his flaws, he might have tendency of fading late in fights, although this has not been a big issue for him up to now since so few of his matches have actually made it to a decision.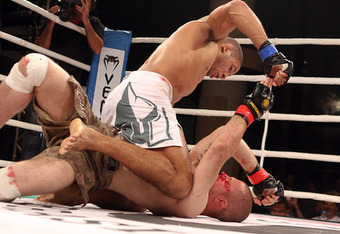 Before signing with the UFC, Shooto champion Hacran Dias (20-1-1) was widely considered one of the best featherweight prospects in the world, boasting an impressive record and martial arts pedigree. A very skilled grappler, Dias employs stifling ground control and is known for technically dominating opponents on the mat.
Right away the UFC knew they had something special.
Dias had originally tried out for TUF: Brazil, but the promotion signed him to an immediate UFC contract instead.
There are good reasons for this.
Training out of the famed Nova União jiu-jitsu academy with Marlon Sandro and Jose Aldo, Dias has garnered himself a lot of hype because of his highly-refined ground game. If he can bring the fight to the mat, he should be able to stifle Alcantara's very dynamic attack and tough out a decision victory in his promotional debut.
He comes at you with a frantic ground attack, employing solid ground-and-pound work and an almost dizzyng amount of slick submission attempts. Still, there are a lot of question marks with Dias, but if he can find a way to implement his game with the big boys in the UFC, he could be a real force in the featherweight division.  
What to Expect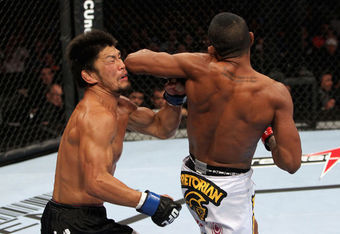 This is a very intriguing matchup between two promising featherweight prospects. While Dias is probably the more hyped of the two fighters, Alcantara has the superior resume, having fought much stiffer competition over the past few years.
Of the two men, Alcantara is the more consistent finisher. But if Dias can take Alcantara down and keep him down, he should be able to pull out a win.
On the other hand, if Alcantara can find his range, he might be able to derail Dias' considerable hype and score his first stoppage in the UFC. If he's smart, he'll try to keep this standing and keep from rolling with Dias for too long.
The Bottom Line
Even through this bout between two relatively unknown fighters won't exactly light the world on fire, it has the potential to be a great fight between a pair of featherweight up-and-comers. It's a great matchup between two promising Brazilian prospects in the UFC's burgeoning featherweight division.
And looking at the rest of the card, I wouldn't be surprised if it steals Fight of the Night honours.
This is a hard fight to pick, especially when you consider Dias relatively sheltered career. Really it could go either way. 
Prediction: Alcantara via close decision