UEFA Euro 2012: Is Republic of Ireland Worst Team of Tournament so Far?
June 10, 2012

Clive Mason/Getty Images
The Republic of Ireland entered the European Championships ranked 18th in the world but must now beat the previous two world champions to be sure of a chance of qualifying from Group C.
Only the Czech Republic (27), Ukraine (52) and Poland (62) are ranked lower than them in the tournament, according to FIFA.
The Irish succumbed to a 3-1 defeat at the hands of Croatia, a team ranked 10 positions above them in FIFA's official world rankings.
Only the Czech national team has suffered a bigger margin of defeat in the opening three days of Euro 2012; the Nároďák lost 4-1 to Russia on the opening day of the tournament.
Two goals from Mario Mandzukic and an effort from Everton striker Nikica Jelavic emphasised Croatia's dominance in Poznan, although the Irish may feel that referee Björn Kuipers served as a 12th man for their opponents.
Jelavic's goal had more than a hint of offside to it and Ireland were later denied a penalty following a blatant foul by Gordon Schildenfeld on Robbie Keane.
Before the Irish players award Kuipers a place in their hall of shame alongside Thierry Henry, however, they need to look at themselves to pinpoint the precise reason why Croatia outplayed them.
The pre-match buildup mostly concerned the injury situation surrounding stalwart goalkeeper Shay Given. The Aston Villa shot stopper, who has amassed 123 caps for Ireland, had been hindered by a knee injury in his tournament preparations and all indications suggest he was still suffering from ring-rust.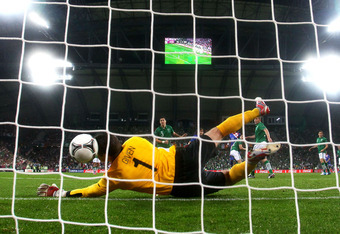 Christof Koepsel/Getty Images
Such media attention can only have a negative impact on  a team making their first appearance in the Euro's for 24 years.
Given wrong-footed himself for Croatia's opening goal and three minutes into the second half he found himself luckless once again. A cross from Borussia Dortmund midfielder Ivan Perisic was met by Mandzukic's head, which ricocheted onto Given's head and behind the goal line after initially hitting the post.
Defensively the Irish were poor; the first goal came as a consequence of failing to clear a corner and allowing Croatia to play inside the 18-yard box and throughout the game Perisic, Jelavic and Mandzukic proved themselves to be a nuisance for Richard Dunne and John O'Shea.
Flamboyant midfielders Aiden McGeady and Damien Duff found themselves dominated by full-backs Dari Srna and Ivan Strinic. The duo continually pushed forward which kept the Irish wingers preoccupied with defence, rather than creating chances.
When Ireland did create chances they too were squandered. Keith Andrews screwed two shots wide and wasted a good headed chance in the closing stages of the game; opportunities that Robbie Keane and Kevin Doyle may have finished had they remained on the pitch.
Such evidence reveals that, however aggrieved Ireland may feel about Croatia's second goal and their denied penalty claim, they did not deserve to collect any points against a very well organised Croatia team.
Ireland now find themselves perilously close to an exit from the tournament, which puts into reality how cut-throat international tournaments are. Although Poland, Greece and Czech Republic have all failed to impress in their opening games, they will be buoyed by the fact they have the chance to play each other for a chance to progress.
Similarly Holland and Portugal, both of whom suffered bitter defeats in Group B, will find comfort in the fact that there is enough quality in their team to suggest they have the potential to beat their remaining two opponents.
Ireland on the other hand will arrive in Gdansk on Thursday knowing that an improved performance from their Poznan display may not be enough to beat a Spanish team that is oozing with experience, youth, organisation and flair—traits that have tournament success to accompany them.
When reflecting on the game former Ireland international Kevin Kilbane told BBC Sport:
"There was real Irish optimism before this game. Every Irish fan felt confident but it wasn't to be. Croatia played very well at times. They made it difficult for the Irish to get a foothold in the game. I feel Trapattoni should make changes for the Spain game, just to try and freshen things up. I'd bring James McClean in. He's Ireland's form player. He'd give the fans a real lift and he'd get the team higher up the pitch in terms of his possession and the way he can travel with the ball. I think he'd cause a lot of problems."
It is the first time Ireland have ever lost the opening game of a major tournament but they now face one of their biggest ever challenges to qualify from a very competitive Group C.