France vs England: Franck Ribery Is the Key to French Glory at Euro 2012
June 11, 2012

Mike Hewitt/Getty Images
Tomorrow, France's campaign at Euro 2012 kicks off against England in a battle that will go a long way in determining the sides who progress from Group D.
With so much riding on the first match, both sides can ill afford to have a sub-par performance or any amount of a let down; hence, it is vital that, at the very least, the most important players on each side are at the top of their game.
France has many important players on their squad, all of whom are vital to their success. However, one stands apart as the most important of the bunch: Franck Ribery.
Ribery, the winger who helped his Bayern Munich side to the Champions League final this past season, is a bit of an enigma on the international stage.
In France's run to the 2006 World Cup final, he was one of the breakout players of the tournament, scoring the opening goal against Spain in the Round of 16.  In the final, he played into extra time before being replaced by David Trezeguet (whose missed penalty, incidentally, caused France's loss).
Since then, Ribery has had a poor international career.  He has been a particular disappointment in major tournaments, playing extremely below par in Euro 2008 when France went out in the group stage and being a part of the team's mutiny at the 2010 World Cup.
This history may not be encouraging for the prospects of Ribery's tournament, but based on today's squad, France must hope for their winger to buck the trend in order for the team to reach their potential this month.
For one thing, other than Ribery, France's attacking options are all young budding stars.  While this is fantastic for the future, a veteran leader is needed to push the French attack and create the goals needed; Ribery must be that leader.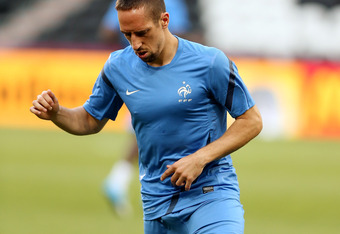 Scott Heavey/Getty Images
If he is, then France get a huge asset that may be able to lead their side deep into this tournament; after all, Ribery is an incredibly fast and creative player who can turn a match with one run, yet still has the work rate to help his team in the defensive third.
However, if he plays as he has in previous major tournaments, France may lack the parts necessary to make any amount of a splash in this one.
Tomorrow, in Donetsk, and this month in Poland and Ukraine, France will go as Franck Ribery goes.
For more news on Euro 2012 and more, follow me on Twitter @Fw1812