Predicting Two-Deep Detroit Lions Depth Chart, Pre-Training Camp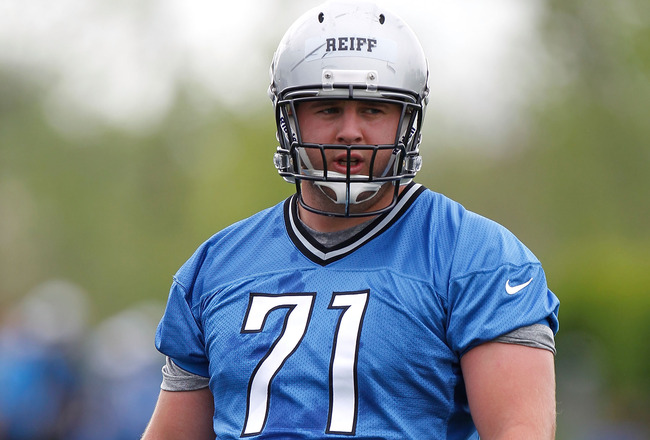 Gregory Shamus/Getty Images
If there's one big roster difference between the Detroit Lions from 2010 and 2012, it's a notable difference in depth.
The Lions actually had a relatively strong set of starters in 2010, but that was all they had going for them. Once the second string came in, it was a steep drop, with a goodbye wave to mediocrity on the way down.
This year, the depth is so strong they're comfortable playing reserves just to give the starters some rest (especially on defense).
So, if I were to simply list the starting lineup for this year, the results would be, likely, 20 of the same 22 players from last season. So instead, we'll go two spots down the depth chart.
In other words, we're looking at starters and their immediate reserves. That means each position will have the requisite number of starters for the base offense/defense and an equal number of reserves, where applicable.
It's important to note, this is NOT a 53-man roster prediction. Lots of positions go to three-deep, and the guys in those spots (Ronnell Lewis and Kevin Smith, for instance) won't be mentioned, but are still most likely going to make the team in some capacity.
So with that disclaimer on the table, here's a way-too-early look at how the Lions' 2012 depth chart could turn out.
Note: Starters will appear in bold, reserves in italics.
Quarterback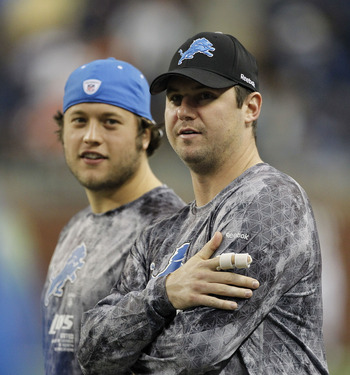 Leon Halip/Getty Images
2. Shaun Hill
Easiest call of the entire article.
Stafford is one of the best quarterbacks in the league. Hill is one of the best backup quarterbacks in the league. Both have proven their ability to lead the team to victory when their number is called.
There is no controversy here. Kellen Moore could theoretically take the backup role someday, but that's years away. He needs to prove he belongs on an NFL roster before he starts trying to supplant Hill.
Running Back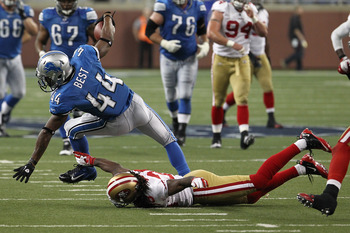 Dave Reginek/Getty Images
1. Mikel Leshoure
2. Jahvid Best
There are a few things to clear up here. First, because the Lions don't typically use a fullback, I am considering their "base" offense to a be a 21—two tight ends, one running back, two receivers. That means one starting running back, one reserve.
Second, I consider Best and Leshoure approximately the same way. Both are young and (mostly) unproven due to injuries.
Third, this is all assuming they both check out medically (and legally).
Best has proven his ability to at least some extent, and could in fact outpace Leshoure statistically this season if all goes well.
But if I'm thinking about who is going to be the every-down back with the most touches on the team, that's Leshoure without question.
Best is an explosive player, but because of his injuries and skill set, he's best used in more limited action. That speed will leave him in a hurry if he's grinding out 30 touches a game.
So, long story short, Leshoure sits higher on the depth chart, Best has more impact in less action and none of it matters because they're just about equal in importance to the 2012 season.
Wide Receiver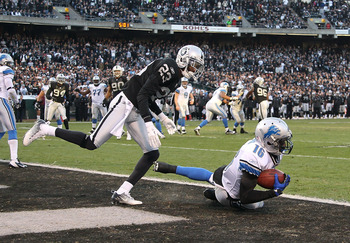 Ezra Shaw/Getty Images
1. Calvin Johnson
2. Titus Young
3. Nate Burleson
4. Ryan Broyles
Titus Young showed notable improvement throughout the 2011 season, and that seemingly has carried over to the offseason.
Even as a rookie with raw skills, Young was nearly as effective in the passing game as Nate Burleson was. But at the rate he's going in OTAs, Young is likely to zoom right past him.
This is a bit unfair, though. In the 21 base, the tight ends become the intermediate receivers, and so the two receivers on the field are the ones with the best skills in the vertical passing game.
That is, without question, Johnson and Young. Burleson is still going to see a lot of playing time this year, most of it in the slot.
In fact, I'm tempted to say the Lions will run a base 11 (three-receiver) set this year. But Scott Linehan likes having two tight ends on the field too much, and with the personnel they have at the position, it makes a whole lot of sense.
Tight End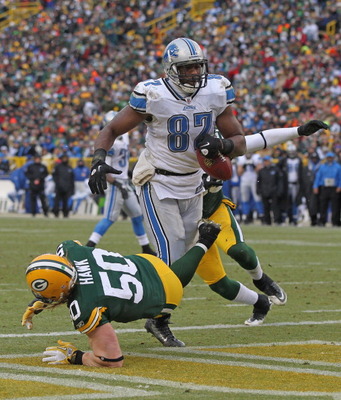 Jonathan Daniel/Getty Images
1. Brandon Pettigrew
2. Tony Scheffler
3. Will Heller
This is a familiar grouping, and the odds of it changing without injury are basically nil.
Pettigrew is the complete package, Scheffler the vertical receiving threat and Heller the blue-collar H-back (think "new Casey FitzSimmons").
Pettigrew has been among the team leaders in receptions the last two years, leading the team in 2010 and coming in second in 2011. There's no doubt he's a primary target, albeit as a pressure release, and he's also the best blocker of the group.
Scheffler is a talented receiving tight end, but he doesn't get as many targets because it's typically Pettigrew in the game when the Lions go with three wideouts.
Offensive Line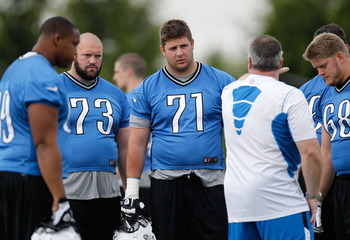 Gregory Shamus/Getty Images
LT: Jeff Backus
LG: Rob Sims
C: Dominic Raiola
RG: Gosder Cherilus
RT: Riley Reiff
Corey Hilliard
Dylan Gandy
Johnny Culbreath
So this one is a bit complicated, but it stems from the fact that all the Lions' reserve linemen play multiple positions, which makes it difficult to put any reserve player in a single position.
So here's the whole unit, with the caveat that every reserve player (and a few starters) can play a minimum of three positions effectively.
The big switch here is the insertion of rookie Riley Reiff at right tackle, sliding Cherilus to right guard and incumbent starter Stephen Peterman off the roster.
I have long said that the moment the Lions find someone to take Peterman's place at right guard, he and his $2.725 million salary will be run out of town. I have also said I have reservations about Cherilus' relatively lanky build lining up on the inside.
I stand by both of those decisions. But the Lions want to play Reiff early, and they want to play him at tackle. It makes no sense to bench Cherilus, who might be the third-best lineman on the team, but it makes less sense to play Reiff at left tackle immediately.
I expect the Lions to give this a shot, if only in the name of cap space and the ongoing youth movement on the offensive line.
Defensive Tackle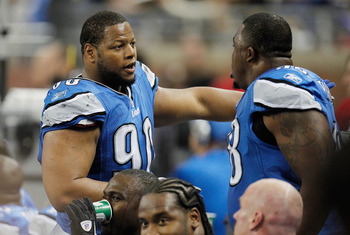 Gregory Shamus/Getty Images
LDT: Ndamukong Suh
RDT: Nick Fairley
Corey Williams
Sammie Hill
With the Lions running the kind of defensive line rotation that they do, it doesn't make a lot of sense to put guys on the depth chart in terms of numbers. They're all going to play when the situation calls for it.
But the Lions value rushing the passer above all else, so the odds are the Lions are going to want to go out there with their top pass-rushers more often than not, which means Suh and Fairley.
Of course, Fairley isn't going to start opening day, but from the moment Fairley was drafted, the Suh-Fairley tandem up front has been the dream, and we haven't really seen it yet.
This year, we should get to see it in full force, hoping it lives up to the hype and expectations of two consecutive first-round draft picks.
Defensive End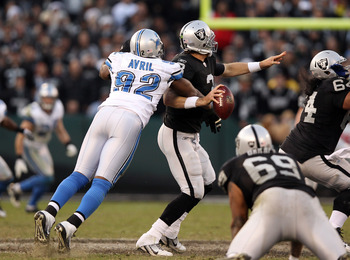 Ezra Shaw/Getty Images
LDE: Cliff Avril
RDE: Kyle Vanden Bosch
Willie Young
Lawrence Jackson
If I were more daring, I would do something like project Ronnell Lewis or Everette Brown for a major role at DE this year.
I don't rule either of them out, and there are sure to be some changes to this group in the coming years. But for the time being, this rotation is solid. Avril and Vanden Bosch are rush-first ends who have proven themselves over the past several years.
Meanwhile, Young and Jackson are growing young players who have improved notably each year since making it to Detroit. There is no reason to think this doesn't continue, which solidifies the top of this rotation, at least for now.
Linebacker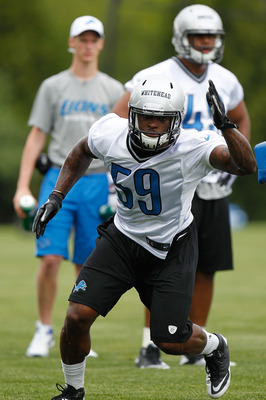 Gregory Shamus/Getty Images
WLB: DeAndre Levy
MLB: Stephen Tulloch
SLB: Justin Durant
OLBs: Tahir Whitehead, Doug Hogue
MLB: Travis Lewis
The players on this list are all but indisputable. But the order is up in the air.
Here's what we know: Tulloch and Durant will almost definitely start.
That's basically it. Levy is good, but his stock seems to waver wildly from year to year.
More importantly, Lewis and Whitehead are impressing in camp, and Lewis is even flashing some reps in the middle. Hogue is athletic but an unknown quantity.
Realistically, I would not be surprised to see any of these players crack the starting lineup this year. That's just how the position is right now: With lots of youth and upside, it's just a matter of who develops, how much and how fast. This is going to be a fun bunch to watch this year.
Cornerback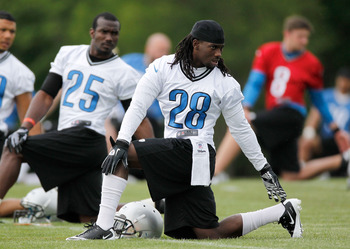 Gregory Shamus/Getty Images
1. Chris Houston
2. Aaron Berry
Nickel CB: Jacob Lacey
Dime CB: Bill Bentley
I've given this speech before, but cornerback is among the most difficult (if not the most difficult) positions in football. Bentley, a rookie, is not going to step in and save the 2012 pass defense. This will take time.
You know who has had time? Berry.
Berry has had time in the NFL to learn schemes and receivers' tendencies and tricks. He is prepared to take over as a starting corner.
Bentley, arguably, has a higher ceiling, but there is no way he is better than Berry right now. I'm giving the benefit of the doubt to Lacey because of his experience. But with a strong camp, Bentley could work his way into the nickel corner position.
As for Chris Greenwood and Jonte Green, the Lions' late cornerback draft picks, they also have high ceilings, but they likely have further to go than Bentley. Greenwood in particular has huge potential with his physical abilities; he just needs to put in the work to go from Division III ball to NFL ball.
Safety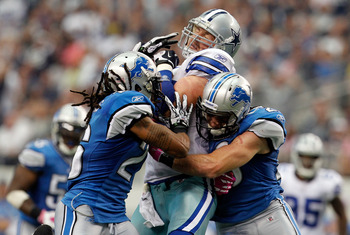 Tom Pennington/Getty Images
FS: Louis Delmas
SS: Amari Spievey
Erik Coleman
Sam Proctor
For the record, I still think O.J. Atogwe is on the table for the Lions, but there's nothing happening on that front right now.
I suspect the Lions don't want to make any moves until they figure out where the Cliff Avril situation is going to land this year, so we'll go with who we have right now.
Delmas needs a big season this year, but he's not in danger of losing his starting spot. Spievey, on the other hand, has had some growing pains. He should start the season in the hopes that he develops into his role (remember, he still has only a season-and-a-half's worth of playing experience at safety), but he's far from safe if he doesn't step it up.
The big surprise, though, is Sam Proctor. The undrafted free agent out of Oklahoma impressed enough in tryouts to get himself a one-year deal (which basically amounts to a training camp invitation), and the Lions are unsettled enough at safety right now to give a shot to a promising youngster.
This is the part where I talk about how the Lions need more of a veteran presence at safety, and that's true too, so if Atogwe makes his way to town, we can blow up this whole discussion. If he doesn't, Proctor has a real shot at the roster.
With the revolving door of injuries the Lions' secondary fought through last season, I fully expect them to take some insurance in the form of a fourth safety who isn't a special teams star. If Proctor isn't that guy, who is?
Keep Reading

Detroit Lions: Like this team?