Ticky Tacky, Tiki-Taka Hubris: FC Barcelona and the Arrogance of Greatness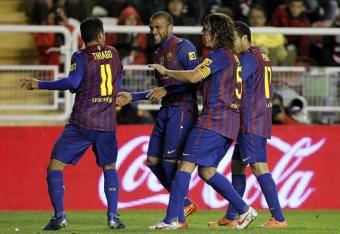 What is there to say about FC Barcelona?
Over the past few years, they have established that their current side is filled with incredible players. In fact, they have established that they are a historically great team.
As a neutral, I enjoy watching Barca's matches, usually finding each well-played and exciting.
However, as I am a fan of football, I enjoy watching every style of play. I particularly like watching two teams with different styles clashing, both physically and tactically, on the pitch.
Apparently, therein lies the difference between me and FC Barcelona's players and supporters.
When Pep Guardiola took over as manager of Barca in 2008, he brought a new style to the side that was stacked with some of the best players in the world. This style, which has since come to be known as "tiki-taka," is a set of tactics that is based around short passing, the monopolization of possession and long moves that lead to optimal chances.
With Lionel Messi, Xavi, Andres Iniesta, and the rest of the Barca superstars implementing this system, the Barca side has reached incredible heights over their four year run, winning two Champions Leagues and three La Liga titles.
As the success has come flooding in, it's hard not to be a fan of this Barcelona team and its awesome abilities—well, if you're not a Real Madrid supporter, at least.
The attitude some Barca players and supporters have about their club, though, makes them a hard side for a neutral fan to back.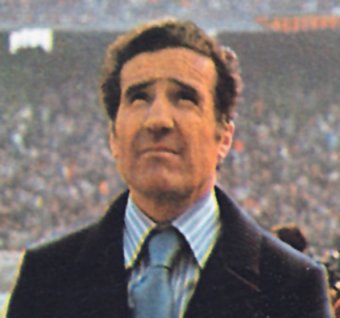 The great Inter manager Helenio Herrera
To understand the irksome qualities of the attitude to which I refer, we must first look at a history of different tactics, going back a few decades to when strategy was well and truly born.
In the 1960s, Inter Milan manager Helenio Herrera became the first big champion of a set of tactics known as the catenaccio or "door-bolt." This style of play revolved around a great deal of defending, with a very deep defender standing just in front of their keeper and providing another line of defense. In his eight years at the club, Herrera led Inter to two European Champions Cups.
More recently, similar tactics were employed by Otto Rehhagel's Greece national football team in their Euro 2004 title run. In their three knockout matches in the tournament, the Greeks did not concede any goals and scored one in each.
Jose Mourinho has also shown no shame in "parking the bus," as he has relied on defensive prowess and the counter-attack with the handful of clubs he has managed.
Even this year, Roberto di Matteo implemented an extremely defensive style in guiding Chelsea to the Champions League title.
So what's this attitude associated to Barcelona to which I was referring?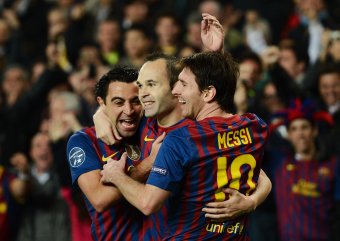 Jasper Juinen/Getty Images
Well, if you haven't noticed, Barca's players and supporters tend to dismiss any and every accomplishment ever achieved by a side who does not implement the style they do or does not use tactics similar to theirs.
One needs look no further than Xavi's recent comments on Mourinho's legacy or any Dani Alves' comment on the subject to see the Barca players' love of their own style and distaste for others.
For the views of the supporters, one needs look no further than comment sections of Barcelona articles on virtually any website.
As a neutral and a fan of football, I find these views to be ludicrous to say the least.
Now, as I believe I have made clear, I have no problem with the Barcelona style; in fact, if these thoughts were merely based upon on-pitch issues, this article would be a raft of superlatives about the greatness of this side; from the genius of Messi, to the passing prowess of Xavi and the gall of Iniesta's big-game greatness.
Further, there is no doubt that the style has worked in getting these players to perform to their best.
Does this make the "tiki-taka" the only correct style and every other style wrong or evil?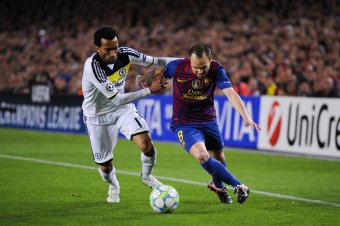 David Ramos/Getty Images
To me, the answer is an emphatic "no."
Different styles make football interesting and any style that gives a team a chance to win is not only acceptable but necessary.
If the Catalonians dislike the defensive style of Mourinho and Chelsea so much, then there's one solution: beat it, don't talk down about it.
To dismiss the accomplishments of such sides smacks of sour grapes and the state of being a sore loser after this unsuccessful season, but it also rings of general poor sportsmanship.
Xavi said just the other day that "Mourinho will not go down in football history" and that "Chelsea won the Champions League this year and yet Barca remain the benchmark for world football."
I'm sorry to break it to you, Xavi, but no matter how they get there, winners go down in football history; both Mourinho and Chelsea will be remembered right alongside you and your great Barcelona side.
Thinking otherwise is, well, just plain hubris.
For more news on FC Barcelona and more, follow me on Twitter: @Fw1812
This article is
What is the duplicate article?
Why is this article offensive?
Where is this article plagiarized from?
Why is this article poorly edited?

FC Barcelona: Like this team?