Boxing's Latest Black Eye Is Bob Arum's Bed of Roses
June 10, 2012

The timing was just too perfect for Bob Arum. Saturday night's main event pitted Manny Pacquiao against an undefeated, but inexperienced Timothy Bradley.
The promoter for both fighters, Arum was certainly quick to denounce the decision as deplorable. But in the same breath he wasn't bashful in proclaiming (via Yahoo! Sports), "This is a death knell for boxing, and I'm going to make a ton of money on the rematch." It's hard to imagine any other statement being more contradictory. That is, unless you consider what else Arum said according to the same article:
"Can you believe that?" promoter Bob Arum said. "I had it 10-2! After I got into the ring after the fight, I went over to Bradley and said 'You did very well.' He said, 'I tried hard, but I couldn't beat the guy.' This is crazy. You talk about killing boxing? All three scorecards you throw out."
So, Arum talked to Bradley as if the guy won the fight when his own scorecard had Manny way ahead. That's just the height of hypocrisy.
And, how exactly does a boxing promoter go about making money off the death of his own sport? Does Mr. Arum have a life insurance policy on The Sweet Science itself?
Maybe he's just setting the table for a future date after the rematch when he can go back to the over-hyped contention that only a Mayweather vs. Pacquiao bout can truly save boxing.
One expert who doesn't buy the idea that any one scandal like this can destroy a whole sport is ESPN Friday Night Fights Commentator Teddy Atlas. During an interview I conducted with him earlier this year Atlas argued, "Boxing has died a million times." He went on to pinpoint the main problem with the sport being selfish promoters who "don't give anything back to the sport."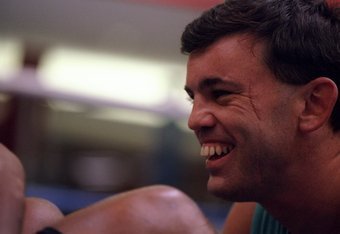 Al Bello/Getty Images
Atlas is one of those throwback type of guys who isn't chained to the Internet and doesn't want to be, but his colleague Linda Cohn was astute enough to pick his brain Saturday night and send out a tweet quoting his response to the Pacquiao vs. Bradley debacle. Atlas did not mince words, exclaiming that: "Boxing is a corrupt sport." 
What really bothers me about Saturday's dimwitted decision, though, is the fact that too many boxing writers and analysts out there writing about it are so quick now to completely dismiss the chance of a Pacquiao/Mayweather bout before there's even time to get an official response from Mayweather himself.
There's got to be some reporter out there in Vegas who can find a way to get a quote out of the Clark County detention center where Floyd will be residing during his three-month jail sentence, which he started serving on the first of the month. Rather than lift a few fingers and make a few phone calls to find out the truth, these lazy writers are simply insisting Mayweather will use Pacquiao's "loss" as an excuse to kill all possibility of "the super fight."  
Really? Where did all these experts get their degrees in mind reading? Was it out of the same Cracker Jack box they got their journalism degrees from? 
First of all, contrary to the opinion of Mayweather haters everywhere, the man is not an idiot. If he comes out with a public statement criticizing Pacquiao for losing to Bradley, he knows real fans and true journalists won't buy a word of his argument. I think he's much more likely to go with the tide of public opinion, which is heavily skewed toward describing this bout with words like "robbery" and "controversial." And those are just the nicest ways sports fans are going about expressing their thoughts on this boondoggle.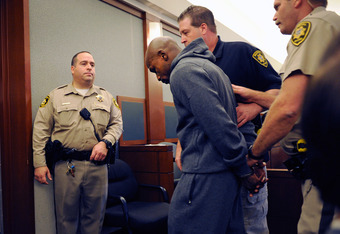 David Becker/Getty Images
Before anyone can definitively say boxing and the super fight are both dead on arrival, it would be wise to wait until after that November rematch that was so mysteriously foreshadowed by Bradley at a press conference for the first bout: 
Though the loss is a stain on Pacquiao's on-paper record, winning the rematch decisively (preferably by knockout) could put Pac-Man right back into contention for the Mayweather bout. 
As long as fans still want to see it and the media keeps the possibility open, there's still a great chance Mayweather and Pacquiao will eventually sign on the dotted line to do battle. Those fans who don't swear off boxing because of this unfortunate development will recognize that Pacquiao never really lost to Bradley at all, and they'll look right past this speed bump and keep calling for the fight they've been eagerly anticipating for years now.
It's obvious Pacquiao still wants the Mayweather fight despite a bunch of lame pre-fight reports about the issues with his calves that are purportedly plaguing him and paving the way to his retirement (as detailed by Grantland's Gary Andrew Poole).
The humble family man is also not bashful about letting people know his own children don't want him to retire without facing "Money" and quieting his doubters once and for all (via BBC Sport).
Those who argue Mayweather is sure to make a big deal of the Pacquiao loss don't seem to get the fact that hyping the loss as justified only further legitimizes the need for Mayweather to sign the fight contract. If he doesn't make the deal due to pointing to the loss as his primary reason for not pulling the trigger, Mayweather will look like a fool and a coward.
If Mayweather comes out and tries to say he really believes Pacquiao lost, he'll be ducking a guy who he criticized for not even being able to beat Timothy Bradley, who is still a relatively under-experienced fighter, especially when compared to Floyd. Not to mention the fact that Bradley spent the better part of Saturday's fight dealing with two bad wheels. It seems more sensible to me that Pacquiao's "loss" only makes the fight easier for both men to arrange for sometime in 2013.
At best, the only likely side effect of his unwarranted defeat will be that Pacquiao will be encouraged to accept less of a payout than he initially hoped for to get the fight to happen. 
With so many traditional boxing media pundits counting their chickens before they're hatched when it comes to assuming what Mayweather will say about all this, it's baffling to me how I can still be an unpaid contributor to this site. All the while, guys like Yahoo!'s Kevin Iole collect a high premium to write a bunch of pure BS speculation about what a guy he hasn't even interviewed about the fight yet will do next. And to add insult to injury, hardly any experts out there are daring to even suggest (like I did) that this fight reeks of a fix.
It's no wonder that a greedy opportunist like Bob Arum can get away with talking out of both sides of his mouth so often. Too many mainstream boxing writers just don't call him out for it and don't dig further into how a decision like this is so convenient for him it's criminal. God forbid anyone get around to doing some serious investigative reporting to expose Arum's potential role in staging all this. Instead, it seems far too many of the sport's most esteemed media professionals are focusing only on the judges who scored the fight. 
Are we forgetting that boxing has a rich history of mafia control, bribes, dives, and fixed fights? Or, are we just turning a blind eye to the very real possibility that the same mentality still exists in the dark corners of pugilism as we know it today? Whatever the case, Bob Arum must love the level of ignorance in the media ranks that allows him to continue to reap the benefits of boxing's latest and greatest black eye. The glaring scars on the face of the sport are like fertilizer for his corrupt flower garden, and the bed of prized roses this outcome provides him will go for millions of dollars a dozen if he has his way.