Pacquiao Robbed in Split-Decision Loss to Bradley; Was It Fixed from the Start?
June 10, 2012

Manny Pacquiao (54-4-2, 38 KOs) didn't seem at all phased by what appeared to be a bogus split decision loss to Timothy Bradley (29-0, 12 KOs) Saturday night at the MGM Grand in Las Vegas. The crowd seemed far more upset about the result than "Pac-Man" was.
A steady chorus of boos rained down as soon as Michael Buffer uttered the words "the new" to signify Bradley winning the bout and taking Pacquiao's WBO title belt. Even Bradley himself admitted he will have to review the tape of the bout "to see if I won the fight or not." (h/t USA Today)
Normally, it would just be standard journalistic protocol to claim Pacquiao was simply robbed by shortsighted judging at ringside, but this time things are a bit different and far more mysterious.
Consider Bradley's publicity stunt featuring a giant novelty ticket for a rematch bout on November 10th. Both Pacquiao and Bradley are promoted by Top Rank's Bob Arum. It was no surprise to see Arum stride across the ring after Saturday's fight with a wide-eyed grin.
A rematch for both Arum and Bradley means another crack at making a ton of money that might not be made if Pacquiao came away the clear victor on the scorecards.   
Before anyone caught a glimpse of the writing on Bradley's fake ticket, Pacquiao's former promoter saw the writing on the wall as far as Arum wanting Bradley to win the bout.
"Manny asks for a great deal of money and Arum would prefer that Bradley beats him, because if Bradley beats him, he doesn't have to pay Bradley that type of money, and that's what he is used to," Murad Muhammad said in a recent interview before the fight.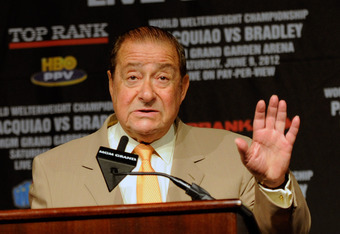 David Becker/Getty Images
Muhammad split with Pacquiao's camp after a contentious court battle in 2005, and he's convinced now that Arum is growing tired of the biggest star in his stable. 
Muhammad argued that it's all about the Benjamins when it comes to Arum's discontent with Pacquiao's big-money demands, and the critique makes sense. Arum's also been blamed in recent years for being the one who's really stalling the potential super bout between Pacquiao and Floyd Mayweather Jr.
It might be assumed that the former Pac-Man promoter was simply crying over spilled milk, but only if he made his remarks after the fight. Predicting Arum wanted what he happily received Saturday makes Muhammad seem more like Nostradamus now.
As far as the actual fight, Pacquiao had one of his best performances in recent memory, frustrating Bradley and often exploding with powerful flurries in the closing minute of most rounds.
HBO's esteemed analyst Harold Lederman only gave one single round to Bradley, offering a final score of 119 to 109 in favor of Pacquiao. ESPN.Com had the exact same score for Pacquiao.
Bradley did not put in a winning performance at all. He hurt his ankle in the fourth round and came back to his corner complaining about the injury on multiple occasions. He spent the first half of the fight trying to find his range and throwing too many wild bombs that didn't find their mark.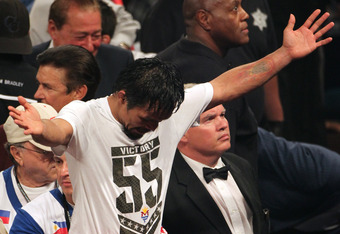 Jeff Bottari/Getty Images
Realizing a brawler's approach wouldn't work, he switched to a more savvy approach and started really boxing in the later rounds, but it wasn't enough to be considered the victor in this bout. 
Pacquiao outpunched and outlanded his opponent in nearly every round, displaying a combination of pinpoint accuracy and blazing speed that left Bradley backpedaling through much of the fight.
Compubox Punchstat numbers reflected the fact that Pacquiao landed 253 punches to Bradley's 159 with Pacquiao getting credit for connecting with 190 power punches to Bradley's 108.
Bradley didn't ever seem to have Pacquiao in any trouble, while Pacquiao's relentless attack wobbled Bradley a few times and sent him stumbling off balance. 
If Arum and/or Bradley knew going into this fight that the contender would become the champion after the final bell, Pacquiao didn't seem to have any clue he wouldn't be leaving the arena with another win to his credit. He actually wore a "Victory 55" T-shirt during the post-fight interviews.
Neither fighter seemed to show any serious battle scars on their faces after the fight, though Pacquiao did suffer a cut inside his mouth. Despite a few brutal exchanges, the fight had the look and feel of a dry run for the Mayweather bout for Pacquiao.
He'd need the kind of dominant performance he displayed to really get the superfight hype rolling again, but for some reason all three ringside judges had identical numbers (115-113) with only one of them favoring Pacquiao. 
Of course, experts speculate that the loss will give Floyd Mayweather, Jr. a chance to argue against fighting Pacquiao now, but the defeat could actually encourage that fight.
A suggested Nov. 10 rematch with Bradley is agreeable to Pacquiao, and an even more dominant performance by Pacquiao the next time around could set the stage for a 2013 meeting with Floyd.
Saturday's loss might also help Mayweather justify not giving Pacquiao the 50/50 split he wants if that fight ever materializes.
Mayweather won't get to watch the fight himself for about another two and a half months due to his current incarceration in Clark County, Nev. He also won't get a chance to negotiate a bout with Pacquiao again until the rematch is in the books.
However that rematch turns out, Bob Arum and Timothy Bradley make out like bandits. Boxing fans are the real losers in the wake of this bogus outcome.
Boxing gets a bigger black eye than it already has as a result of this hijacking, and Arum makes Don King look like an angel. The saddest aspect of this affair is that sports fans will likely never know the real truth, as bad decisions so often get swept under the rug in boxing.
This time around will be no exception, despite so many clues pointing to a potential fix here.
Pacquiao's record will always have a loss on it that he doesn't deserve, and it's almost a guarantee that no action will be taken to fix the real ills of this sport that are only magnified by this kind of suspicious decision.
Bad decisions come and go in boxing, but usually it's a case of so-called "hometown cooking." This time around, it smells a little more like Top Rank cooking, and the menu sucks.