Arsenal: Gunner Fans Should Be Cautious with Lukas Podolski Expectations
June 11, 2012

Joern Pollex/Getty Images
Euro 2012 kicked off last Friday, and fans have had no shortage of entertaining games. Many of the top clubs have their star players participating in the tournament and Arsenal is no exception.
Players like Andrey Arshavin, Tomas Rosicky and Robin Van Persie have all turned out for their countries so far, and Laurent Koscielny could see game time with France on Monday.
While Gooners will be casting their eyes over these players and others, one player that Arsenal fans will be sure to watch is new signing Lukas Podolski.
These fans will be hoping for a big tournament from the German forward, but they should be wary about the possible repercussions. Podolski's statistics the season after big tournaments suggest he may not produce a lot in his debut season.
He has already played his first game for Germany in the tournament, and with Germany set for a long run in the tourney, things may not turn out so well for the London club.
This author certainly isn't trying to be negative where this signing is concerned, but just cautious considering what the past history of this players suggests.
If one looks back at the last three major tournaments the Germans have played in—tournaments in which Podolski played a major role for his country, and the seasons Podolski had after—Arsenal does have reason to be wary.
The 2006 and 2010 World Cup and Euro 2008 are the competitions in question here, and the Polish-born forward put in some really solid performances.
In the 2006 World Cup he played in seven games for his country and scored three goals. The season after, 2006/07, he had 31 appearances, scored seven goals and had three assists in all competitions for his club.
At Euro 2008 he played in six games and had three goals and two assists. In the 2008/09 season he played 30 times, scored nine goals and had six assists in all competitions.
While participating in South Africa in 2010, he had two goals and two assists. During the 2010/11 season he made 34 appearances, scored 14 goals and had six assists in all competitions for his club.
In the seasons after the 2006 World Cup and Euro 2008, Podolski played at Bayern Munich and had competition in the form of Roy Makaay, Claudio Pizarro, Luca Toni, Miroslav Klose and others.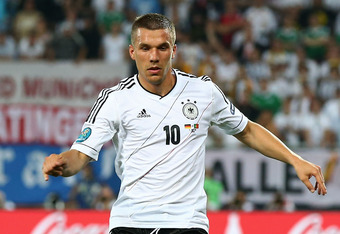 Martin Rose/Getty Images
After the 2010 World Cup he played for Koln and was unmistakeably the main man.
Though the 2010/11 season showed improvement over the others, fans must remember the competition he will face for a role on the wings and in the forward position at Arsenal will be similar in quality to the competition in his Bayern days.
If everything goes well, Podolski will have his usual great tournament and then produce a very solid debut season for the Gunners. If he gets anything less, just remember what's been presented here to know why. Hopefully playing for Arsenal will provide a change in those statistics.
As Euro 2012 continues, Arsenal fans will keep a close eye on Lukas Podolski. They'll be hoping he can help bring some silverware back to the club when they see him up close next season, but they should remember not to get their hopes too high considering what's happened in the past.