Cleveland Browns Have Had Disastrous 2012 Free Agency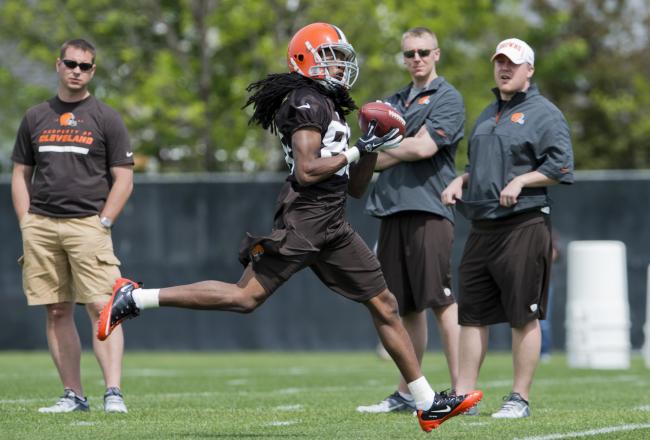 Travis Benjamin is one of many young Browns players who will have to contribute immensely for the team to have any success in 2012.
Jason Miller/Getty Images
The Cleveland Browns' 2012 free-agency activity? In pieces I write, I often refer to occurrences being well-documented.
Unfortunately, this is about something that hasn't been well-documented for two reasons:
One: fans think building through the draft without acquiring enough veterans to build depth will somehow result in short-term improvement and long-term developmental success.
Two: the Browns free agency activity hasn't been very well documented because, well...there hasn't been much to document. To say it has been aggressive is laughable. To say it has been passive-aggressive is hilarious. It's been mired in long stretches of inactivity as far as acquiring new, fresh talent.
If, as a neutral fan, you were to look on the outside at this transaction list since January 3, what might you deduce from it?
Well, Frostee Rucker, who has never been a full-time starter in the NFL, was signed to add depth to the defensive line that cut its starting end Jayme Mitchell. As was 34-year-old Juqua Parker, who was a viable NFL starter at one point but now is hitting the end of his career.
Forget the holes at running back with zero health or explosive players behind this year's No. 3 overall selection Trent Richardson.
Forget the holes at linebacker and relying on a rookie fourth-round selection to step in and start from Day 1. Forget the need for defensive tackles better than Brian Schaefering and Scott Paxson in replace of the injured 2011 first-round pick Phil Taylor.
Should the Browns do more in free agency in the 2012 offseason?
Oh, and not to be disregarded: forget the need for wide receivers to make the quarterback position better and count on a rookie fourth-round pick to run with the one's at OTAs and fit in seamlessly to an offense that never even fit to begin with in the first place last season under head coach/offensive coordinator Pat Shurmur.
It's early, and of course, this could seem like an overreaction, but according to a reliable observer of Browns' training camp, the receivers do not look very much improved at all. In fact, the unit is still considered a weakness, perhaps the most glaring one on the entire team.
Brandon Weeden certainly has a lot on his plate already trying to come in as a soon-to-be-29-year-old quarterback with first-round expectations and a mediocre, at best, group of wide receivers to throw to. A tall order for a franchise who hasn't had a stable QB since it reentered the league in 1999.
Browns fans and some pundits want to criticize the draft, but it's difficult to. GM Tom Heckert has been adamant about building through the draft, and there's a track record that indicates that will work—eventually.
Unfortunately, the Browns are still a year away from competing in the AFC for a playoff spot because they simply weren't aggressive enough. Now, if injuries happen—as they often do in the NFL—there is no experienced or even good depth behind the young players who are expected to make such a big impact and try to make this team competitive in 2012.
It's certainly not too late, but to silence skeptics and avoid yet another season of "shoulda, coulda, woulda, but didn't get it done," the front office better take action now before it loses its job. Too bad it looks like the trend is continuing, and the organization is trying to brush it aside, preaching to followers to trust the moves they're making.
What has been well-documented is the swings and misses the Browns had this offseason, on Pierre Garcon, Josh Morgan, and of course, Robert Griffin III, who the team apparently didn't want anyway and just wanted it to look like it tried to acquire him.
An organization that wants to improve, get fans in the seats and no longer be one of the biggest laughingstocks in the NFL won't overpay or trade a low-round draft pick to take a small risk on players with any sort of personality issues.
Wouldn't it be logical to take a slight risk on a veteran player rather than throwing in so many significant rookie contributors to the fire? It makes sense to give these young players as many reps as they can, and maybe they can grow together and morph into an NFL powerhouse that Heckert and Mike Holmgren envision.
The Browns have some of the most upstanding gentlemen in the NFL, but an explosive personality wouldn't be a bad thing to add to the franchise to give it some spice.
Neither would an explosive weapon in free agency on either side of the ball.
This article is
What is the duplicate article?
Why is this article offensive?
Where is this article plagiarized from?
Why is this article poorly edited?

Cleveland Browns: Like this team?