Euro 2012 Soccer: The Netherlands, Germany, Portugal & Denmark Lacking Life
June 9, 2012

Julian Finney/Getty Images
Today's Euro 2012 games in the Ukraine, featuring the bi-annual European soccer championship's infamous Group of Death, displayed four teams which, at times, appeared in catatonic states.
None of the tournament's celebrated four Group B teams, all ranked in FIFA's top ten world rankings, played to their full potentials.
In today's first match in the Ukraine, a spunky Denmark squad—ranked tenth in the world—pulled off the tournament's first stunning upset by defeating the heavily favored Dutch, FIFA's fourth ranked team. A surprise goal in the 24th minute by Danish striker Michael Krohn-Dehli, which seemed to catch the Orange off guard, sealed the Netherlands' fate.
For a dazzling Dutch team that produced 37 goals in ten Euro 2012 qualifying games, the Netherlands appeared cadaver-like at times, failing to quickly counter-attack and seldom demonstrated sparks of life.
Holland's English Premier League star Robin van Persie and Bayern Munich wing Arjen Robben both looked moribund with and without the ball, failing to place it into the net despite numerous opportunities. Not what you'd expect from potent strikers on one of the world's premier teams. 
Also in the Ukraine this afternoon the world's third ranked FIFA squad, Germany, eked out a 1 – 0 victory over FIFA's No. 10 ranked team, Portugal, in the second ESPN telecast of the 2012 European Championship's Group of Death pool game. Neither Germany nor Portugal looked very lifelike in their contest, and left a worldwide audience wanting more. 
Bundesliga star Mario Gomez headed home the game's only goal off a deflected cross in the 72nd minute, past Portugal keeper Rui Patricio to secure Germany's win.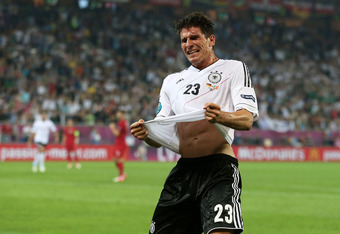 Joern Pollex/Getty Images
Like the Holland versus Denmark match, the Germany versus Portugal game also lacked the pizzazz and punch so eagerly anticipated in the Group of Death matches, which boast four of the world's top ten teams. 
For ESPN viewers watching today's Group of Death pool play in the Ukraine, the expectation is likely that Euro 2012 action, especially in this vaunted group, can only get better.
High profile players like Holland's Van Persie, Robben and Wesley Sneijder, Germany's Miroslav Klose and Lukas Podolski and Portugal's renown goal scorers Cristiano Ronaldo and Nani need to score to breathe life into this lackluster tournament.
Otherwise, Group B's Group of Death is...doomed, and may portend the death knell for an eagerly anticipated soccer tournament teeming with life and brimming over with goals. 
Straight talk. No static.
MIKE – aka Mike Raffone – thee ultimate talking head on sports!