2012 NBA Finals: How Bench Units Will Decide Who Wins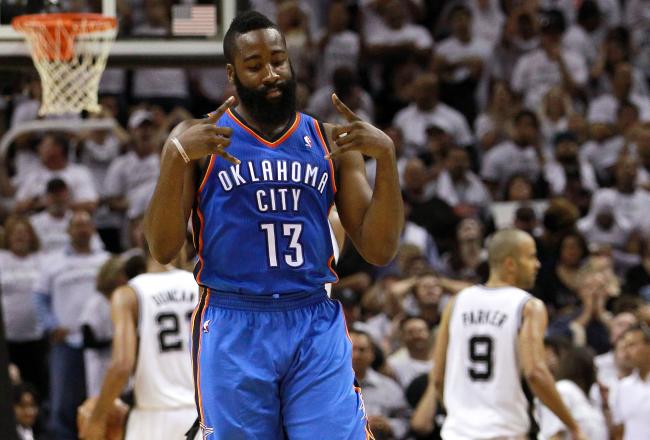 Ronald Martinez/Getty Images
Kevin Durant is the greatest closer in the NBA and LeBron James is the most athletically gifted player ever to step foot on the hardwood, yet neither will determine the outcome of the 2012 NBA finals. That privilege belongs to the bench units.
The NBA finals are a time when superstars shine, but it's also a time when role players, specifically those off the bench, hold the greatest leverage.
Neither the Oklahoma City Thunder nor the Miami Heat are exceptionally deep. They're both adequately laden with star power to supplement their lack of depth, though, hence their appearance in the finals.
But that's just it, both Miami and Oklahoma City are somewhat predictable.
James is going to be a triple-double threat every night, Durant is going to score, Dwyane Wade is going to get to the foul line and Russell Westbrook is going to blow up the stat line with an obscene number of field-goal attempts.
Championships are won by providing answers to questions, but those aren't questions, they're facts and foregone realities.
Will Mike Miller continue to carom open looks off the back and front of the rim? Can James Harden cope with task of defending James or Wade when such assignments are thrown his way?
Is Norris Cole prepared to execute on the league's biggest stage? Will Nick Collison be able to stay out of foul trouble and hit those mid-range looks he's undoubtedly going to see?
Those are the lingering queries each team is presented with, the answers to which will either provide them with an advantage or lead to their ultimate downfall.
This is not to say the starters from the Heat and Thunder are a non-factor; it's quite the contrary, actually. But each starter from either side has a clearly defined role, a constant docket of expectations that the bench players do not.
Will the bench units decide which team is crowned NBA champion?
No one knows if Derek Fisher has enough juice left in his legs to shoulder anymore postseason heroics, but they know that Thabo Sefolosha is going to shut down the perimeter.
No one knows if Shane Battier's corner threes will gain any sort of traction, but they know Mario Chalmers won't shy away from taking the big shot.
Starting lineups are founded upon a sense of certainty, an air of predictability and knowing what to expect. Benches, though, present an unpredictable dynamic, operating on the hope, not assumption, that they'll serve as more than a competent stop-gap while the starters are resting.
They're a collective, not individual X-factor with an unmeasurable ceiling, and basement for that matter, who can and will prove to be the difference between a championship victory and a string of ringless fingers.
As for which bench has the edge, the Heat or Thunder, that particular question will not be answered until the final buzzer of the final game.
This article is
What is the duplicate article?
Why is this article offensive?
Where is this article plagiarized from?
Why is this article poorly edited?