Bruce Bochy Minces No Words, Calls out Pablo Sandoval's Weight
June 9, 2012

Ezra Shaw/Getty Images
Prior to Saturday's afternoon game vs. the Texas Rangers at AT&T Park, Giants manager Bruce Bochy was asked numerous questions about Pablo Sandoval.   Affectionately known as the "Panda," Sandoval was activated from the 15-day disabled list today after missing 35 games while rehabbing from surgery on a fractured hamate bone in his left wrist. 
While there were a number of questions surrounding Sandoval's rehab and availability to hit from both sides, Bochy was asked if he appreciated Sandoval's recent comments about taking his fitness seriously. 
Pulling no punches, Bochy responded immediately, saying, "There comes a time when you don't want to hear it, you need action, and that's got to happen now." 
Bochy didn't stop there, as he elaborated on the weight Sandoval has apparently lost this week, "That has to be consistent, it can't (just) be for three or four days, or a week, it's gotta be for the season."
This is not the first time Bochy and the Giants have taken issue with Sandoval's weight.  After lighting it up in 2009, his first full season in the big leagues, a heavier Sandoval struggled in 2010. 
By some reports, Sandoval had put on 25 to 30 lbs, and by the stretch run to the World Series, his hitting and his fielding had suffered.
After finishing the season with only 13 home runs, and a .268 average, Bochy and Brian Sabean sat Sandoval down and told him he needed to commit to his fitness and conditioning or he would find himself as the odd man out.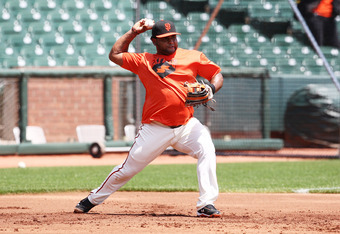 Tony Medina/Getty Images
The talk seemed to work, as Sandoval spent most of the offseason in Arizona working on conditioning and his overall weight.  When Sandoval showed up to spring training in 2011, he was leaner and by his own account, in the best shape of his life.
The conditioning clearly paid off on the field, as Sandoval hit .315 last year with 23 home runs.  Interestingly, prior to the wrist injury this year, Sandoval was hitting .316 with five home runs in 24 games.  
Other than five errors at third base, Sandoval wasn't showing signs that he was reverting back to his 2010 issues, but he's obviously put on a significant amount of weight, and the Giants are clearly concerned.
Commenting further about Pablo getting into playing shape and staying there, Bochy noted that "That's what he needs to do, that's what we want to see, and he knows that's what he needs to do." 
Pablo will start today at third base and bat third in the lineup.  Bochy also commented that he hadn't been able to sit down with Sandoval since he arrived from Fresno but would definitely get with him later. 
With Melky Cabrera sidelined for a few days with a strained hamstring, the Giants need Sandoval to come in and provide the same spark he provided the offense prior to his stint on the disabled list. 
If Sandoval struggles at the plate or in the field, you can bet Bochy will be receiving an increasing amount of questions about Sandoval's weight.