Ireland vs Croatia: Irish Must Stay True to Defensive Identity
June 9, 2012

Jamie McDonald/Getty Images
If Ireland wants to find success at UEFA Euro 2012 they are going to have to stay true to their defensive identity, and they must start that right away against Croatia in opening round play.
The Irish are a defensive, fundamental team. There should be no doubt about that.
They aren't flashy, they aren't going to wow the world with a whole bunch of points, but they are going to get the job done. Clean sheets have become expected for this squad—11 since their last loss—and they won't typically put up a ton of goals.
According to a quote from Ireland coach Giovanni Trapattoni via Reuters on ibnlive.in.com, he likes the way his team plays.
"We don't have many creative players, but very straightforward players.We have our own style of football. We are not a Latin team, not a team who play technically superior. We are a team with our own characteristics, which I like very much, very direct and precise," said Trapattoni.
This is who they are as a team and this is what they do. I dare say a 1-0 game would be the perfect game for Ireland, and that's the mindset they're going to have to take into this tournament.
There are few things in sports more powerful than the identity of a team, and that is often times tested in big time moments like Euro 2012. These are the type of tournaments and moments that really stretch teams to their brink, so it's the squads that can remain true to themselves that really find success.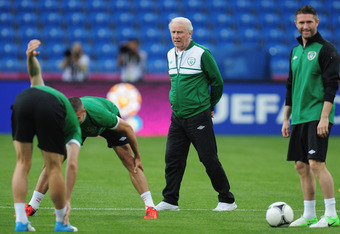 Jamie McDonald/Getty Images
There are plenty of high-scoring teams in this Euro 2012 tournament, but Ireland doesn't need to keep up with them in order to win. They don't need to push themselves out of their comfort zone in order to find success, even though that may be the flashy or stylish thing to do.
If the opposition can't score, they can't win—it's literally that simple for Ireland.
Perhaps this simple strategy will give them an edge over their opponents. You know what they say, offense wins games, but defense wins championships.
Ireland needs to stick to their identity: Play solid defense and frustrate their opponents. The strategy has worked, and while it may not be flashy or super fun to watch, it certainly is effective.
The Irish can find great success at Euro 2012, and they can start off by shutting out Croatia.