Predicting 2-Deep Miami Dolphins Depth Chart, Pre-Training Camp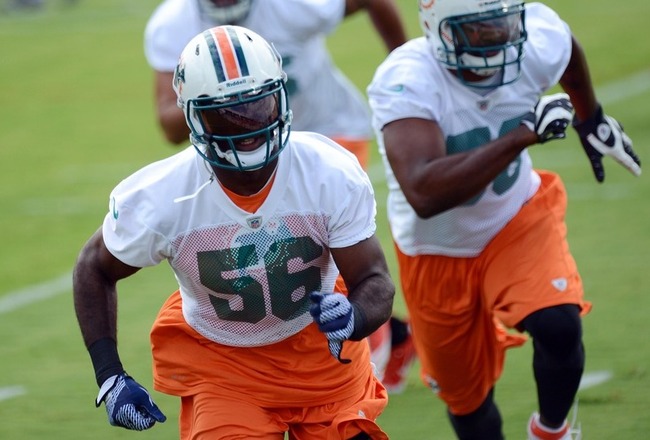 Photo: Steve Mitchell-US PRESSWIRE - Presswire

The Miami Dolphins' offseason regiment is kicking into full gear, and now that the team has a week of OTA practices under its belt, the depth chart is starting to take form.
At this early juncture in the offseason, everything is subject to change.
Players will get injured, others will get cut, some will be signed and there could even be a trade or two. So keep that in mind as you flick through the slideshow.
Anyway, what might the Dolphins' depth chart look like when they face the Houston Texans on September 9?
Here's a look.
Quarterback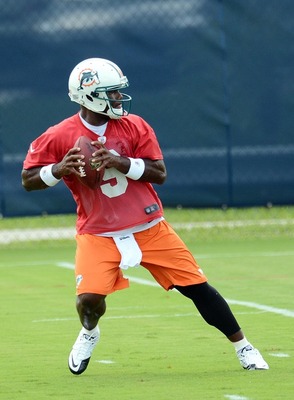 Photo: Steve Mitchell-US PRESSWIRE - Presswire
1. David Garrard 2. Matt Moore
This is the toughest position to predict right now. Matt Moore resuscitated the Dolphins last season, but he is untested in a West Coast scheme. Meanwhile, David Garrard is a savvy, reliable veteran who recently quarterbacked a West Coast offense.
For now, I'm picking Garrard. He can keep the team competitive on a weekly basis, but the door is still wide open for Moore to win the job. We'll have to wait and see how training camp unfolds, but Garrard currently has the edge.
On the Periphery: Ryan Tannehill is approaching the periphery of the starting quarterback job. Reggie Bush vouched for Tannehill a few days ago, saying the rookie has "the upper hand."
Truthfully, I think Bush's words are being taken out of context. Of course he's going to support the future franchise quarterback in a public forum.
Bush's support aside, Tannehill does have a chance, albeit a slim one, of winning the job. He knows this system inside and out, and rookie quarterbacks have succeeded in recent years.
Running Back
Stephen Dunn/Getty Images
1. Reggie Bush 2. Daniel Thomas
Reggie Bush is Miami's uncontested No. 1 back.
Moving on, Daniel Thomas needs to fasten his grip on the No. 2 role. Thomas has a unique blend of size and speed, and the Dolphins leaned on him for pass protection last season. He was on the field for 177 pass plays in 2011 and stayed in to block 44.6 percent of the time—the second-highest rate in the NFL.
Thomas was a disappointment last season, and he's under immense pressure to perform well in training camp. He has big-time potential, and if he achieves it, Miami will have a lethal trio of running backs.
On the Periphery: Lamar Miller is an electric playmaker who will definitely figure into Miami's gameplans this season, but can he surpass Daniel Thomas on the depth chart? It's certainly plausible. In order for Miller to seize the No. 2 role, he'll have to amazing or Thomas will have to falter big-time in training camp.
Wide Receiver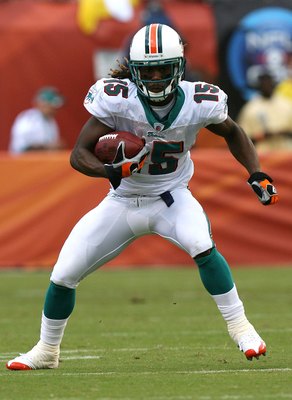 Doug Benc/Getty Images
1. Davone Bess 2. Legedu Naanee
Ever since the Dolphins traded Brandon Marshall, Brian Hartline has been penciled in as a starter. Hartline hasn't participated in any OTA sessions yet (not a big deal, and Legedu Naanee is starting to emerge as competition for a starting role).
Naanee has drawn some rave reviews already. Of course, this alone isn't reason to believe Naanee will earn a starting job.
Naanee is a stocky, speedy wideout who can be a very productive wideout if he ever realizes his potential—and I believe he will this season. For one reason or another, Naanee hasn't put it all together yet, but time is running out for him to do so. Naanee has shown glimpses in the past; now, he needs to do it on a regular basis.
On the Periphery: I was tempted to put Chad Ochocinco in a starting role, but he needs to practice first. Just because Ochocinco had one bad season does not mean he's out of gas, but then again, he was an utter disaster last year. Don't expect the old Ochocinco to show up, but is he really inferior to Brian Hartline? We'll see.
Tight End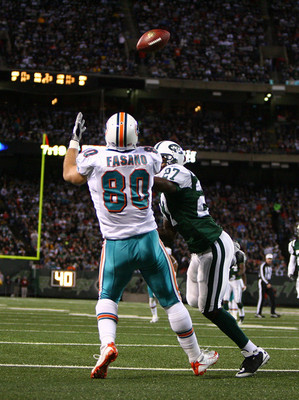 Photo via Zimbio.com
1. Anthony Fasano 2. Charles Clay
There's not much up for debate here.
Fasano is an unspectacular but uber-reliable tight end, and he'll retain his role as the starting tight end.
Charles Clay is one of the most intriguing players on the roster. Clay is transitioning from fullback to tight end, where the Dolphins can better utilize his athleticism and versatility, and it could result in big numbers for the former sixth-round draft pick.
Right Tackle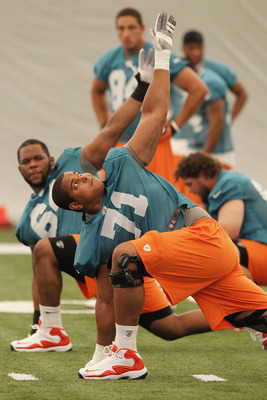 Joel Auerbach/Getty Images
1. Jonathan Martin 2. Lydon Murtha
Jonathan Martin and Lydon Murtha will engage in a battle for the starting right tackle job in training camp, and it will be one of the most intense positional battles.
Both players are mostly unproven, but Murtha is significantly more experienced than Martin. Murtha is a three-year veteran who has appeared in nine games and made four starts in 2010. However, Martin is a highly-touted prospect who could be a fixture at right tackle for years to come.
Martin has superior physical tools, and as long as he doesn't struggle with the transition to the NFL, he should win the starting job.
Right Guard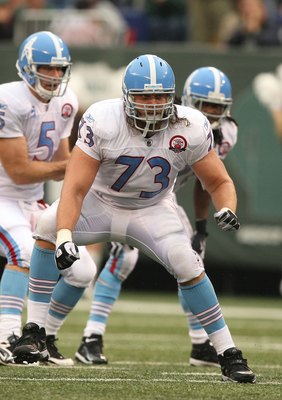 Al Bello/Getty Images
1. Free Agent 2. Artis Hicks
I'm going out on a limb here, but I don't think the Dolphins' starting right guard is on the roster yet.
John Jerry was the initial favorite to win the job, but he practiced with the backups on Monday while Artis Hicks took first team reps. Jerry's weight and inconsistency are huge question marks, but Hicks hasn't been a regular starter since 2006.
If, and this is a big if, a few noteworthy offensive guards are cut in the next few weeks, then I suspect the Dolphins will jump on one of them.
Center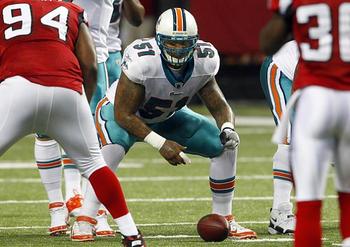 1. Mike Pouncey 2. Ryan Cook
No debate here. Mike Pouncey is the sure-fire starting center.
The Dolphins could stand to upgrade from Ryan Cook, though. Cook has only started seven games since 2008, and he only dressed for six games last season.
Left Guard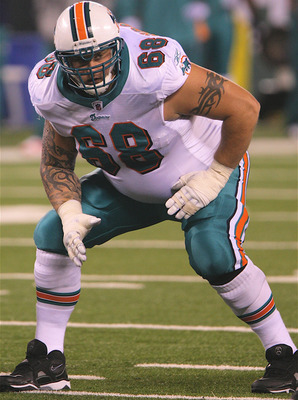 Photo via SI.com
1. Richie Incognito 2. John Jerry
Richie Incognito's job also appears to be secure, though I'm curious how he'll fare in the West Coast offense. At 6'3", 325 pounds, Incognito is oversized for a WCO offensive guard, and he'll have to prove he's athletic enough to thrive in Miami's new scheme.
If John Jerry doesn't play well in camp, then there's a good chance he'll be cut.
Left Tackle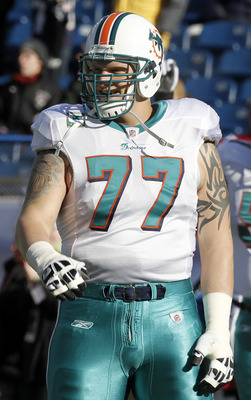 Winslow Townson/Getty Images
1. Jake Long 2. Nate Garner
Of course, Jake Long isn't going anywhere.
Nate Garner took second team reps at left tackle this week, which is a little bit strange. Garner started eight games for the 'Fins in 2009 and played very well, but he's been a ghost since then.
If Garner can regain form, he could eventually make a push for one of the starting job spots.
Defensive End
1. Cam Wake 2. Jamaal Westerman
Whenever Cam Wake needs a breather, then either Jamaal Westerman or Olivier Vernon can step in. But because Vernon will likely rotate with Jared Odrick, Westerman is the leading candidate to relieve Wake.
Westerman racked up 3.5 sacks in three starts for the Jets last season, so it'll be interesting to see if he can build off a promising year.
Defensive Tackle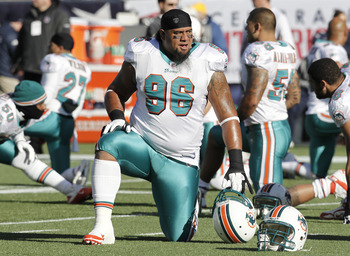 Winslow Townson/Getty Images
1. Paul Soliai 2. Randy Starks
Paul Soliai and Randy Starks will share the field in Miami's 4-3 defensive alignment. And they will probably share the field in the 3-4 as well.
On the Periphery: The Dolphins signed Tony McDaniel to a two-year, six million dollar deal last summer. However, McDaniel's production dipped sharply, and he was a fraction of the player he was in 2010.
There's no doubt McDaniels has the tools to be a difference-maker. If he rebounds, then he'll factor into the defensive tackle rotation as well.
Defensive End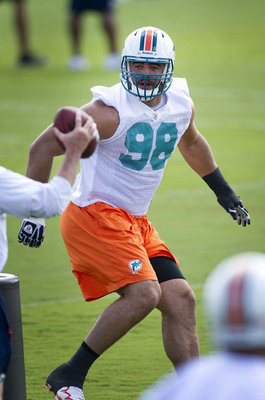 Photo via MiamiHerald.com
1. Jared Odrick 2. Olivier Vernon
Former first-round pick Jared Odrick is finally in a starting role. Odrick is oversized for a 4-3 defensive end, but his pass-rush and run-stuffing skills will prove problematic for opposing offensive lines.
Although Odrick can generate pressure, third-round pick Olivier Vernon will likely replace him on passing downs. Vernon is a pass-rush specialist, and he'll see favorable matchups playing opposite Cam Wake.
Strong Side Linebacker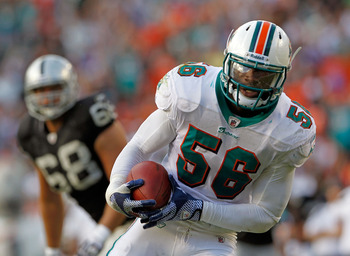 Mike Ehrmann/Getty Images
1. Kevin Burnett 2. Gary Guyton
Kevin Burnett is locked into the starting strong side linebacker job, but he needs to play far more consistently than he did last year. In the 4-3, Burnett must shut down opposing tight ends, something he struggled with at times in 2011.
If Burnett can't handle those duties, then the Dolphins could shuffle their linebackers around and put Guyton in at the "Sam" spot.
On the Periphery: Fifth-round draft pick Josh Kaddu fits the mold of Sam linebacker. He's a very athletic player who can also get to the quarterback, but expectations should be low for any late-round draft pick.
Middle Linebacker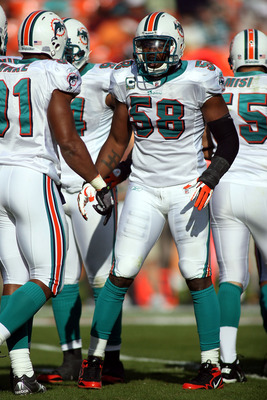 Marc Serota/Getty Images
1. Karlos Dansby 2. Austin Spitler
Karlos Dansby will quarterback Miami's defense from the "Mike," or middle linebacker spot.
Former seventh-round draft pick Austin Spitler is the leading candidate to back-up Dansby. It'll be interesting to see if Spitler can finally carve out a regular role for himself after two seasons on the bottom of the roster.
Weak-Side Linebacker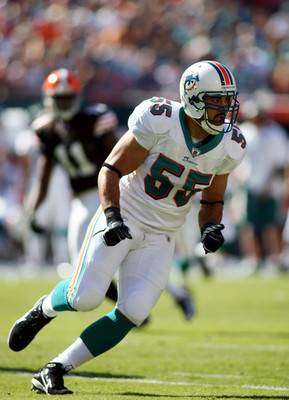 Photo via Zimbio.com
1. Koa Misi 2. Gary Guyton
Koa Misi is the clear-cut favorite to start at weak-side linebacker, but he's not a lock. Misi struggled last season and it's cause for concern. Was Misi really an ill fit for the 3-4, or is he not as good as we thought?
The 4-3 suits Misi's skill-set better than the 3-4 did, so there's hope he'll revive his career in 2012. But, Misi will have to fend off Gary Guyton, an ex-New England Patriot who boasts solid athleticism and experience.
Cornerback
Photo via PhinPhanatic.com
1. Vontae Davis 2. Sean Smith
Miami's young duo of cornerbacks will return to their starting roles. It's time for both Davis and Smith to make the leap from "promising" to "great."
Davis has started to establish himself as a top-flight corner, and he needs to solidify himself as one in 2012. Entering his fourth NFL season, there's no room for excuses.
Then there's the curious case of Sean Smith, who was primed to become a star after a stellar 2010 season, but instead regressed. Smith has incredible physical tools, and he's already shown us he has elite potential. Now entering his contract season, pressure is on Smith to excel.
On the Periphery: Richard Marshall is the unquestioned nickelback, but Nolan Carroll is one player to watch. Carroll has no chance of dethroning Davis and Smith, but can he rebound from a poor 2011 campaign?
The Dolphins are scarily thin at cornerback, so getting high-level play from Carroll would be tremendous. Carroll believes the lockout hindered his development, but he'll have to prove that was truly the case in the coming months.
Safety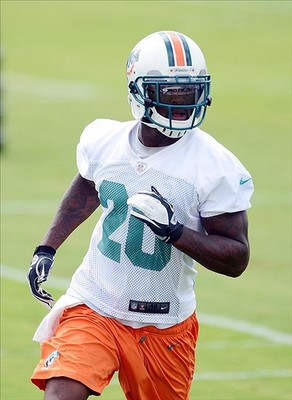 Photo via PhinPhanatic.com
1. Reshad Jones 2. Chris Clemons
I want to put Jimmy Wilson on here so badly, and I think I'm going to regret excluding him. Wilson showed big-time potential last summer, and his ceiling is far higher than Chris Clemons'.
Ultimately, Joe Philbin has a conundrum on his hands. Reshad Jones has a firm grip on one starting job. He's a very aggressive safety who likes to gamble, and he struggled often last season. So, Chris Clemons, who plays very conservatively, is a natural partner for Jones.
Wilson is still largely unproven, and it'll be tough for Philbin to start two wild cards. If, however, Wilson awes in training camp, then he could steal Clemons' job.
Keep Reading

Miami Dolphins: Like this team?