NBA Rumors: Bobcats Insane to Consider Trading No. 2 Overall Pick for Rudy Gay
June 8, 2012
Stephen Dunn/Getty Images
If Michael Jordan allows his Charlotte Bobcats to trade the No. 2 overall pick in the 2012 NBA draft for Rudy Gay then he doesn't deserve to ever find success in the league as an owner.
According to Sam Amico of Fox Sports Ohio, word on the street is that the Memphis Grizzlies are shopping Gay and that Charlotte is interested—although he does admit a trade would be complicated:
There's been talk that the Bobcats might be willing to move the No. 2 pick to Memphis in a package for small forward Rudy Gay, but according to sources, it's just been talk. "It seems the rumors about Gay (being on the trading block) are true," one source said. "And the Bobcats are one team that could take on his salary. But a trade would be complicated."
Before we even get into Gay's monster deal, let's look at what it means in terms of pure basketball production.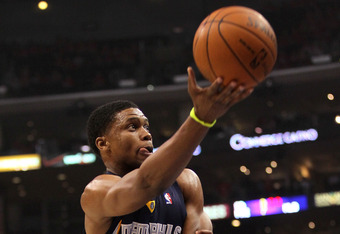 Stephen Dunn/Getty Images
The 25-year-old averaged 19 points, 6.4 boards and 2.3 assists this season with the Grizzlies. He's a very good NBA player who can score the basketball and take over a game from time to time. However, he is by no means a franchise superstar to build around and certainly not worthy of a No. 2 overall pick.
On top of that, the Bobcats are so far removed from competing right now the last thing they should be worrying about is players that can immediately make that big of a difference.
Gay has three years remaining on his contract with salaries that escalate from $16-plus million next season to $19-plus million in the final year.
Why would the Grizzlies ever take on that contract in exchange for a potential superstar at the No. 2 pick? Bradley Beal, Michael Kidd-Gilchrist or even Harrison Barnes offer more upside at a much cheaper price. And with their youth they'd be able to grow with the likes of Kemba Walker and Bismack Biyombo.
Gay would grow impatient with a team that has no chance of winning right now.
There is nothing about this move that makes sense and it is insane that the Bobcats would even consider it.