Seattle SuperSonics: Seattle Loses the NBA Finals Before They Begin
June 10, 2012
Kevin C. Cox/Getty Images
Can you believe that the Sonics are going to the NBA Finals?
Funny to think just a few years earlier the franchise was on the cusp of leaving town.  Now Sonics tickets are the hottest, not to mention the toughest, to get in town.
The Mariners "quiet" start and the anticipation of a playoff year for the Seahawks has been muted the better part of the spring by the rebirth of the city's oldest franchise.   The Sonics roared through the Western Conference playoffs in this abbreviated season to get the team back to the finals for the first time in over 15 years.
Meanwhile thanks to the other-worldly play of star forward Kevin Durant, the Sonics have a real shot at winning their first title in over 30 years. 
It's like a dream almost come true...except it's actually a nightmare.
With the Zombie Sonics now set to face the Miami Heat in the NBA Finals, it makes watching the series for any red-blooded basketball fan living in Seattle nearly impossible.  
Had the Celtics won the series against Miami, one could have considered supporting former Sonic Ray Allen in his quest for a second ring in Boston.
Instead Seattle fans are basically stuck choosing between rooting for their ex-girlfriend or the school yard bully.
The easy choice would be to simply refuse to partake, but I'd be lying if I didn't admit that both teams are wildly entertaining to watch in terms of their play and the drama. 
So what do Sonics fans who can't look away do?
Right now I'm not even sure. 
Seattle Times writer Steve Kelley in his column Friday morning offered his thoughts on the situation with the following...
"We can be victims. We can throw things at the flat screen as we watch in sadness the beaming Bennett bask in the love he feels from his people. We can sink into a deep depression and ignore The Finals.
"Or we can become activists.
"We can employ our anger to lobby the city and county councils, to rally in Occidental Square on June 14, to push for this once-in-a-lifetime arena deal. Chris Hansen's deal is the best privately funded arena deal ever. If it doesn't get passed, Seattle doesn't deserve a team."
Honestly I'm not fond of Option #1 and highly skeptical of Option #2.
The reality of it all is far more gray than the black and white choices Kelley offers.   
Until now for anyone fiercely in denial, the Zombies were somewhat innocent of being an up-and-coming team situated halfway across the country.  With a trip to the Finals, we are left with the harsh truth of potentially seeing this team crowned champions, thus giving Seattle one final and validating kick to the gut.  Like it or not, the Oklahoma City Thunder will be in the record books for all eternity. 
Personally, though, I have nothing against the Zombies actual players.  For those few players who were here at the time, they dealt with an impossible situation in Seattle as best they could while facing an uncertain future.  With the way the world works, you follow the paycheck, especially in an occupation like professional sports.
Most people would argue that the players who were here in Seattle are mostly gone now, which is true except for one not so small exception...Kevin Durant. 
When the Sonics selected him No. 2 in the 2007 draft, there was a shred of hope that in time he would not only save the franchise but take it to the promised land.  Unfortunately the prophecy fell apart for the fans of Seattle, yet it's hard not to admire how far Durant has come in such short time.  It's that odd push and pull that makes what we are seeing now hurt that much more.  
Right now Durant would own Seattle.
Had Greg Oden fallen to the Sonics instead of Durant in 2007 and his career had taken a similar trajectory to how things played out in Portland, I don't think I'd feel the same way I do right now.  Don't get me wrong, it would still be quite awful, but the sting wouldn't be the same.  
Durant by all indications is a once-in-a-lifetime talent who seems destined to do great things.  He was here, he was real, he was ours. 
Instead we are left missing a piece of ourselves and not sure if we will ever get that back or for that matter if we even want it.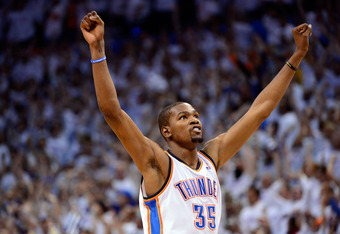 Ronald Martinez/Getty Images
The reality is that we are on the cusp of another summer in Seattle left wondering if the Mariners will ever compete again and who Pete Carroll is going to start at quarterback for the Seahawks come September.  All nice and good, but certainly far from ideal. 
So who do I choose if forced to make a decision?
I suppose I will pull for Durant simply because of the old saying, "If you love something, let it go."
Sorry if that's too cliche, but it's hard not to get a bit sentimental, especially when you consider the alternative that Jay Caspian Kang at Grantland brilliantly penned in his article on Kevin Durant... 
"It's almost impossible to pull for something that feels preordained, especially if the face of the movement seems a bit too entitled, a bit too young, and a bit too threatening. LeBron's haters root against him for the same reason Facebook haters root against Facebook stock."
Impossible indeed and with that I will reluctantly stick with my choice.  The sad truth is that no matter how things shake out, we've already lost.