Why the Minnesota Vikings Will Shock the World in 2012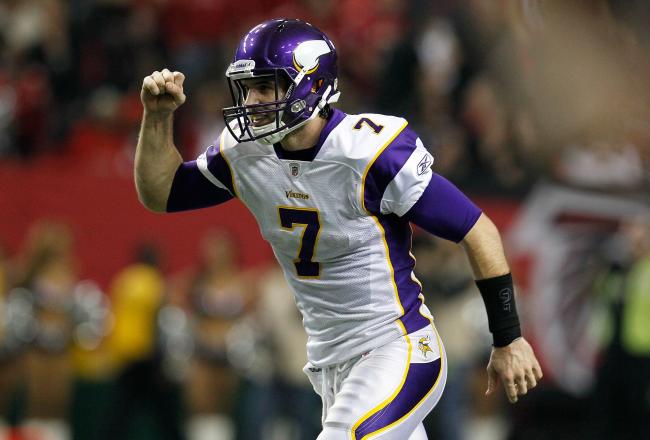 Kevin C. Cox/Getty Images
Every season, teams that nobody expected to do anything become unexpectedly legitimate and make a serious push for the playoffs. Despite playing in one of the league's toughest divisions on paper, this season that team will be the Minnesota Vikings, and I'm going to tell you why.
In 2011, Minnesota may have only recorded three wins, but it's important to look at how competitive they were outside of that. Early in the season, they blew a succession of huge half-time leads and could just as easily have started 3-1 or 4-0 as they did 0-4. They finally strung a complete game together in Week 5 and took down the Cardinals 34-10 before their season effectively ended over the next two weeks with divisional losses to the Bears and Packers.
Even in the Packers game, coming up against the prohibitive Super Bowl favorites, undefeated at the time, with Christian Ponder making his first start as a rookie, they were able to keep the game close and only succumbed to a 27-33 loss.
This was not a team that was hopeless from the outset, rather a team whose season ultimately spiraled out of control the longer it went on.
From the mid-point of the season, things were obviously a lost cause and the team continued to lose its way through the rest of the regular season, with the exception of a Week 16 win on the road to the Redskins which may have been one of the most costly wins any team has ever had.
That win not only cost the Vikings Adrian Peterson, who went down with a catastrophic knee injury, but also dropped them from the 2nd overall pick in the draft (and in the running for the 1st) to the 3rd overall pick, and therefore cost them a RGIII-sized trade bounty, ultimately given up by the Redskins of all teams.
The point of that little season summary was to point out that the Vikings may not have been quite as bad as their 3-13 record suggested. They were competitive early in the season, and should have had a much better record before defeats mounted and the desire was lost.
Talent On the Roster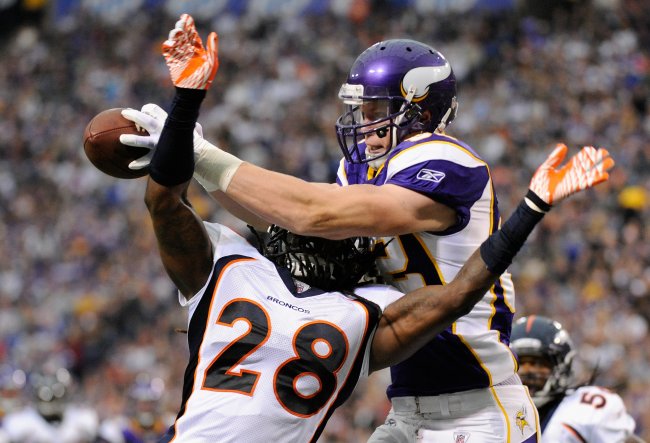 Hannah Foslien/Getty Images
Finishing the season with a 3-13 record can easily convince people that the team is bereft of talent, but the Vikings roster is stacked with some legitimate players. They may only have sent two players to the Pro-Bowl, but could easily have sent four more, and have some of the most electrifying players in the game.
Over the course of the offseason, I have had cause to watch several players snap by snap over the 2011 season and come away more impressed with some of them each time. On offense, Percy Harvin is a dynamic weapon and can be effective as both a receiver and running back. He has the kind of quickness few players can live with, and is incredibly tough and direct for his size. Kyle Rudolph has only had limited snaps but he has Rob Gronkowski-type skills and size. You could easily put together a highlight reel of those two players side by side and make them look very comparable. The difference is that Gronkowski had Tom Brady throwing to him and played 1,120 snaps wile Rudolph had McNabb and Ponder throwing to him and played just 493.
The O-line, often a problem for the Vikings, actually played better last season with John Sullivan in particular having a Pro-Bowl caliber season at center. The addition of Matt Kalil at left tackle—the biggest problem on the line—should improve it even further.
On the other side of the ball, Erin Henderson was one of the best linebackers in football last season, despite being a three-down linebacker only when the Vikings were trying to manage the snaps of E.J. Henderson, his elder brother.
Henderson will play alongside Chad Greenway and in front of a defensive line that still sports Jared Allen, Kevin Williams and Brian Robison, who are all formidable pass-rushers and capable run defenders. The problem with Minnesota's defense last season was in the secondary, but between the draft, free agency, and players returning from injury, they will likely be fielding a completely different five-man defensive back unit than the one that played much of 2011.
Antoine Winfield returns from injury and, when healthy, he is not only an excellent corner, but one who gives them flexibility with his ability to play the slot as well as out wide. Winfield also sets the tone for that defense, regularly dishing out big hits and effectively shutting down the screen game to his side of the field when he plays, such is his ability to read and react.
The Vikings also get Chris Cook back after protracted legal issues. Cook was their top pick a couple of seasons ago and he missed much of last season after the Vikings shelved him once his legal problems started. Cook has big-time talent and is one of the few players physically capable of matching up with Calvin Johnson, as his diving breakup of a pass intended for the Lion in week three showed. Minnesota also added Chris Carr in free agency and Josh Robinson in the draft to help their cornerback stable.
Harrison Smith College Highlights
Safety was a bigger issue for the Vikings than corner heading into 2012, and they made it their top priority, trading back into the first round to select Harrison Smith from Notre Dame. Smith is a smart and talented all-around safety who should fit perfectly into the Vikings' scheme and give them their first legitimate playmaker back there in the better part of a decade.
The second big question mark for the Vikings was the play at quarterback last season where rookie Christian Ponder struggled at times and was never really able to carry the team the way they needed. There is good news however for Vikings fans, because Ponder was one of the league's best quarterbacks in the red zone, where he threw eight touchdowns to a lone interception.
The condensed field of the red zone usually negatively affects a passer, but Ponder was able to complete 77.8 percent of his red zone attempts for a QB rating of 114.3 as a rookie. Minnesota is clearly confident in their young signal caller given how they approached free agency and the draft, and with a full off-season in the program, Ponder could take big steps forward.
The Black and Blue Division
Finally we come to the NFC North itself, featuring a pair of playoff teams from 2011 and a team, in the Chicago Bears, that could well have made it had they not lost Jay Cutler to injury. If the Vikings can get improved play from their secondary they match up pretty well with all three sides. They can get pass-rush against any of them, with no elite offensive line in the division, and they have the kind of speed and play making ability on offense to make plays against all three defenses.
The key to the division is quarterback play, which is why the Packers remain the team to beat with one of the game's best under center, but in that area, Minnesota have the biggest room for improvement from last season to this.
Matthew Stafford needed to put up over five thousand yards just to get the Lions a Wild Card spot, and despite the league's best safety valve in the shape of Calvin Johnson, is almost sure to come back down to earth this season. Jay Cutler has been given some more weapons by the Bears, but their offensive line remains one of the worst in the NFL, and there is only so much that scheme change from Mike Tice that can affect that. Cutler has been injured in each of the past two seasons and the Chicago O-line continues to see him take more hits than is wise for a franchise quarterback.
If the Vikings can turn a wide-eyed rookie coming out of a post-lockout offseason program that lasted about 17 minutes in total into a more assured passer, they vault from three-win afterthought to legitimate Wild Card contenders in the NFC.
This is a talented roster that made a lot of improvements in the off-season. While the rest of the NFL sleeps on them, the Minnesota Vikings are going to quietly snag themselves a Wild Card spot.
This article is
What is the duplicate article?
Why is this article offensive?
Where is this article plagiarized from?
Why is this article poorly edited?

Minnesota Vikings: Like this team?