8 Reasons Los Angeles Lakers Should Keep Pau Gasol over Andrew Bynum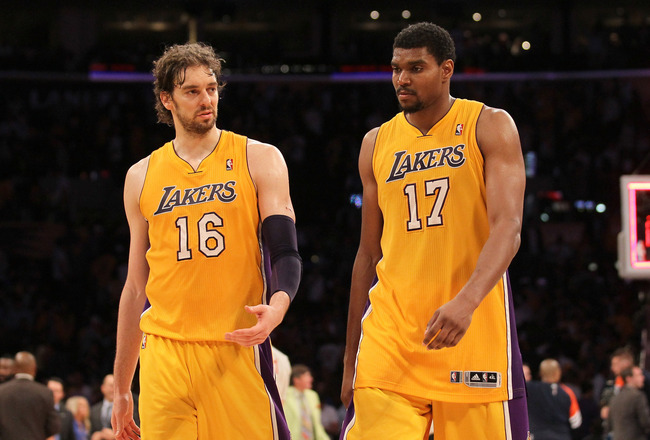 Stephen Dunn/Getty Images
After a disappointing playoff exit for the Los Angeles Lakers after five games with the Oklahoma City Thunder, Lakers general manager Mitch Kupchak said, "There will be some change."
Kobe Bryant will likely be untouchable in the trade market, so if deals are to be made this summer, they will probably include either Pau Gasol or Andrew Bynum.
Ideally, keeping all three of those players together while improving around them is the best-case scenario, but a lack of cap space is preventing the Lakers from doing so.
At this point, Gasol seems to be the odd man out.
The 7' power forward technically was already traded last season for superstar point guard Chris Paul before David Stern's veto.
Additionally, Ric Bucher of ESPN the Magazine speculated that Gasol could be traded to Boston in exchange for Paul Pierce to take some of the scoring load away from Bryant, as referenced by the Examiner.
Despite this, the Lakers would be wise to keep Gasol over Bynum if they ultimately decide to break up the team they have now.
Here are eight reasons why keeping Gasol over Bynum is the smarter decision.
8. Contract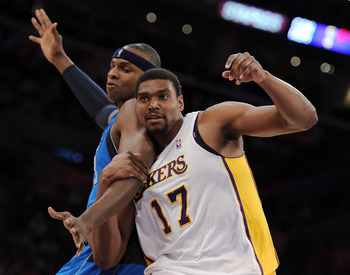 Harry How/Getty Images
The Los Angeles Lakers recently picked up Andrew Bynum's contract option, which will pay him $16.1 million during the 2012-2013 season. This is certainly the obvious move for the Lakers to make considering Bynum is coming off a career-year statistically.
With that said, Bynum is only under contract with the Lakers for next season.
If the Lakers wish to avoid stalls during contract talks or a situation in which they'd watch Bynum leave next summer via free agency, they could avoid the headache and trade him before that becomes an issue.
Although other teams around the NBA might be apprehensive acquiring a player in the final year of his contract, they'd also have the liberty of negotiating a contract moving forward that suits their needs.
The same can't be said for Gasol, who is due $19 million or more for each of the next two seasons.
If you were a team looking to deal with the Lakers, would you rather have $16 million worth of Bynum with the ability to re-sign him on your terms or more than $38 million of Gasol?
7. Consistency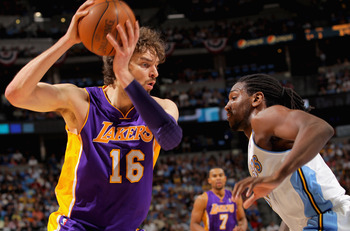 Doug Pensinger/Getty Images
The consistency that we've seen during the career of Pau Gasol so far is truly a marvel to behold, and yet, he is one of the most underappreciated big men in the NBA.
Since Gasol came into the league in 2001, he has never recorded fewer than 7.3 rebounds per game in a season or fewer than 17.4 points in a season. He's nearly a lock to notch 18 points and nine rebounds every single night he's on the floor.
When you compare those eerily consistent numbers with his L.A. teammate Andrew Bynum, it's head-scratching to see how much praise the other big man gets when compared with Gasol.
Before his breakout year this season, Bynum was truly an enigma out on the court. He struggled to gain traction and consistency in the NBA mainly due to injury problems, but Bynum also had issues with foul trouble.
In his career to this point, Bynum has averaged three or more fouls per game in three seasons. Inexplicably, that total fell to just 1.7 fouls per game this season despite notching more minutes.
He's certainly shown signs of being able to stay on the court, but can his foul numbers stay consistently low, or was this season just a blip on the radar?
The Lakers need to be certain that Bynum can keep up his torrential pace if they intend to keep him while ditching Gasol.
6. Resiliency
Stephen Dunn/Getty Images
In addition to being consistent on the court physically, Gasol has handled his sometimes turbulent situation in Los Angeles with a huge amount of poise and resiliency from an emotional standpoint.
Although Gasol's time in Los Angeles with the Lakers has certainly had its highs (Gasol has two championship rings to show for that), it has also had its fair share of lows.
Perhaps there was no lower point for Gasol in L.A. until he was traded to Houston in the vetoed Chris Paul deal.
Unlike his teammate Lamar Odom, who was irked by his involvement in the trade and eventually forced his way out of Los Angeles to Dallas where he had an abysmal season, Gasol handled the business aspect of basketball with a much more level head.
In the NBA, players get traded—it happens.
Taking it personally is a factor to use to one's advantage when a player goes against the team that let them go, not something one should dwell on when they remain with a team after a trade falls through.
Although Gasol had to be upset that the team he helped lead to two championship trophies tried to trade him, he bounced back from the news and ended up having another great year, averaging 17.4 points and 10.4 rebounds per game.
There are not many players who can handle the immense pressure of playing for a big-market team and the criticism that accompanies that responsibility. Gasol, however, has shown he's one of the best at doing so.
If Bynum were under the same circumstances, would he have had as good of an attitude? Color me skeptical, but I highly doubt it.
5. Maturity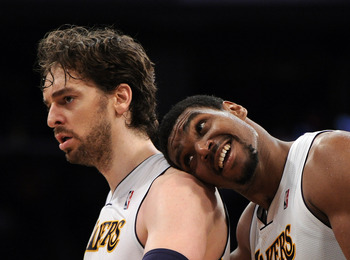 Harry How/Getty Images
"That is one of the biggest bush-league things I have ever seen."
That's what ESPN announcer Mike Tirico had to say of Andrew Bynum's vicious flagrant foul on former Dallas Mavericks guard J.J. Barea down 30 points in the game and 3-0 in the series during last year's postseason.
Bynum promptly pulled off his jersey and stormed into the locker room.
Bynum has had his fair share of flagrant fouls and bad decisions in the past, but it isn't as if those decisions have ceased.
Earlier this season in a game against the Golden State Warriors, Bynum pulled up from straightaway for a three-point attempt with plenty of time left on the shot clock.
Although Bynum would disagree, shooting three-point field goals is not (and likely never will be) his strength out on the court.
The big man's odd decision earned him a benching from head coach Mike Brown, but Bynum was found laughing about the incident with teammates on the bench soon afterward.
Bynum is still just 24 years old, so he still has time to become an "all about business" basketball player.
However, Kevin Durant is a year younger at 23 and has shown repeatedly that he cares about winning and team basketball above all else. I'm not in the least bit convinced that Bynum has the same competitive drive.
Let's just say that we won't see Gasol rip his jersey off and storm off the court anytime soon.
4. Past Success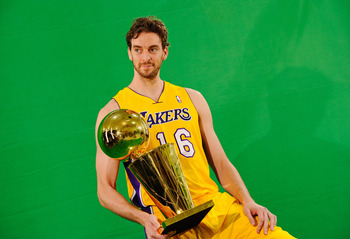 Kevork Djansezian/Getty Images
It's a shame that fans seem to have already forgotten Gasol's masterful NBA Finals performances.
It's difficult to compare Gasol's NBA Finals stats with Bynum considering Bynum was often struggling with injuries, but here's the comparison anyway.
NBA Finals Statistics 2009
Gasol: 18.6 points, 9.2 rebounds, 2.2 assists and 1.8 blocks per game.
Bynum: 6.0 points, 4.2 rebounds, 0.6 assists and 0.6 blocks per game.
NBA Finals Statistics 2010
Gasol: 18.6 points, 11.6 rebounds, 3.7 assists and 2.6 blocks per game.
Bynum: 7.4 points, 5.1 rebounds, 0.0 assists and 1.3 blocks per game.
Gasol is often made the scapegoat for the Lakers' shortcomings if they come up shy of a championship. He's also been labeled "soft" by critics, which at times is definitely a fair assessment of his post game.
However, there's nothing "soft" about those gaudy NBA Finals numbers.
The Spaniard asserted his dominance on basketball's biggest stage two years in a row, while Bynum hardly made an impact.
Bynum may be the better option moving forward because he's seven years younger than Gasol, but it's impossible to deny Gasol's championship pedigree.
3. Health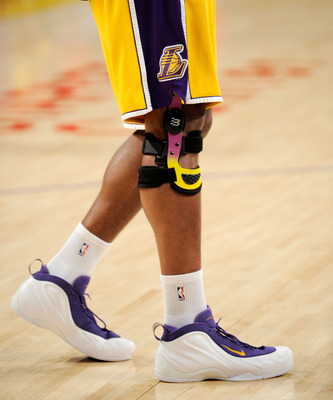 Kevork Djansezian/Getty Images
Andrew Bynum had a tremendous breakout season with the Lakers this year. A huge reason for that was Bynum's health.
For the first time since his sophomore season in 2007, Bynum was able to avoid missing considerable time due to injury, and he put up big numbers as a result.
While Gasol has had some injury troubles of his own (56 games played in 2005 and 59 games played in 2007), he's had far fewer injury woes when compared with Bynum.
That's a scary fact when you consider that Gasol is older and has played a considerable amount more basketball than Bynum has to this point.
Against all odds, Bynum stayed healthy for the first time in years during an arduous lockout-shortened season. This makes literally no sense at all, so it will be interesting to see how Bynum's body responds next season.
The Lakers' medical staff should know Bynum's body better than anyone, so it has the best guess regarding the health of the big guy's knees moving forward.
If they have any doubts about Bynum's health for the foreseeable future, they may be wise to trade him for equal value that won't break down.
2. Trade Value Reason B: Age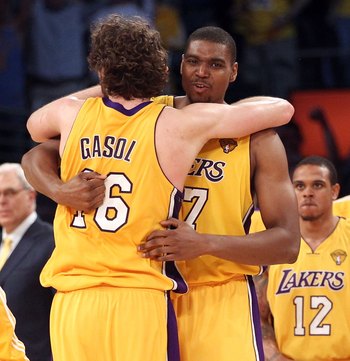 Christian Petersen/Getty Images
If the Lakers indeed decide to mix things up, as Mitch Kupchak has already hinted at, they need to make sure they're making the correct decision via trade.
Lakers management will have to gauge the value of both Gasol and Bynum in the trade market moving forward to make the best decision toward improving its basketball team.
At this point, Bynum is 24 years old and Gasol is 31 years old. Logically speaking, if a team acquires Bynum, it'll be acquiring a player who may have double the amount of years left on the clock when compared with Gasol.
Also, adding Bynum could be seen by a fanbase as a move to make a championship run or as a move to bring in the team's new franchise guy. Either way, he has more value and versatility in the trade market when compared with Gasol.
1. Trade Value Reason A: Season Stats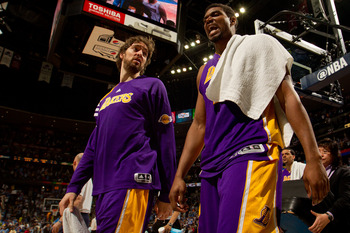 Justin Edmonds/Getty Images
Oftentimes when evaluating players' trade value, the worth of acquisitions are measured on a "what have you done lately" basis. This is another category where Bynum's trade value at the moment trumps that of Gasol.
Bynum is coming off of what was unquestionably his best NBA season. He finally seemed to harness his potential as an NBA center while staying healthy, and put up gaudy numbers.
Bynum averaged 35.3 minutes, 18.7 points and 11.8 rebounds per game (all career highs).
What's even more impressive, Bynum put up those 18.7 points per game while shooting just 13.3 times per contest.
Those numbers suggest that Bynum could easily make the transition to being a franchise guy in a system that gives him more touches and more shot attempts.
Gasol, on the other hand, averaged a career-low 17.4 points per game last season (even fewer points than he averaged during his rookie season). Although 17.4 points and 10.4 rebounds would be an upgrade at power forward for a boatload of NBA teams at this point, general managers around the league may think that Gasol could be starting his decline.
The Lakers could conceivably use this to their advantage if they decided to trade Bynum over Gasol.
Because Bynum is coming off his best year statistically while Gasol is coming off one of his poorer seasons, Los Angeles could hype Bynum's trade value and point to the huge numbers he put up a season ago as a reason to get more assets in return.
The changes that the Los Angeles Lakers decide to make this summer will be one of the offseason's biggest story lines.
Keeping Gasol over Bynum should be an option that Kupchak and company consider.
Keep Reading

Los Angeles Lakers: Like this team?