Junior dos Santos' Biggest Threat Outside the UFC
June 10, 2012

At present, Junior dos Santos presides over the UFC's heavyweight division with fists of steel, and former champions Cain Velasquez and Frank Mir can certainly attest to that, as both were on the receiving end of his devastating punching prowess.
That said, there are still a number of Zuffa-based fighters waiting in the wings to test the resolve of the Brazilian, such as Alistair Overeem who more or less instigated a self-imposed furlough upon himself for failing a drugs test.
Also, Velasquez and Fabricio Werdum, both KO victims of "Cigano" are now in shooting distance for a shot at the title.
So, outside of the UFC's heavy contingent, who is dos Santos' biggest threat?
One person comes to mind, and that individual's name is Daniel "DC" Cormier—the newly crowned Strikeforce heavyweight champion.
MMAWeekly currently ranks Cormier No. 3 in the world of mixed martial arts just behind his AKA stable mate and training partner Velasquez.
The 33-year-old Louisiana native began his MMA career less than three years ago, but to everyone's amazement, has come on leaps and bounds.
Thus far, he's had 10 victories in as many outings—he obliterated Antonio "Bigfoot" Silva, the man who steamrolled Fedor "The Last Emperor" Emelianenko, and for the icing on the cake, won the Strikeforce Heavyweight Grand Prix when he defeated submissions expert and MMA veteran Josh "The Warmaster" Barnett.
Cormier is improving all the time—he can stand-and-bang if the situation arises, he's got decent grappling skills, and to boot, he's both a former Olympian wrestler and NCAA Division I standout.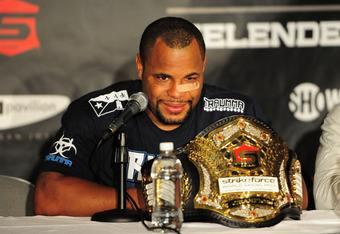 The aforementioned skill sets make him the one of the three most dangerous heavyweight fighters on the planet, the others being dos Santos and Overeem.
If there was a unification bout for the Strikeforce and UFC heavyweight titles or if Cormier jumped ship to vie for the latter title, I'd put my house on it, he'd come out victorious.
Albeit dos Santos reigns supreme in the UFC heavyweight ranks, Cormier will be his worst nightmare when the time comes.