Euro 2012: Previewing the Opening Match Between Poland and Greece
June 8, 2012

Shaun Botterill/Getty Images
Today marks a historic day for Polish football. Now slightly more than five years after they were chosen to co-host this tournament, Poland's national team will take to the pitch in Warsaw to take on Greece in the opening match of Euro 2012.
After a poor record in friendlies during the same time that other nations were starting their Euro 2012 qualification, Poland have since found the form that is necessary to perform well at the tournament. Since a loss to France exactly one year ago, Poland have only lost one match.
In fact, Biało-czerwoni have earned positive results against opposition such as Mexico, Germany, Bosnia-Herzegovina and Portugal.
Poland's national team has been boosted with some great club play from multiple players. In Germany, a trio of Borussia Dortmund starters, Łukasz Piszczek, Jakub Błaszczykowski and Robert Lewandowski completed a German double. In England, Wojciech Szczesny had a fantastic campaign with Arsenal and is among the top young goalkeepers in the world.
But all of Poland's recent accomplishments will be tested in what will be a critical first match. Greece and their defensive approach worked wonders during qualifying, where they conceded just five goals.
Greece will go into this European championship trying to write a new chapter in their football history. The Greeks have only once gotten a positive result in the Euros outside of their fantastic run in Portugal eight years ago.
Though the Greeks have tinkered with their new defensive brand, they are among the toughest sides in the world to defeat, especially by a large margin.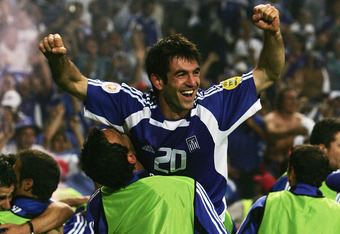 Ben Radford/Getty Images
Euro 2012 provides three Greek players, Kostas Chalkias, Giorgos Karagounis and Kostas Katsouranis, the three remaining players from the 2004 Greek squad that claimed the European championship, a chance to play in what will probably be their final international tournament. The experience that they provide will be critical for Galanolefki, of whom have half their squad under the age of 27.
Many of these players faced each other when these two sides met last year, which ended in a scoreless draw. Historically, Poland has been in control of fixtures between these two sides, losing just four of the 16 matches between the two nations.
Poland have won four of the last six fixtures against Greece, allowing only one goal in the process. However, the last time that Greece defeated Poland was in the last competitive contest between the two, which took place in a 1987 qualifier for Euro 1988.
In each sides last five international matches, we have seen two distinctly different paths form that lead into this tournament opener.
Poland
Poland 4 Andorra 0 (June 2).
Poland 1 Slovakia 0 (May 26).
Poland 1 Latvia (May 22).
Poland 0 Portugal 0 (Feb. 29).
Poland 1 Bosnia-Herzegovina 0 (Dec. 16, 2011).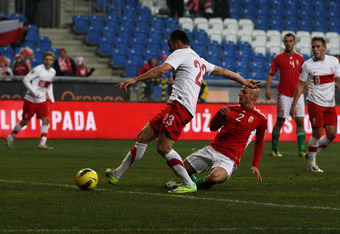 Dean Mouhtaropoulos/Getty Images
Greece
Armenia 0 Greece 1 (May 31).
Greece 1 Slovenia 1 (May 26).
Greece 1 Belgium 1 (Feb. 29).
Greece 1 Romania 3 (Nov. 15, 2011).
Greece 1 Russia 1 (Nov. 11, 2011).
During their recent stretch of friendlies, Poland started to take a more direct offensive approach, which is a promising development. They are a capable offensive side that will cause problems for their opponents' defenses.
Greece have continued to take a defense-first approach. Though this is great to see out of the Greek outfit considering they only conceded twice in their last two matches, goalscoring will be a problem that they will need to fix. In fact, the only two goals that Greece scored in these pre-tournament friendlies came from defenders.
Going into this opening match, there isn't much team news to discuss. Thankfully, no players will be suspended for this opening fixture, and there are no major injuries to report upon on either nation's front.
This development means that both sides will get to keep the formations that they want to use for this opener.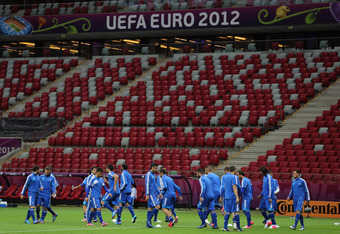 Alex Grimm/Getty Images
It is anticipated that Poland will utilize a 4-2-3-1 formation:
Szczesny
Piszczek Perquis Wasilewski Boenisch
Polanski Murawski
Blaszczykowski Obraniak Rybus
Lewandowski
In this formation, Poland will be interesting to watch, especially down the right side, where Dortmund teammates Piszczek and Błaszczykowski will team up to set up attacking runs. Considering the limitations that Poland's squad has, this formation allows the Polish to counterattack to the best of their abilities.
The player who needs to be watched the closest in this formation is Lewandowski. Much has been made about the 22 goals that he had for the Bundesliga champions this past season. But knowing how Lewandowski has connected with both Blaszczykowski and Piszczek on both the club and international level is something to behold.
Both of those players can give Lewandowski the opportunities that he needs to score, especially considering that he is operating as the lone striker in this formation.
Meanwhile, Greece will likely go with a defensive 4-3-3 style:
Chalkias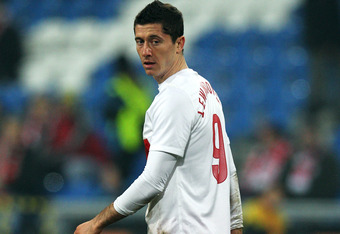 Dean Mouhtaropoulos/Getty Images
Torosidis K. Papastathopoulos Papadopoulos Holebas
Maniatis Katsouranis Karagounis
Ninis Salpingidis Samaras
This formation allows for Greece to utilize that famous defensive mentality that they have used for the last decade. Greece will continue to remain to be a side that relies on performing well on set pieces, along with counterattacking.
But as is true with all Greek squads, the defense is what to watch. Both Sokratis Papastathopoulos and Kyriakos Papadopoulos looked strong in the lead-up to the tournament and are going to be the glue of the defense. Both players had strong seasons with their clubs, and will need to use their smarts to give the Greeks a chance to counterattack.
But when the Greeks counterattack, they will find themselves pushing against one of the toughest defensive units in Europe. Poland has set a new national record over the past several months by not conceding a tally in 461 minutes.
But that is not to say that the Greeks have the odds completely against themselves. Greece's defense will keep them in any match, considering they had the lowest goals per game rate in Euro 2012 qualifying at 1.4 goals per game.
This shows us that this will be a low-scoring match to open the tournament.
But Greece have been successful before in the opening match of the Euros. In fact, the only group stage win that Greece has ever earned in the tournament came in the opener against Portugal in 2004.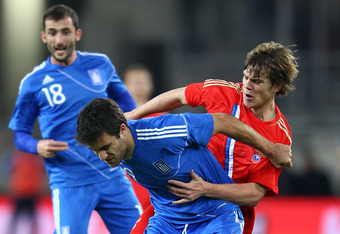 Julian Finney/Getty Images
Incredibly, Poland have been even more inept in the European championships. They have never won a match in the tournament, though they have only participated in one Euro before, which was in 2008.
In fact, the last three host sides have all lost their opening games at Euros (Portugal in 2004, along with both Austria and Switzerland in 2008).
Prediction:
Poland has traditionally dominated Greece whenever the two sides have met. That is especially true in competitive matches, where the only time that Poland has lost to the Greeks was in the before-mentioned match in 1987.
Poland is also aided by only losing once in their last 11 matches. That streak that they have been on is a major morale booster, especially leading into a tournament that they are about to co-host.
But perhaps the toughest factor for Greece going into the opening match of Euro 2012 is how poor they have been in Poland. In eight matches there, Ethniki have yet to win, scoring just four goals and conceding 22 in the process.
Obviously this ratio of 5.5 goals conceded for every goal scored won't continue knowing how Greece has Europeanized their system in the last decade. But a large history of failure cannot be ignored.
This opening match of Euro 2012 will be defensive-oriented and by no means will it be the most entertaining match of the tournament. But Greece's demise in this match will come due to Piszczek and Błaszczykowski. Both of these players will cause fits for the Greeks and should be able to penetrate the defense to create some strong opportunities and in all likelihood, at least one goal.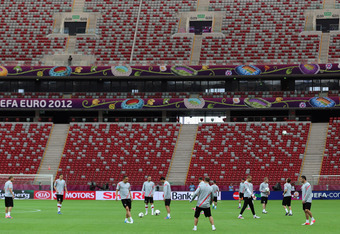 Alex Grimm/Getty Images
If a goal is scored, expect it to come from Lewandowski. He averaged a goal every 130 minutes with Dortmund this past season and led the Bundesliga in shots (117) and shots on target (59). If Lewandowski gets an opportunity that he likes, the odds will be that he will attempt to score.
Poland's defensive midfielders do have problems passing and the central defense is not strong. But Greece will not bring an attacking mindset, which will save the host nation's defenders from a barrage that probably would cause some great goalscoring opportunities.
Due to this, Poland will start Euro 2012 in an ideal fashion—with a win.
Poland 1 Greece 0
For more Euro 2012 news and opinions, follow me on Twitter @Andrew_Jordan