Manchester City Transfer News: 10 Realistic Summer Targets City Should Pursue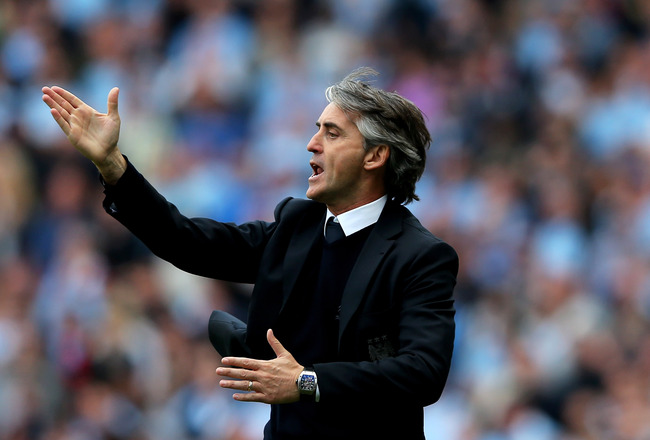 Alex Livesey/Getty Images
After winning the Barclay's Premier League title, Manchester City look for European glory in the 2012/13 season.
Despite having a world class squad, City were unable to translate their superb form from the Premiership to European competition.
In order to compete on both fronts in the coming months, City need to bring in a few names to reinforce their chances.
These are the top 10 realistic targets that will strengthen the weakest parts of the City lineup.
Neven Subotić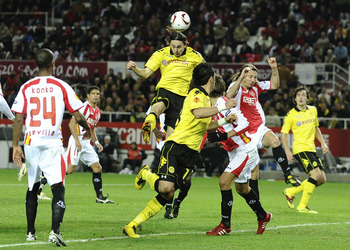 David Ramos/Getty Images
The 23-year-old Serb has been nothing less than stellar for both club and country in recent times. The 6'4" center back would be a colossal addition to the back four.
Although the city defense was very difficult to penetrate this season, it did show a few weaknesses. Lescott was at times prone to fatal errors, and when Kompany couldn't start, the options to fill in were sparse.
Subotić would be a force to be reckoned with at City. When paired with Kompany, the duo would be as formidable as any in Europe. The regular starter for Borussia Dortmund would be an expensive signing, but would be well within City's budget.
Giorgio Chiellini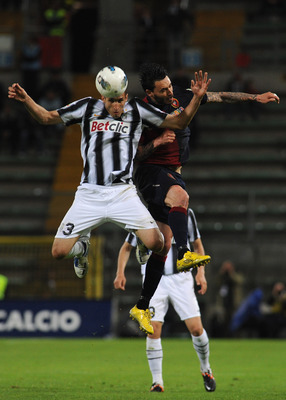 Valerio Pennicino/Getty Images
Another equally capable back is Italian international star, Giorgio Chiellini.
Chiellini was a key player in aiding Seria A side Juventus to an unbeaten league title this season. City was linked with Chiellini last summer, and it would not be surprising to see the pair enter into negotiations again soon.
The 27-year-old would provide both experience and stability to a Manchester City back four that will need reinforcing if the club are to carry their English success into the Champions League next season.
Leonardo Bonucci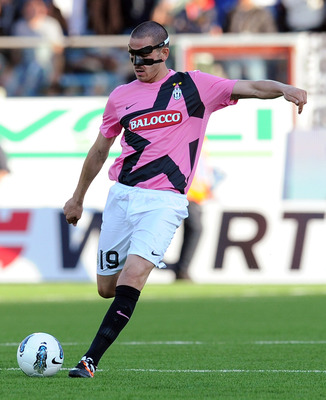 Giuseppe Bellini/Getty Images
A third option to assume a center back role is Chiellini's Juventus and Italy teammate Leonardo Bonucci.
At only 25 years old, Bonucci has established himself as one of the best center backs in Italy. With 40 caps in all competitions in the 2011/12 season, Bonucci has proven that he has the stamina required to play in European tournaments as well as in a national league.
A move for Bonucci would provide City with a much deeper back four in European competition. Valued at £12 million, Bonucci is a viable option for Mancini this summer.
Benedikt Höwedes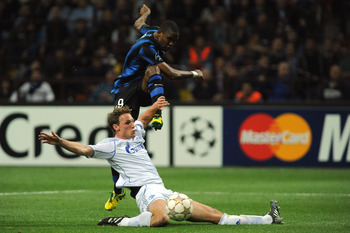 Valerio Pennicino/Getty Images
The fourth and final center back I will propose is Schalke 04's Benedikt Höwedes.
The young center back is on the verge of emerging as one of the best in the world. At only 23 years of age, Höwedes has the potential to be a long-term signing for City.
Although he doesn't have the same experience as Subotić or Chiellini, he shows similar promise. The German International started 21 games for Schalke over the course of the season and finished with a total of 35 caps in all competitions.
Höwedes' youth and unquestionable ability make him an ideal reliever in the case of another Lescott blunder, and a perfect name to add depth for European play.
Gastón Ramírez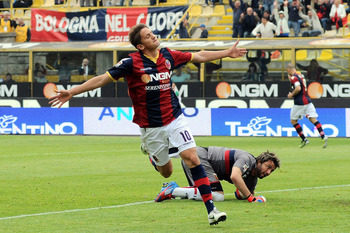 Mario Carlini / Iguana Press/Getty Images
Manchester City is by no means lacking in the midfield—however, it appears as though Mancini is looking to bring in a world class player to assist David Silva.
Recent weeks have linked the 21-year-old Uruguayan midfielder with the Etihad. Ramírez cashed in with eight goals and four assists for Bolonga in Serie A this season.
Ramírez is a player who will likely be sporting the handsome light blue shirt before the 2012/13 season kicks off. Look for this transfer to be completed in the next week or two with an estimated fee of £20 million.
Yann M'Vila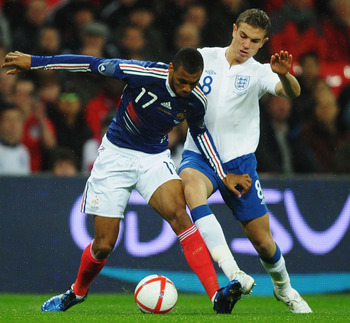 Laurence Griffiths/Getty Images
If a move for Ramírez fails to satisfy Mancini or for some reason falls through, the following five players could potentially be joining the crew at the Etihad.
The first name on the list is Stade Rennes' 21-year-old star—Yann M'Vila.
M'Vila finished with an astonishing 57 starts for club and country in the 2011/12 season and is undoubtedly a rising star. Yann's name has been making headlines across the world in recent weeks as he prepares to help guide France through the rigors of Euro 2012. A solid performance in this prestigious tournament would prove that M'Vila has what it takes to perform under pressure, and would likely help facilitate his move to a larger European club.
Aside from the obvious high wages, M'Vila would feel right at home in Manchester. M'Vila's countrymen Samir Nasri and Gaël Clichy both play for City, and would make his move from France much more comfortable. With wages, comfort and Champions league soccer, why wouldn't City be the place for Yann?
Clint Dempsey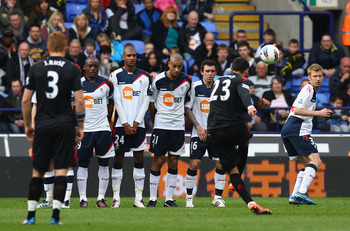 Clive Brunskill/Getty Images
The second name on my list is, you guessed it, none other than the American cult hero, Clint Dempsey.
2011/12 was a breakthrough season for Clint. Coming into opening day, he was already widely acknowledged as one of Fulham's best players, but he proved that he was much more than that. After netting 17 goals in 37 league appearances for Fulham, the American international established himself as one of the best players in the Premier League.
Dempsey would be a great signing for Mancini. Dempsey would be able to provide a scoring threat from the midfield, and would mesh in seamlessly with a team that is largely structured for producing chances on goal.
Dempsey is likely to transfer this summer, as contract negotiations with Fulham seem to be headed south. Fulham would be wise to cash in on the classy midfielder before he becomes a free agent in the summer of 2012.
Stevan Jovetić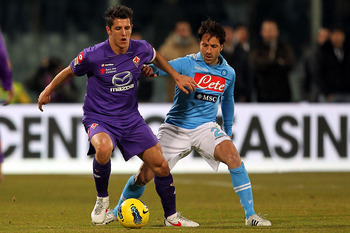 Gabriele Maltinti/Getty Images
The next suspect is Stevan Jovetić.
The 22-year-old Montenegrin forward has recently been linked with a move away from Serie A side Fiorentina.
Jovetić scored 14 goals and had six assists in 27 Serie A caps this season, making him a top candidate for upper-tier clubs.
Stevan is valued at £17.5 million, which makes him a reasonable transfer for a side with City's budget. Although he predominantly plays the role of a forward, Stevan is also capable of slotting in as an attacking midfielder or left wing.
An unsettled player is always subject to speculation, and with Chelsea signing City's top target in Eden Hazard, the chance of Jovetić changing shirts seems to be growing larger.
Luka Modrić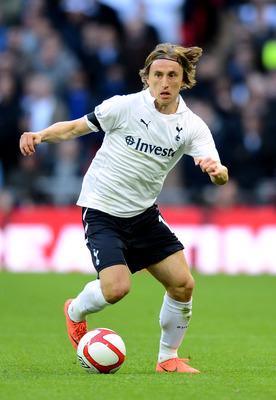 Mike Hewitt/Getty Images
Once again, Modrić has managed to find himself surrounded by rumors.
Modrić attempted a move last summer, but Redknapp was eager to keep him in what ended up being an inconsistently spectacular Tottenham side. One would anticipate that Redknapp would attempt to hang on to Luka again this summer, but with current speculation regarding Harry's own contract, Modrić may be able to finagle his way into a transfer.
Signing Modrić would put the City midfield on par with any in the world. A player of his caliber would not be cheap, but would be worth every cent. Modrić would add more flair and creativity to England's most creative midfield, and would make City nearly unstoppable.
Modrić will most likely be seeking a move this summer, as Tottenham failed to qualify for the Champions League. A player as good as Luka can't be satisfied with playing in the Europa League...again.
Christian Eriksen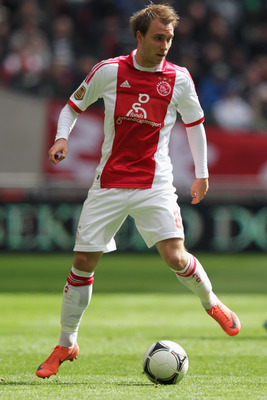 Dean Mouhtaropoulos/Getty Images
The final player on my list is the 20-year-old Ajax standout—Christian Eriksen.
City failed to sign Eden Hazard, but landing Eriksen would make up for that.
Although the mercurial Dane has very little experience, he has proven himself a real threat. Already the star of the Denmark national team, Eriksen shows incredible promise. Christian has been the recipient of both the Dutch Football Talent of the Year as well as the Danish Football Player of the Year.
Eriksen is delightful to watch on the ball, and has a knack for setting up an offense. Fabulous vision and inspiring creativity make Eriksen the perfect addition to a Manchester City side that seeks to win in Europe. If Christian plays well in Euro 2012, look for hordes of top clubs to battle for his signature.
Keep Reading

Manchester City: Like this team?