NBA Playoffs 2012: San Antonio Spurs Need a New Plan to Get Back to Glory Days
June 7, 2012

Tom Pennington/Getty Images
The San Antonio Spurs are "done, Texas toast, done," or so I said in my March 2, 2012 article.
In my Western Conference finals prediction article, I stated that the Thunder were the superior team and would win the series "possibly in six games"—though to be completely honest, my "final answer prediction" was Thunder in seven.
I saw this playoff collapse at the hands of the Thunder coming since March. And while the Spurs did improve their team after my article was written by signing the Charlotte Bobcat castoff Boris Diaw to become their starting center, and trading Richard Jefferson for Stephen Jackson (a move that improved their team physically but was an utter mistake financially), such moves were not enough.
The Spurs should have been blown up!
Listen, I believe the San Antonio Spurs are one of the greatest and best-run organizations in professional sports today. I consider general manager R.C. Buford to be one of the best in the league. I believe coach Gregg Popovich is the second-greatest coach of all time. I think Tim Duncan is the greatest power forward that has ever played the game, and I consider Tony Parker a legitimate superstar.
I could go on and on.
However, I also knew back in March that the Spurs, as constructed, were not going to win the NBA title, and by the time the Thunder had polished off the Lakers in their second-round matchup, were not going to win the Western Conference, either.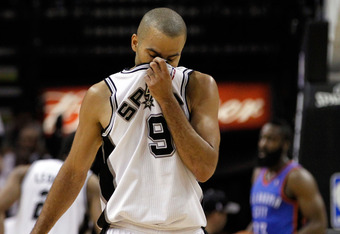 Tom Pennington/Getty Images
I believed the best course of action the Spurs could take would be to trade Manu Ginobili and Tony Parker for Dwight Howard, and build a future dynasty.
I was right.
Many San Antonio fans seem to feel that the Spurs organization is above trading away its legends. That trading Tony Parker or Manu Ginobili is unthinkable and something the organization would never do.
However, the Spurs' dedication to excellence and winning NBA titles is exactly why they would trade both Parker and Ginobili in a heartbeat if the right deal presented itself.
In fact, it was recently revealed by Peter Vecsey of the New York Post that the Spurs had tried to trade both Parker and Ginobili after last season's first-round playoff loss to the upstart Memphis Grizzlies, and the only reason neither player was traded was because the Spurs never received a strong offer.
The time to trade Parker and Ginobili was not after the Spurs were eliminated by the Grizzlies and Ginobili came off an injury.
The time to trade these two stars was at this year's trade deadline, period.
Hope is certainly not lost for Spurs fans, however. They should still have a top-five team next season and, possibly, even the season after.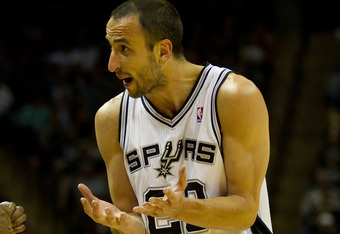 Justin Edmonds/Getty Images
Manu Ginobili is back to playing at the high level we are used to seeing him play at. Tony Parker's market value has actually increased since the trade deadline.
No, the Spurs are not done being an elite regular-season team.
However, if the Spurs want to build a dynasty and return to the glory days of Duncan's youth, rather than continue to experience massive regular-season success but heartbreaking playoff failure, a major trade is needed.
I propose the following trade:
Spurs Trade: Tony Parker, Manu Ginobili, Matt Bonner and DeJuan Blair
Magic Trade: Dwight Howard, Jason Richardson and Justin Harper
If the Spurs were able to pull off the above trade, they could easily re-sign Gary Neal and Danny Green, absorb the player option of Patty Mills, re-sign Tim Duncan to a one- or two-year contract at around $8 million per season...and still have around $7 million to spend in free agency!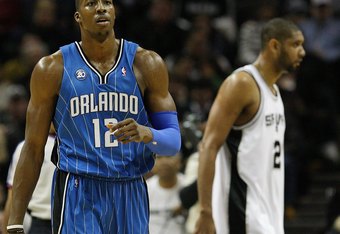 Ronald Martinez/Getty Images
Had the Spurs not made the financially irresponsible Richard Jefferson-for-Stephen Jackson trade, and just amnestied Jefferson like they should have, they would actually have around $17 million in cap room and the No. 30 pick in the draft to boot.
The Jefferson trade was the sort of boneheaded mistake the Spurs front office usually avoids.
However, with Howard, Duncan, Leonard, Jackson, Splitter, Richardson, Green, Neal, Mills, Joseph and Harper, the Spurs would have 11 players under contract for next season and still have around $7 million in cap space if the cap comes in at $61 million or so, as I expect.
$7 million in cap room may in fact be enough to lure Steve Nash away from his beloved Phoenix Suns and their marvelous training staff, and add a quality "stretch four" to boot, such as Antawn Jamison on a veteran minimum contract.
If the above plan was followed, the Spurs 2012-13 roster would look as follows:
Point Guards: Steve Nash, Gary Neal, Corey Joseph
Shooting Guards: Jason Richardson, Danny Green, Patty Mills
Small Forwards: Kawhi Leonard, Stephen Jackson
Power Forwards: Tim Duncan, Antawn Jamison, Justin Harper
Centers: Dwight Howard, Tiago Splitter
As for Dwight Howard, I personally believe he would sign a long-term extension with the Spurs, knowing he is with one of the best organizations in all of professional sports.
However, if he continued to waver back and forth like a tree in the wind and refused to sign a long-term extension, and, if worse comes to worse, the Spurs just lose him for nothing at the end of the season, light still remains at the end of the tunnel.
If Howard walks out on the Spurs at the end of next season, and Duncan and Nash were on one-year contracts, the Spurs could have just two players under contract for the 2013-14 season, Kawhi Leonard and Jason Richardson—and over $50 million to spend in free agency!
What the San Antonio Spurs will do now that they have been quasi-swept out of the playoffs (including an epic game six collapse) by the Thunder is anyone's guess.
However, for the sake of Spurs fans everywhere, I hope the Spurs front office's next move is better than the Richard Jefferson-for-Stephen Jackson disaster.