SEC Football Top 150 Players: No. 84, Zach Mettenberger, LSU QB
June 7, 2012
Joe Murphy/Getty Images
The SEC Blog will be counting down the top 150 players in the SEC every day, concluding on Aug. 30, at the start of the college football regular season.
84. Zach Mettenberger, No. 8, LSU Quarterback
2011 stats: 8-of-11, 92 yards, one touchdown.
Strengths
Mettenberger is the missing piece to the LSU puzzle. He saw very limited action last season, as LSU relied on the running game, defense and special teams all the way to the SEC championship and an appearance in the BCS National Championship Game. But the lack of a functional quarterback cost the Tigers on the game's biggest stage, and that's where Mettenberger fits in.
He has a cannon for an arm, and nearly beat out Georgia quarterback Aaron Murray in spring practice in 2010, before being dismissed from the Bulldogs after spring practice for violation of team rules.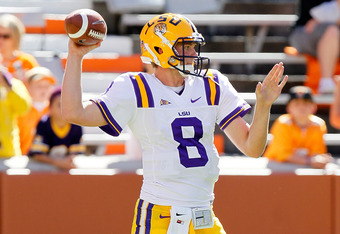 Kevin C. Cox/Getty Images
Weaknesses
Experience, plain and simple. It's admittedly a stretch to put Mettenberger anywhere on these rankings because he has thrown a grand total of 11 passes at the FBS level. There's a very real possibility that he simply can't handle the pressure, and we won't know for sure until toe meets leather this fall.
2012 Prediction
It's fairly safe to say that he's going to be better than Jordan Jefferson; and for LSU, that might be all that they need to win the crystal football. Inexperience is a factor, but first-year starting quarterbacks have won the last three national championships and four of the last five.
As long as he can establish the threat of a downfield passing attack, it will keep opposing defenses honest and open up bigger holes for his four-headed monster at running back.