Newest Sean Pamphilon Audio Poses More Questions Than Answers
June 7, 2012

Several new developments and even more questions about the New Orleans Saints alleged bounty program came to light on Wednesday after filmmaker Sean Pamphilon handed Mike Silver of Yahoo Sports more audio to work with.
The new audio apparently has former defensive coordinator Gregg Williams offering envelopes filled with cash—$200 in the case—to safety Roman Harper and former Saints linebacker Jo-Lonn Dunbar. The cash was for "whack" hits during last season's playoff win over Detroit.
Also heard, although not with complete clarity, is Dunbar refusing to accept the money, instead replenishing the pool for future distribution.
Pamphilon's latest release further proves that there was indeed a bounty system in place, but raises a few very interesting questions. Why is it that Pamphilon and Silver are the only ones releasing evidence to the public? Why were Dunbar and Harper not punished by Roger Goodell? And what is a "whack" hit?
To answer the last one, Jonathan Vilma published a tweet saying that a "whack" hit was a legal low tackle.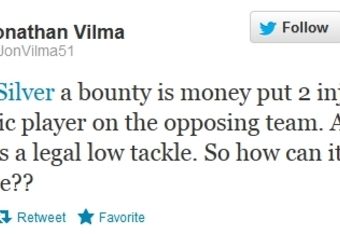 Even if a "whack" is a legal hit, isn't paying extra for one an incentive that could be loosely listed under the bounty program? Even if the money that was offered was turned down, and these "whack" hits weren't intended to cause injury, it's still an extra incentive, right?
According to the report, no other Saints players are expected to be disciplined, including Dunbar and Harper. This may mean that the league doesn't constitute a "whack" hit as a bounty. Or maybe because Dunbar appeared to turn the money down, immunity is attached.
The problem here—and this is the infuriating portion of Wednesday's news—is that we now have even more questions and Goodell isn't offering any sort of answers.  
When Vilma sued Goodell for defamation, I cried out for the commissioner to produce evidence against, or exonerate, the Pro Bowl linebacker. To date, there has been zero evidence released from the league office. But why?
Aren't there tens of thousands of documents and testimonies that the league has collected over the years in this investigation? Is Pamphilon really the only person holding the smoking gun, or is he, with the help of Silver and Yahoo Sports, just the only one willing to use the evidence?
Why does Goodell continue to let this careen out of control without playing the cards he supposedly has available to him? With this new audio, how hard could it be for the commissioner to step in and tie all of the loose ends together?
Until the NFL steps up and puts an end to this Bountygate fiasco, whether it be with evidence against the players and coaches or a few resignations from league officials for dragging the Saints through the mud, Pamphilon is going to continue to be the best source of information on the subject. And that's not fair to anyone.
It's time for the whole truth to be released.