Roger Goodell Must Produce Evidence Against Jonathan Vilma or Exonerate
May 17, 2012

Streeter Lecka/Getty Images
I'm confused. And I know I'm not the only one who feels this way.
For weeks, everyone on the planet has "known" that Saints linebacker Jonathan Vilma was guilty of offering money to injure players during the three-year bounty program in New Orleans. It just seemed simple. The league came down on team executives and the coaching staff, and they essentially took their lumps and walked away with their tails between their legs.
Maybe that's why it's been so easy to condemn Vilma.
Easy for everyone not named Vilma.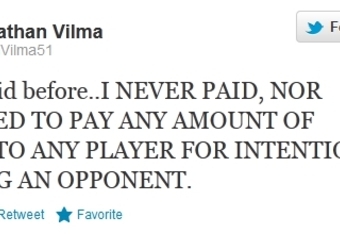 Vilma has screamed from the highest mountain to anyone who will listen. He's battled virtually, via Twitter, anyone who will defile his name. Now, he's stepped it up quite a bit.
Vilma filed a defamation lawsuit against NFL commissioner Roger Goodell on Thursday, according to Larry Holder of CBSSports.com:
LB Jonathan Vilma filed a lawsuit in U.S. District Court in Louisiana, claiming NFL Commissioner Roger Goodell defamed him. Vilma is seeking damages for the following: Slander Per Se – Injury to Professional Reputation, Slander Per Se – Injury to Personal Reputation, Slander Per Se – Accusations of Criminal Conduct, Slander By Implication, Slander – Reckless Disregard/Malice, Libel Per Se – Injury to Professional Reputation, Libel Per Se – Injury to Personal Reputation, Libel Per Se – Accusations of Criminal Conduct, Libel By Implication, Libel – Reckless Disregard/Malice, Intentional Infliction of Emotional Distress.
Guilty parties argue; they even fight back. But rarely do guilty parties file major lawsuits against billion-dollar companies.
Could Vilma be innocent?
Vilma and his lawyers have been screaming for Goodell to produce evidence that proves Vilma put $10,000 on the table and offered it to any Saints player in the team's 2009 playoff game against Arizona.
Goodell says he has the proof, but he doesn't want to present it until after the players' appeals have been decided.
If I were Vilma, I'd be upset, too. If I were innocent, I'd do exactly what Vilma just did.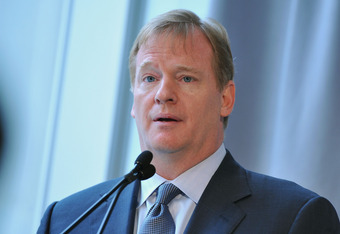 Slaven Vlasic/Getty Images
While this may seem like a sticky subject, or that it might take a long time to determine the truth, it isn't. Goodell is holding all the cards, and he needs to play them. Now!
If Goodell has evidence against Vilma, he can instantly squash this uprising by presenting it, and he should be compelled to present it quickly. The longer this plays out, the worse it is for the NFL.
If Goodell doesn't have any evidence that Vilma offered money or was a major conspirator, well then, we're going to have some major issues.
But before we speculate on that mess, we need to see Goodell's cards.
Goodell needs to produce the evidence against Vilma, and he needs to do it now.