Tottenham Hotspur Should Hold Redknapp's Feet to the Fire over His Contract
June 7, 2012

Clive Rose/Getty Images
His head's been turned. It's probably been turned again last night. We all know what goes on in the game. Anyone who thinks he's not being told what's going on is dreaming.

….

I don't know. Someone's in his ear. That's how this game works, isn't it? It's part of football, whether it's agents talking to him, I don't know. He's getting advised maybe not to play today. We've seen it before.
Harry Redknapp was referring, of course, to the Luka Modric situation at the beginning of the 2011-2012 campaign (h/t Daily Mail).
He might like to forget some of the things he's said, though, about the little Croatian midfielder as he tries to get a new contract from Tottenham this summer.
Having played the UAE card for the second time, Redknapp is trying to beef up his own wages as he enters the last season of his own contract.
Tottenham chairman Daniel Levy, meanwhile, seems content to let Redknapp sit on his heels for a while, according to ESPN Soccernet.
Can you blame him?
In one of the great cases of football "do as I say, not as I do" in some time, Redknapp repeatedly told reporters that Modric was not going to be allowed to leave for Chelsea, only for the club to watch Redknapp become the "next" England manager (until he wasn't).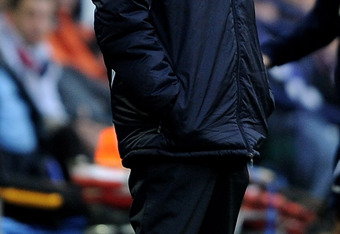 Michael Regan/Getty Images
During the same stretch that Redknapp was in the frame to manage the national team, Tottenham nosedived from a 10-point lead over fourth place and five points off the title pace to falling five points behind third and in danger of missing the Champions League places.
Strangely, after Roy Hodgson was announced as England manager, Tottenham took 10 of the 12 final points available to them after picking up six of the previous 27 possible.
As such, Levy and the Tottenham board are not exactly enthused by the latest attempt by Redknapp to sweeten his own piece of the pie.
The idea of Redknapp in the Middle East is not a first, as back in 2010 Al Ahli made inroads on the Tottenham manager's mind with a £3 million a year, tax-free job offer.
Redknapp knows he has had that in his back pocket and has brought it back out, along with Wayne Rooney's agent Paul Stretford, in the attempt to sign a more lucrative extension.
With all this in play, Tottenham have a decision to make in the near future.
And, if they're smart, they'll make Harry earn every penny of that deal over the coming season.
Levy and the Tottenham board have every right to stick to their guns this offseason and force Redknapp to sweat on a new deal.
Redknapp has called into question the commitment of players who have been looking elsewhere to play, and it's only fair that Tottenham do the same for Redknapp.
After his spiel that the Champions League was "overrated" (h/t Sky Sports) in regards to players moving to other squads, Redknapp furthered his point when he said, "If you pay players enough money and you give them good enough contracts and you show that you're ambitious, they'll come to your club."
If nothing else, Redknapp sounds like he is trying to make as great an excuse as he can that cash is the reason why certain players want to leave and why others don't want to come.
Needless to say, the pot and kettle just had a conference call on the situation and determined they are, in fact, both black.
Redknapp ought to be grateful that Spurs didn't boot him after his dismal run and his flirting with the FA, regardless of whether or not he's willing to admit that.
With at least two managers that could probably be talked into the Spurs job (the suddenly-roaming Wigan boss Roberto Martinez and Everton's David Moyes have both been rumored at various points this calendar year), Redknapp is not exactly in a position of strength.
He may feel as if he has leverage, but the hiring of Stretford sends a signal that he needed reinforcements in his battle with Levy.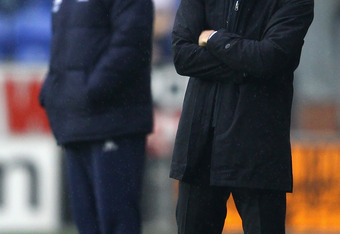 Clive Mason/Getty Images
With the Chelsea and Liverpool jobs sewn up, Redknapp would only have his options in the UAE to fall back on. As much as he harps on others staying with Tottenham and not having their head's turned, he also has to know that doing so himself would land him the label of "hypocrite" for some time to come.
In this instance, Redknapp knows he is in a very weak spot and is hoping that his charm and personality can win over the public domain.
Tottenham are still holding strong on the futures of Modric and Gareth Bale, while the (potential) addition of Jan Vertonghen indicates that the squad are looking for the right combination of players to make another run at the top four.
Tottenham should hold strong on Redknapp as well, making sure that it's clear that his job is in London and that if he wishes to try his luck elsewhere, he'd be making a grave error in judgment.
If they cave to Redknapp's demands, it wouldn't be long before Modric, back from Euro 2012, would be raising hell about the fact that the manager gets his way and yet the players aren't.
It will be a tricky situation, but in the end, if Spurs hold the line, all parties will know that staying in place is the best route available and that a contract will eventually get hammered out later in the year.
Once that happens, it will be up to Redknapp and the squad to reclaim the heights they should have held at the conclusion of last season.