Euro 2012: Injuries Will Derail Spain's Hopes of a Repeat Title
June 7, 2012

Angel Martinez/Getty Images
Widely accepted by the majority of soccer fans, Spain is heading into Euro 2012 as the favorites to win the international tournament. 
When you look at their recent success, there's no reason to initially think otherwise, as they won Euro 2008 and the 2010 World Cup in glorious fashion. 
La Roja also pulled a manageable draw in Group C, accompanied by Italy, Croatia, and Ireland.
While the same conservative scheme and the world's best midfield are still in place, this Spanish national team is more vulnerable this year than ever before and injuries, along with tiredness, are the cause of it. 
During the 2010 World Cup, Spain's success was much attributed to their collection of world-class midfielders like Xavi, David Silva, and Iniesta.
However, the world's No. 1 team also featured a scintillating and patient attack led by David Villa along with a stalwart defense headed by Barcelona man Carles Puyol.
The only problem is the fact that Spain won't have either of those footballers for Euro 2012.
David Villa, who has the most goals in Spanish international history with 51, is surely a major blow to the team's efforts.
The 30-year-old Barcelona winger last saw action on December 11, 2011 when he broke his leg in a FIFA Club World Cup match against Qatar squad Al-Sadd.
The Spanish goal monster has everything a manager would ever want in a forward: tricky movement, superb touch, deadly aim from any range, and the uncanny ability to finish off opportunities.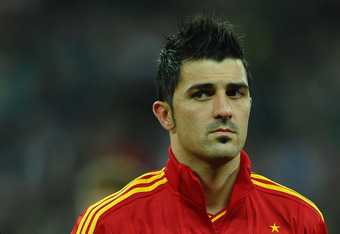 Laurence Griffiths/Getty Images
Also, when he's not making highlight reel goals, the Spaniard is making players around him better, raking in assists by distributing the ball efficiently to his teammates.
Now, how in the world is Spain going to replace that kind of presence on the pitch?
It will take a perfect situation, but Spain will look for winger Pedro and pure scorers Fernando Llorente and the notorious Fernando Torres to carry the load on the attack.
Sure, Iniesta and the other talented midfielders will be able to score goals, but their main job is to produce rhythm and continuity on the field, not beat the goalkeeper.
Unless Torres is able to play like he did at Liverpool and Llorente is able to rise to the occasion, I foresee the Spanish having trouble putting the ball in the back of the net.
If they're going to have issues scoring, then the initial thought is that the defense is going to have to step up their game and make sure they can win close games.
That's kind of tough to do when your missing the heart of your back line in 34-year-old Carles Puyol.
Puyol will be missing a major tournament for the first time in 12 years since his debut with Spain after injuring his knee last month.
Even though they won the 2010 World Cup, Spanish fans still have fresh images of the team's 1-0 opening tournament loss to scrappy underdog Switzerland—the only game of the WC that Spain was missing Puyol.
The shaggy-haired beast possesses extraordinary stamina and brute force, along with solid anticipation and reaction skills. He also boasts off the charts leadership skills that make his presence on the field indispensable.
"His wealth of experience is recognized by all," Spain full-back Alvaro Arbeloa said Wednesday at Spain's training base, via Associated Press. "His personality on the field is the same off and we're going to miss that."
Spain's defense isn't going to be bleeding uncontrollably without Puyol, as they still have formidable protectors in Sergio Ramos, Arbeloa, and Pique.
However, this loss will make Spain switch around their back line setup, leaving a spot open at left back.
With this opening, manager Vincente del Bosque will most likely fill that hole with Valencia star Jordi Alba. The only problem with the athletic Alba is that he has little international experience with only five caps.
In everyone's dream matchup, how would Alba perform against experienced and proven goal scorers like Miroslav Klose, Lukas Podolski, Thomas Müller?
While Villa and Puyol are devastating losses, Spain and their supporters also have to be concerned about some of the nagging injuries and tiredness that has been present at their recent pre-tournament training.
Versatile midfielder Cesc Fabregas (hamstring), shifty winger and scorer Jesus Navas (right hand), and Arbeloa (neck) all trained per usual with the rest of the squad, but need to be kept an eye on.
Couple these misfortunes with the fact that most these players were playing deep into the Champions League series, the Spanish are looking at a broken and tired team. 
I'm not saying that Spain doesn't have a fantastic shot at winning Euro 2012, but I think that the big losses of Villa and Puyol along with nagging injuries and tiredness will be too much for the 2010 World Cup champs to overcome in Poland-Ukraine.