Why Pathetic Miami Heat Fans Aren't Worthy of LeBron James and Big 3
June 6, 2012

Jim Rogash/Getty Images
When you think about great fanbases in sports, the Miami Heat should be the last one that comes to mind. In fact, the overall fanbase is quite pathetic. Quite frankly, they aren't worthy of the "Big Three." Nor are they worthy of a chance at winning a championship.
Now, when I say pathetic, I'm not talking to the diehard, knowledgeable basketball fan who shows up at games and supports the Miami franchise through the good and the bad times. I'm not talking about the fan who was around through the rebuilding years. No, those are real basketball fans who stuck with their team through the thick and the thin.
I'm talking to everyone else that calls themselves a Heat fan.
You know them; there's probably one of them on your speed dial right now. The fair-weathered, bandwagon jumping fan who started giving Miami fans a bad rap as soon as LeBron James and Chris Bosh signed contracts.
How else can you explain this sight?: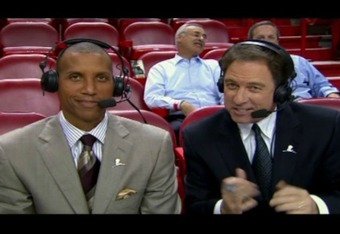 That's an empty arena the night of an NBA Finals rematch against the Dallas Mavericks. However, the bandwagon fan will get defensive about it. But there's nothing worth defending. Just go to the games and support your team.
Then was the email that was sent out (via Deadspin) last year to Miami season ticket holders, which encouraged them to be fans of the team, to cheer and not leave the game early.
Seriously? Miami fans must be told when to cheer?
Having to run a campaign in order to get fans to cheer for your team may be the definition of pathetic.
No, these people don't deserve to watch the Big Three on a nightly basis.
That makes me feel bad for the real basketball fans in Miami.
I have respect for the fan who's been with the Heat since their inception. I also have respect for the LeBron James fans that followed him from his early days in Cleveland all the way to Miami.
Bandwagon Heat fans, however, are the least knowledgeable basketball fans in the NBA. They have the nerve to open their mouths when the Heat play well, but fail to acknowledge the flaws they carry when they lose. If a guy like Norris Cole has a big game, all of a sudden he's a star in their eyes.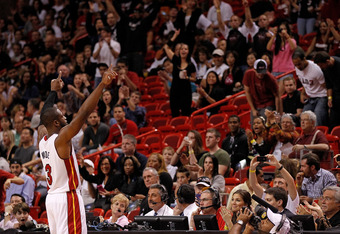 Mike Ehrmann/Getty Images
It can get pretty pathetic.
There are plenty of bad fanbases around the NBA, but Miami could be the worst.
What makes it ever worse, though, is that they are given the luxury of having three of the best players in the NBA, yet they don't know how (or when) to show their appreciation.
I have had plenty of readers tell me over the last couple of years tell me that they don't hate the Heat. They hate Heat fans.
I understand why.