Justin Bieber: Colorado Rockies Hope the Power of Biebs Can Turn Around Season
June 6, 2012

When the chips are down and the bats run cold, there is only one thing a Major League ballclub can do, and that's rely on the power and mystique that is Justin Bieber. 
All hail the Biebs. 
The Big League Stew at Yahoo! Sports reports on a story I really hope gets updated throughout the season. It seems the Colorado Rockies have a huge Bieber cutout with a caption that reads, "swag!" on the front. 
We will be the judge of that. Here is the cutout.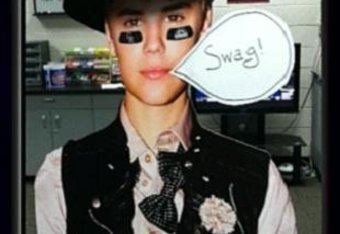 Let's dissect this as if it were a subject far more important than it really is. 
The report states the Rockies' motto this season has been simply, "swag." Of course, that should be everyone's mantra as they step out the door into this topsy-turvy world every morning. 
While it may be what they rally behind, their record has very little in the way of style or bravado as they currently sit at 24-31 and are fourth in the NL West. 
Mark Townsend of The Big league Stew couldn't ascertain who was behind the Biebs cutout featuring the rally cry, but Troy Tulowitzki is a suspect at this moment. 
The Rockies, for their part, have won seven of the last 10 games. Perhaps there is something to this young man that looks far too much like Amanda Bearse for his own good. 
The obvious notion is that this closely resembles the Indians' use of a Rachel Phelps cutout in the cinematic treasure Major League. 
As long as the Rockies don't start ripping off a piece of clothing after every win, we are perfectly cool with this. 
In fact, we are loving this. 
I'm not a huge Biebs fan, but I am a huge fan of having fun and walking to the beat of your own young pop star. 
Go on with your boy crush selves, Colorado Rockies. This is pure swag. 
Follow me on Twitter and get updated news on things that are funky.