Minnesota Vikings: Looking at the Upside for the 2012 Offseason
June 6, 2012

Hannah Foslien/Getty Images
While the Vikings haven't garnered as many headlines as their divisional rivals (at least once they got Matt Kalil), that doesn't mean it hasn't been busy.
There is still plenty going on for the Vikings, as well as a ton of question marks and concerns.
Can Kalil take over left tackle? Will Adrian Peterson's knee be OK? Did the Vikings add enough offensive weapons? Is the secondary strong enough?
Some of these can't be answered now, but some situations have given us enough information to be pretty optimistic.
The Offensive Line
I could have written "much maligned offensive line," as to some extent, it has a worse rep than it deserves. On the other hand, it allowed a league-worst 50 sacks in 2011.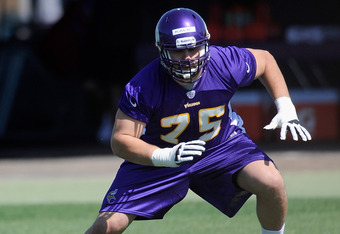 Hannah Foslien/Getty Images
So improvement is needed.
Rookie Matt Kalil hasn't signed a contract yet there is plenty of time before training camp to come to an agreement. I don't expect him to miss camp at all, so it really isn't a concern.****
The unit is getting a full offseason of reps, something they lacked in 2011 due to the lockout and which likely contributed to some of the issues last season with what ended up being two new quarterbacks (Christian Ponder following Donovan McNabb) and a new offensive line coach in Jeff Davidson.
A full year of work together should mean as much as the addition to Kalil. So expect an upgrade on the line this year.
Peterson's Knee
The rapid recovery of Adrian Peterson's knee has amazed us this spring, and his aim to start Week 1 has made fans very happy. His intent to shoot for training camp is a bit worrisome, but if he can be patient, he's going to succeed.
It's hard to know if we'll get "classic Adrian Peterson," but as I have said before, 90 percent of Peterson is better than 99 percent of the backs in the league.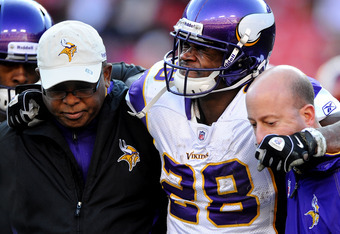 Patrick Smith/Getty Images
Already running—racing Percy Harvin up hills, in fact—Peterson looks well on the road to as full a recovery as one can have.
I wouldn't mind not seeing him in training camp—in fact, I'd almost prefer it. he doesn't need it. He'd be there in the film room and classroom.
Don't risk coming back too soon and hurting it again.
Keep him fit, unleash him in September, maybe November.
Ponder This

If nothing else Ponder seems to be saying all the right things. For all the grief he took over a mediocre rookie season, I think people forget he had zero offseason last year and few starter snaps until he took over.
Yes, he had some bad beats. Yes, he made some poor decisions.
Ponder is taking responsibility for them.
"You all probably saw the bone-headed mistake I had toward the end," Ponder said, unafraid to acknowledge the mistake. "I was trying to throw the ball away and didn't."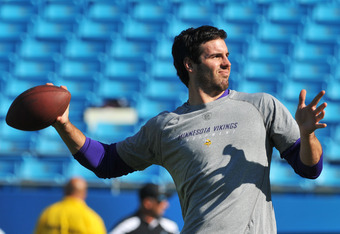 Al Messerschmidt/Getty Images
Sure, many quarterbacks talk about bad throws. Bad decisions. Many of them sound like they've been coached on it. Ponder sounds like he genuinely believes he made some terrible moves last year—that the issue wasn't on the offensive line, receivers or coaches. Just him.
Next to Cam Newton, I've been most impressed with Ponder's attitude and mentality going into this season.
All the weapons in the world, the best offensive line money can by and 40 Adrian Petersons won't matter if he still makes poor choices.
I believe we'll see a great deal of improvement in his decision-making this year.
There are a lot of good things happening with the Vikings right now. We'll see more improvement during training camp, but so far, this is off to a great start.
****Yesterday I stated Kalil was not at OTAs. This was incorrect and has been amended.
Check out the B/R NFC North Facebook page - like us and keep up with everything NFC North on Bleacher Report!