Evan Fournier: Highlights, Analysis and Pro Projections
June 25, 2012

Evan Fournier is the best international prospect in the 2012 NBA draft, but he has a ways to go before he can make an impact in the NBA. He stands 6'7" and only 19 years old, so he certainly has time to develop.
The Spurs took a young Frenchman late in the first round of the 2001 draft. His name was Tony Parker and he turned out pretty good. The team that selects Fournier will be hoping to duplicate that success.
According the Draft Express, Fournier averaged 14 points in just 26 minutes per game this past season for Poitiers. He has some skills as a scorer, but much of his game is unrefined. There is mounds of footage available on Fournier online, and you can see that the basis of a solid player is there.
ESPN's Chad Ford has him listed as the No. 25 pick in his latest mock draft. This projection is certainly possible, but at this point in his development, it's a reach.
Fournier has some worrisome limitations and tendencies that could have a long-term effect.
Here is a scouting report on Fournier that highlights his strengths and weaknesses.
(Height, weight and stats per Draft Express)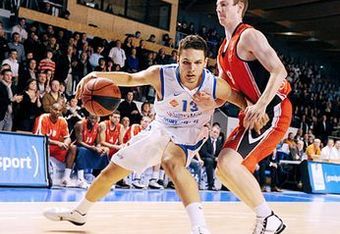 Profile:
Height: 6'7" 
Weight: 206 pounds 
Country: France
Date of Birth: October, 29, 1992
Best NBA Position: Shooting Guard
College Stats: (Key Stats Underlined) 14 PPG, 26 MPG, 42.5 FG%, 27.7 3FG%, 75.4 FT%, 2.2 APG, 3.2 RPG, 0.1 BPG, 1.5 SPG
Skill Grades:
Athleticism - B-
Size - A
Intangibles - A-
Rebounding - B-
Ball Handling - A-
Defense - C
Shooting - C+
Passing - B+
Post Game - C+
Basketball IQ - C+
Upside - B+
Strengths:

Fournier has a knack for getting to the basket and getting to the line. Those are two of the most important traits a scorer can have. He has a good feel for using the glass and his length is an asset on the drive.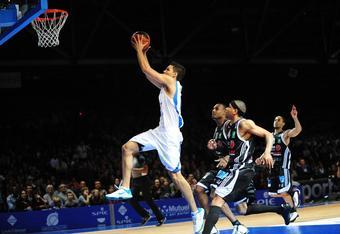 He handles the ball well in isolation situations, and has a decent first step. He has great demeanor. He relishes the opportunity to take big shots, and that's a great quality to possess at such a young age. 
Fournier has a consistent mid-range shot that could become one of his best weapons. In this video, you can see Fournier's ability to get to the basket and the line:
Weaknesses:
Fournier isn't an explosive athlete at all. His limitations will hurt him in the NBA because he doesn't shoot the ball well from deep. Opponents will play him for the drive, and if he can't make the deep ball consistently, he'll be ineffective.
Fournier plays off-balance on offense too often, which could be due to a developing game and body. But it forces him into bad shots, and this needs to be corrected.
He simply isn't quick enough to beat most NBA players off the dribble. Because of his lack of quickness he will also have an issue on defense. Athletic wing players will beat him off the dribble regularly. Beyond playing the passing lanes, he doesn't appear to be locked in as a defender as it is.
He'll need to concentrate on that aspect of his game to prevent himself from becoming a liability.  
NBA Player Comparison: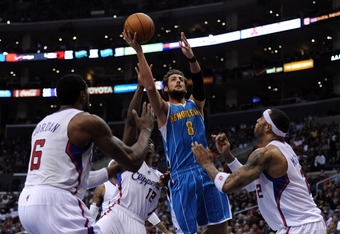 Harry How/Getty Images
Marco Belinell without the jump shot
Belinelli is a very underrated player. He has just recently begun to get the minutes he needs to shine. He has responded in the last two seasons, averaging over 11 points per game in that span.
Belinelli is 6'5" so he's just smaller than Fournier. He is a very capable long-range shooter, unlike Fournier, and that is the biggest difference between the two. In his career he has made 39 percent of his threes.
He isn't an explosive athlete, but the ability to make the deep ball creates more opportunities off the dribble. If Fournier wants to maximize on his potential he must work on his outside shot.
Draft Projection:
Late First Round 
Follow Brian Mazique and Franchiseplay.net for reactions, analysis and news from the world of sports and sports Video Games