St. Louis Rams: Wednesday's Rams News and Notes at Noon
June 6, 2012

Welcome to Wednesday's St. Louis Rams "News and Notes at Noon," the one-stop destination for all major Rams headlines and other updates of interest for Rams Nation. 
St. Louis Needs Lance Kendricks to Break Out 
According to Dan Moore of stlouis.sbnation.com, the Rams need second-year tight end Lance Kendricks to break out in 2012. 
In this piece, Moore points to the fact that Kendricks had 11 receptions for 155 yards and three touchdowns in the preseason but only 28 catches for 352 yards during the entirety of the regular season. 
When considering the Rams situation at tight end and how offensive coordinator Brian Schottenheimer likes to use them in his offense, Kendricks indeed needs to make his mark in the passing game this year. 
Although the Rams have a multitude of tight ends on the roster, the remaining tight ends are either unproven rookies (like Deangelo Peterson) limited in their pass reception skills (like Matthew Mulligan) or seemingly unable to stay healthy (like Michael Hoomanawanui).
Rams Resume OTA's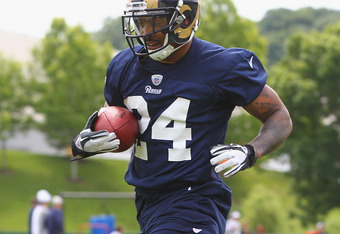 Dilip Vishwanat/Getty Images
Stlouisrams.com senior writer Nick Wagoner previewed this week's final set of organized team activities (OTA's) at Rams Park and next week's team mini camp in this piece. 
One on many tidbits that Wagoner shared confirmed that St. Louis anticipates getting the rookies who have been held up due to playing at a school utilizing a quarter system back by some time next week.
The group that is expected to return and finally be free to pursue their NFL careers with no further disruption is headlined by second round pick Isaiah Pead of Cincinnati.
Others who will return include Oregon State punter Johnny Hekker, Dartmouth running back Nick Schwieger and UCLA tight end Cory Harkey.
Wagoner also writes that the entire rookie class will stick around Rams Park for awhile after the conclusion of mini camp before heading off to the Rookie Symposium in Canton, Ohio. 
All of the Rams rookies should be signed by the end of next week, if not sooner. 
Please check the link above for much more from Wagoner regarding OTA's, mini camp and other related information.
NFL Network Looks at the Rams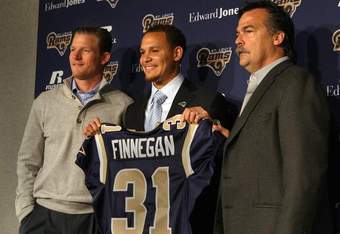 The NFL Network took a look at St. Louis in its' 32 in 32 series, as you can view here. 
The video piece begins with some big plays (both good and bad ones) and segues to a lengthy interview with one of the NFL's biggest free agent acquisitions this year, cornerback Cortland Finnegan. The video then ends with a discussion on the Rams with analysts Willie McGinnest and Heath Evens, both of whom see some potential and promise for the 2012 Rams.  
Finnegan is asked about various items during his interview, including rookie corner Janoris Jenkins. 
Ranking the Rams Wide Receivers
My friend and colleague here at Bleacher Report (David Heeb) shared a terrific submission last night, one that I encourage you to check out. 
Heeb ranks the Rams receivers from 10 to one, as he sees them, and shares reasoning for each of his rankings with analysis included. 
Without spoiling the read, here is his take on one wideout, Greg Salas: 
I could see Salas moving up this list, or getting cut. That's life in the NFL. Salas had a very good rookie season, but a broken leg cut that season short. Now Salas enters his second season playing for a new coach and a GM that didn't draft him.

Salas will have to prove himself all over again. I think he is tough, and he did a good job in the slot last season. If he can continue to catch the ball consistently, he provides value as a possession receiver.
Salas checked in at No. 5, but who earned the top spot?  
To see the remainder of the list and to find out who checked in where, please click the link above. 
Gregg Rosenthal Asserts That the Rams Need to Sort Things Out at Wide Receiver
According to this column from Gregg Rosenthal for nfl.com, the Rams need some wide receivers to set themselves apart from a group of eight wide receivers. 
He states that if you have eight eight wide receivers fighting for the same spots that you have a problem.  
First of all, most teams have at least eight wide receivers on the roster at this point and will settle on five to seven between now and the season opener.
Secondly, the Rams have 10 wideouts in the fold right now, not eight. 
Nonetheless, the Rams do need a few wide receivers to step and need to find a true No. 1 and No. 2 wide receiver after several all years of passing futility.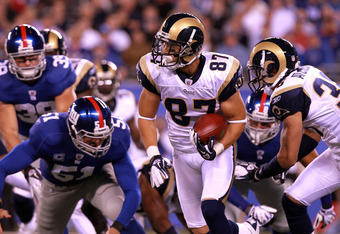 Nick Laham/Getty Images
Nick Wagoner Answers Questions From Rams Nation 
Nick Wagoner took time to answer a plethora of questions from Rams fans, as you can read here on stlouisrams.com. 
Wagoner tackled inquiries regarding a variety of St. Louis players, the rookie contracts, Steven Jackson's workouts, the wide receiver position and much, much more.  
Former NFL Executive Suggests That NFL Culture Mirrors Today's Society 
Former NFL executive Tony Softli asserts that NFL culture mirrors today's society in this blog at 101sports.com. 
Softli points to a sociological source who suggests that the lack of a family unit for many people is one factor that in impacting many in society negatively, and thus, some NFL players, too. 
Softli shares stories from his past regarding NFL players, recent NFL arrests, various international crime stats and much more in the very interesting and insightful aforementioned piece.
Have a great day, as always, STL Rams Nation.