Cleveland Browns: How Pat Shurmur Can Make Trent Richardson an Elite NFL RB
June 6, 2012

Jason Miller/Getty Images
Whether you liked the offseason moves the Browns made or not, one thing can be said about them. The moves were decisive and made with a singular purpose in mind.
This was especially clear when the Browns decided to trade-up one spot in the first round to grab former University of Alabama running back Trent Richardson.
Former Browns running back Jim Brown brought a lot of attention to the choice by criticizing Richardson's abilities:
So at least we have to discuss Richardson from the standpoint of giving him an 'ordinary' kind of label and then letting him prove to us that he's not. If he does that, then I will apologize. But I'm gonna look at things, and I'm gonna stand by the things that I see. And I think he is an ordinary individual… But that special ability that I look for when I say Gale Sayers? I don't see that.
Others, including Matt Williamson of ESPN and Mike Mayock, disagree with Jim Brown's assessment. Williamson has stated he sees Richardson being a NFL elite by 2015.
I'm very confident putting Richardson atop this list even without seeing him perform at the NFL level yet. The only worry I have with the Browns' 2012 first-round pick is that Cleveland is going to take a lot of tread off his tires in the very immediate future due to the lack of receiving options. But when the 2015 season rolls around, Richardson will have already gone to multiple Pro Bowls (assuming they still have the Pro Bowl in 2015) and will be in the prime of an outstanding career.
Mayock also had positive comments for the Browns' newest running back.
I've been banging my head for two months that the Browns needed to draft Trent Richardson… What does this kid do for you? He keeps you in the game, he shortens the game, and he gives you a chance to win in the fourth quarter.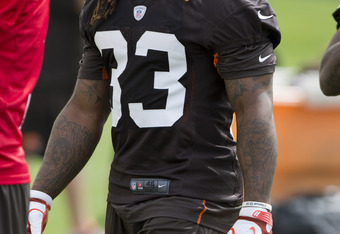 Jason Miller/Getty Images
With the spotlight now firmly fixated on Trent Richardson, what can Pat Shurmur do to make sure that Richardson is not another first-round bust for the Cleveland Browns?
Allow Trent Richardson to Adjust to the NFL
One reason many experts did not expect the Browns to select Trent Richardson is because the average NFL career for a running back is 2.57 years. Compared to the average 9.3-year career of first-round picks, Shurmur needs to handle Richardson with kid gloves his rookie season.
No matter how poorly the Browns play this upcoming season, Pat Shurmur cannot succumb to temptation. The Browns' offensive workload cannot immediately be placed on the shoulders of Richardson. The Browns coaching staff needs to take a page from baseball and limit Richardson's carries during his rookie campaign.
In his three seasons at Alabama, Richardson had 540 carries. His 180 per season attempt average, should be a benchmark for the Cleveland Browns. The Browns need to allow Richardson's body to adjust to the expected rigors of the NFL.
The depth at running back is not the issue. Montario Hardesty and Brandon Jackson are serviceable NFL runners. Neither possess the physical tools that Richardson appears to have, but both could relieve Richardson in certain situations.
Brandon Jackson was signed from Green Bay to be the Browns' third down specialist.
Montario Hardesty has struggled with injuries and production since being drafted. But now knowing his role as the primary backup to Richardson should help him stay healthy and in turn, produce more on the field.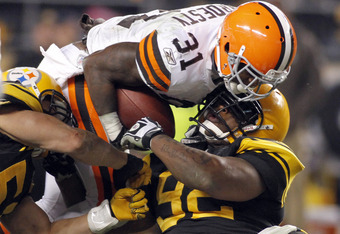 Justin K. Aller/Getty Images
Even at the first day of minicamp, Pat Shurmur looks to be distributing carries for his top three backs.
Knock on wood right now I think that group is healthy and they're running around fast. You can see there's some carryover in learning from the guys that were here a year ago… So they look fast, they're getting their reps and because the lines (to wait your turn) are a little bit longer, the reps they're in for, they look crisp
Become Less Predictable on Offense
Last season, Michael Lombardi described the Browns' offensive philosophy as "…so integrated into the West Coast system that their predictability is becoming legendary around the league." Lombardi went onto explain that a friend and former coach can predict the Browns exact offensive play at a 95 percent accuracy.
Pat Shurmur cannot fall back into this mindset with the Browns' offense. New offensive coordinator Brad Childress should help. But the final say is still is Shurmur's hands. Together, Shurmur and Childress need to become more creative, and put a more exciting offensive product around Trent Richardson.
The non-predictable rationale has to be applied to Trent Richardson also. Richardson cannot just lineup in the backfield and take a pounding. I mentioned above, Shurmur and Childress need to use kid gloves to try and protect Trent Richardson this season. Part of that rationale can be executed through Shurmur and Childress finding creative ways to get Richardson the football. In every offensive formation, Richardson's versatility needs to be on display.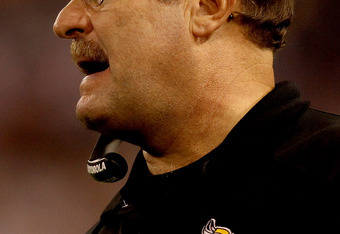 Matthew Stockman/Getty Images
Attempting to confuse defenses by lining up Richardson all over the field will not only prolong Richardson's career but also help him make the Browns' offense more explosive in a variety of ways.
Allow the Browns' Offensive Line to Develop with Trent Richardson
If Shawn Lauvao starts for the Browns' offensive line, then the Browns will start two first-round picks, a second-round pick, and a third-round pick along their offensive front five.
The projected top six offensive linemen for the Cleveland Browns are all 27 years old or younger. The key for the offensive line will be how fast they can blend together and adjust to Trent Richardson's running style.
Both Tom Heckert and Mike Holmgren believe football is won in the trenches. The projected 1,560 pounds of Browns' offensive line needs the chance to grow and develop with Trent Richardson. The combination of Richardson and the big men upfront could produce a good running combination for years to come.
The Browns' offensive line will directly impact Trent Richardson as much as Trent Richardson will impact the Browns' offensive line. The Browns' offensive coaches need to allow Richardson to mess with the big linemen and vice versa. The better these two units mesh, the more success Trent Richardson will have while in the NFL.