NFL Stat Predictions: 6 Underrated Defenders Who Could Lead the NFL in Tackles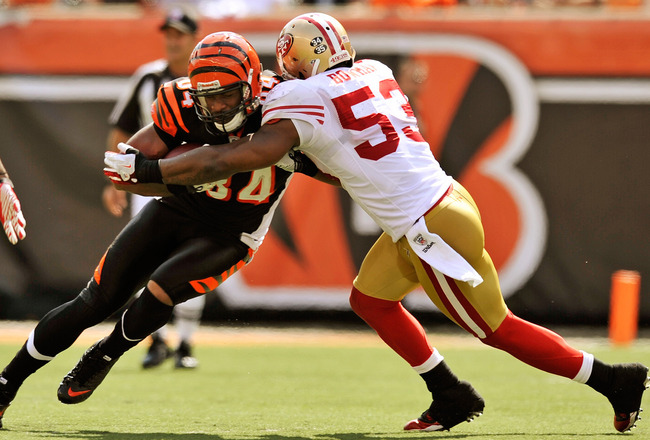 Bowman is the "other" ILB for the 49ers
Jamie Sabau/Getty Images
Tackles can be a misleading stat when trying to figure out the best defenders in the game just like INTs can be misleading when evaluating DBs. Nnamdi Asomugha failed to rack up interceptions or passes defended while maintaining his All-Pro status with the Raiders in 2008 and 2009 because QBs rarely threw to his side of the field.
Quality linebackers can have a similar (but less drastic) disparity between talent and production because their team defense may be better or offenses run plays away from their side of the field.
The reverse disparity can be true for average or above-average defenders on poor defenses. They can have an easier time tallying a high number of tackles because they face teams running out the clock late in the game or play on defenses that can't get off the field.
Of last year's top-four finishers in tackles, none played on a team that finished with a record better than 5-11. Of the Top 12 tacklers, only two (Curtis Lofton of Atlanta and NaVorro Bowman of San Francisco) played on teams with records above .500.
So, sometimes a linebacker can be overrated because he is the centerpiece of a poor team defense and thus makes a high percentage of the team's tackles. Finding defenders who are underrated, but also have a chance of leading the league in tackles was tough—but here are six defenders who fit the bill.
Sean Lee, Dallas Cowboys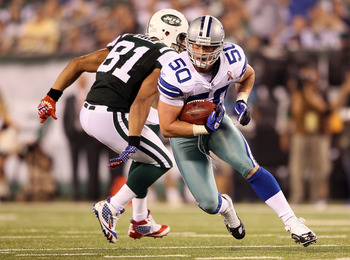 Elsa/Getty Images
There's a lot of talent in Dallas. And even on the defensive side of the ball LB Sean Lee can be overlooked as DeMarcus Ware casts a long shadow. Ware's 19.5 sacks were good for second in the NFL in 2011.
But Lee led the Cowboys in tackles with 105 and tackles for a loss with 10. He also tied for the team-lead in interceptions with four. Lee did a good job of stuffing runs and screens—allowing the pass rush to stay aggressive. The Cowboys defense ranked seventh in the league against the run thanks in large part to Lee.
James Anderson, Carolina Panthers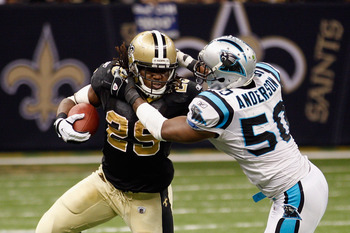 Chris Graythen/Getty Images
Anderson put up his second-consecutive season of 100-plus tackles in 2010. He finished with 145, good for sixth in the league. He also added 1.5 sacks, eight tackles for a loss, two interceptions and three fumble recoveries.
Anderson was a third-round pick by the Panthers in 2006. Carolina was 28th in total defense in 2011, and if their defense struggles to get off the field again in 2012, Anderson will continue to have a lot of opportunities to make tackles and potentially lead the league.
Rey Maualuga, Cincinnati Bengals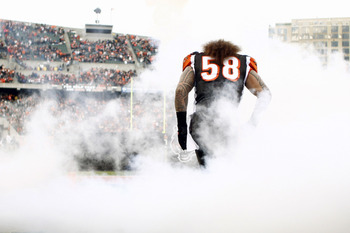 John Grieshop/Getty Images
Maualuga moved to middle linebacker last year after starting his career with the Bengals on the outside. He was a second-round pick in 2009 out of USC.
Maualuga played just 13 games but still racked up 88 tackles while being slowed by an ankle injury he suffered in an October practice. He also forced three fumbles. Now with a year of experience at middle linebacker in the NFL Maualuga could see statistical improvements across the board.
He should easily break the 100-tackle mark for the first time this year and challenge for the league lead if he can stay healthy.
Stephen Tulloch, Detroit Lions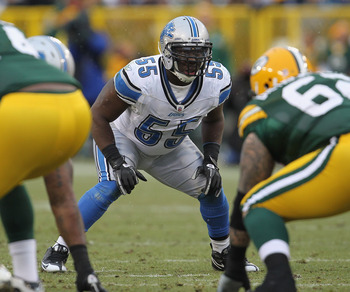 Jonathan Daniel/Getty Images
Tulloch was second in tackles in 2010 with 160 while with the Titans. With the Lions in 2011, Tulloch collected his third-straight 100-tackle season with 111, including 84 solo tackles and nine tackles for a loss.
Tulloch has long been underrated because of a lack of impressive measurables; he lasted until the fourth round in the 2006 NFL draft before the Titans selected him. The Titans then let Tulloch walk away and sign with the Lions after five seasons.
However, Tulloch's efforts with the Lions were rewarded this offseason as he signed a five-year deal worth $25.5 million.
Daryl Washington, Arizona Cardinals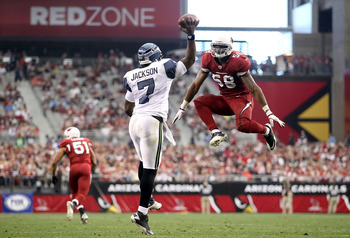 Christian Petersen/Getty Images
Washington will be entering 2012 coming off his first 100-tackle season in just his second year in the NFL. The 25-year-old was a second-round pick in 2010 out of TCU.
Washington made a number of impact plays for the Cardinals in 2011 with five sacks and 11 tackles for a loss. He also added two interceptions.
Ending 2011 strong, Washington had 11 tackles in Week 16 and 12 tackles in Week 17. That type of production on a more consistent basis would put Washington in the hunt to lead the league in tackles in 2012.
NaVorro Bowman, San Francisco 49ers
Dilip Vishwanat/Getty Images
Bowman emerged as an impact player in his second year, taking over the spot vacated by Takeo Spikes (now with the Chargers). Playing alongside All-Pro Patrick Willis has its advantages, and opponents may have staggered plays to Bowman's side in the 49ers 3-4 defense, helping Bowman's tackle tally. But Bowman deserves a lot of credit for patrolling his side well and being a major part of one of the NFL's best defenses in 2011.
Bowman's 143 tackles were the seventh highest total in the NFL. Perhaps more impressive, however, were his 111 solo tackles. Only D'Qwell Jackson of Cleveland had more solo tackles in 2011 (116). Bowman also added seven tackles for a loss and two sacks.
Keep Reading