NBA Playoffs 2012: How Did Oklahoma City Thunder Become the Team to Beat?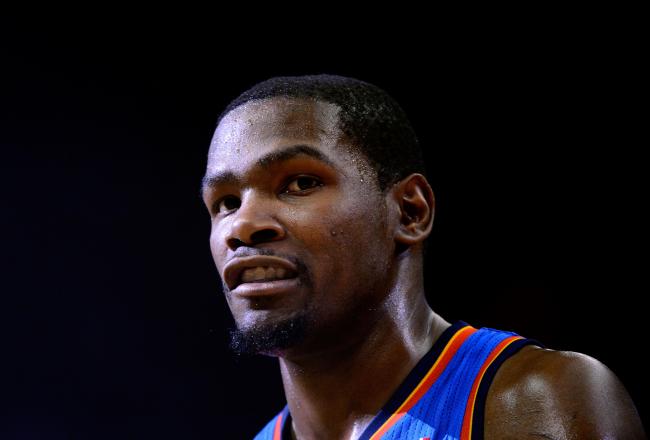 Ronald Martinez/Getty Images
As much as it pains me to say this—and it does, as I am a Portland Trail Blazers fan at heart—the Oklahoma City Thunder have done it. They have ascended all the way to the top and have become the NBA's best team.
Most analysts and fans saw their potential to do so, stemming from last year's playoff successes. However, the prevailing belief, even as recently as a week ago, seemed to be that the Thunder were, at best, trailing the San Antonio Spurs and possibly the Miami Heat as well.
However, as much success they seemed to achieve, the doubters kept coming back.
They shoot too many jump shots.
They don't get enough from their bigs.
Russell Westbrook doesn't know how to run the team efficiently.
Scott Brooks can't touch Gregg Poppovich's coaching abilities.
I found myself wrapped up in some of these concerns as well. After Game 2 of the Western Conference Finals, I began to think that the Thunder, after looking so good against the Mavericks and Lakers, were about to get swept right out of the playoffs by the older, more efficient Spurs.
Not so.
As it turns out, the Thunder were still the best team in the series, and the NBA, even when down 2-0. They just weren't playing up to their potential.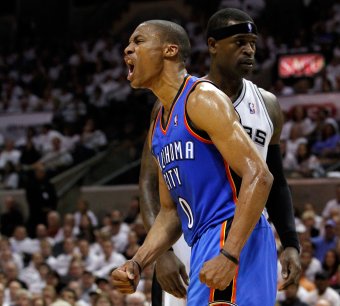 Tom Pennington/Getty Images
This series hasn't been like the Miami-Boston matchup, where a few calls either way could have one team or the other up 3-1. Both teams have earned their victories, and the Thunder deserves to be one win away from their first chance at an NBA title.
How did they go from nearly an afterthought to the NBA's best in the span of one week?
The truth is, they didn't.
This has been building for a long time, with several factors helping contribute to their rise to the top.
One factor that cannot be overlooked is the incredible run of good health the Thunder's top players have experienced over the past two seasons—when they arguably began to be considered as title contenders.
Kevin Durant missed four games last season and none this year.
James Harden missed four this year, with his concussion, but none last season.
Serge Ibaka has played in every game the past two seasons.
Russell Westbrook has played in every game for his career.
Even Thabo Sefolosha has yet to miss any significant time.
That kind of good health can't be taught or coached, but no other team can touch the Thunder in terms of how durable their top players have been.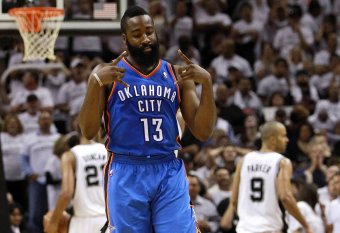 Ronald Martinez/Getty Images
Sure, Kendrick Perkins has missed some time here and there, and Eric Maynor went out with a knee injury a few months ago. But, the overall impact of the health of this team cannot be overstated in terms of it's importance to their rapid ascent to the NBA's elite.
Another factor may go back to Derek Fisher's statement about needing to "want it" more. This team is not content to merely do better than last season.
They want to win, and win now. That starts with their stars.
Whenever you have the best player on the court, you have a shot at winning. The Thunder have two—and sometimes three—guys who can step up and claim that title in almost any game.
Sometimes they have their top three on the court at the same time, and that is why they are so good when playing at the peak of their powers.
Like I said before, this is written from the perspective of a non-Thunder fan who is observing their greatness with a slight tinge of jealousy—but with admiration for what they have done.
They should win this series and the NBA title. If they falter, it won't be because they don't have the best team, but because they failed to perform like it.
Anything can happen in the NBA, and greatness doesn't last forever. I hope they seize the moment that has been handed to them.
This article is
What is the duplicate article?
Why is this article offensive?
Where is this article plagiarized from?
Why is this article poorly edited?

Oklahoma City Thunder: Like this team?