Euro 2012 Players to Watch: Giorgos Karagounis of Greece
June 5, 2012

Julian Finney/Getty Images
One of the members of the Greece squad, which defied the odds by winning Euro 2004, Karagounis's continued presence eight years on is the perfect illustration of the midfielder's dogged determination.
At 35 years of age, he is one of the oldest outfield players to be competing in Poland and Ukraine, but he remains a vital part of the Hellenic side which stands a good chance of reaching the knockout phase.
IN NUMBERS
Karagounis has made 228 league appearances for Panathinaikos during two spells at the Athens club, even though he was refused a professional contract there having gone through their youth system.
His best ever return of goals in a league season was nine, scored for Pana back in 1999-2000.
Despite making 21 Serie A appearances during his two-year spell at Inter Milan, Karagounis never registered a goal in the Italian league.
With 117 senior caps to his name, Karagounis is just three short of matching Theo Zagorakis's Greek record of 120 international appearances.
Karagounis may be in his mid-30s, but he started all 10 of Greece's matches in qualifying for Euro 2012.
His only goal of that campaign came against Israel, the winner in a 2-1 victory in Athens early in qualifying which ultimately helped them top Group F by two points.
No Greek player played more than Karagounis's 864 minutes in qualifying for Euro 2012. The next closest was his midfield partner at club and country, Kostas Katsouranis, who clocked 820 minutes.
In all, Karagounis only missed 43 minutes of the Group F campaign, completing seven of Greece's 10 matches.
WHAT TO EXPECT
Karagounis will chiefly be remembered for his long-range strike against Portugal in the opening match of Euro 2004, but he has made his impact on the club stage too.
Back in his younger days he scored fine goals against both Manchester United and Arsenal in the Champions League at a time when Panathinaikos were regulars in the competition.
The goals have largely dried up in his advancing years—he has only scored once for Pana in the Greek league in the last two years —but Karagounis's blend of experience, craft and steel make him the ideal man to lead Fernando Santos's team in this tournament.
With matches against Russia, Czech Repubic and hosts Poland (in the opening game of the tournament) in Group A, Karagounis will fancy his chances of marching Greece into the second round, when he would set a new Greek record of 121 international appearances.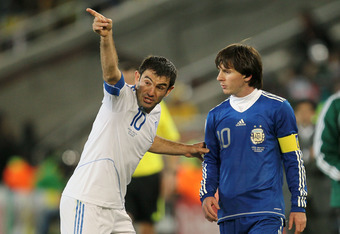 Chris McGrath/Getty Images
WHAT THEY SAY ABOUT HIM
Highly-regarded football writer Jonathan Wilson, who specialises in reporting on Europe's less fashionable nations, has nothing but admiration for Karagounis's status as a stalwart of the Greek team.
Writing for Sports Illustrated, Wilson said:
"Karagounis was there at the beginning, scoring the opening goal of Euro 2004, when Greece stunned Portugal. And he is still there now, captaining the side at the age of 35.

"He is the second-most capped player in Greek history and remains both a dogged worker in midfield and a deliverer of fine set plays -- his most memorable free kicks probably being the two he scored against Portugal in a friendly in Germany in '08."
The man himself is happy to reminisce about his part in Greece winning their only major footballing prize, and that experience has given him confidence that they can do it again this summer.
He told UEFA's official website:
"For us this is the second time that it's happened. Of course, we have good memories from the tournament in Portugal eight years ago, and I hope we manage to do the same. Playing in the opening match of the tournament is great for us.

"On the pitch, the atmosphere was great and both the Greek and Portuguese fans contributed to that. Everything was positive for us and for me especially, with scoring the first goal of the tournament.

We're not so interested in knowing what predictions the experts make about us. We're focused on our job, on what we believe, and if we truly have faith in our potential, we can achieve a lot of things.